Should you buy backlinks? Yes. And no.
In this guide, I'll answer all your questions on if you should buy backlinks, the types you can buy, the cost, and the best services to use.
Why trust me? I've spent over $1 million on backlinks and link building from dozens of services. I've also built 100,000+ links in nearly every industry niche for companies big and small.
I know what to look for, what not to do, and what to avoid with buying backlinks that will get you penalized.
Here is your guide to understand if you should buy backlinks.
Is Buying Backlinks Legal?
Buying backlinks is legal, but buying backlinks directly from a website without the website marketing your backlink as "sponsored" is against Google Webmaster Guidelines and should be avoided.
However…buying backlinks isn't a black and white question.
While buying backlinks directly from a website owner is against Google Guidelines, hiring an agency, marketing freelancer, or in-house marketer to GET you backlinks is perfectly legal, encouraged, and a critical element of scaling organic rankings for competitive keywords.
See the nuance?
Don't: pay $100 to a website owner to add your backlink.
DO: Hire or outsource link building to a reputable link building service who can EARN you backlinks!
Doing this is legal and in no way goes against Google guidelines.
How to Buy Backlinks The Right Way
Buying links the correct way means avoiding anything that goes against Google's terms of service and guidelines.
Meaning you can't just go to a website and pay them $500 to add your followed backlink.
Doing so will result in Google penalties against your domain, which can take years to recover.
So, how do you buy backlinks the right way? You hire people to do it.
For example, hiring a freelancer or an agency. In doing so, you are hiring a team of experts who know how to:
Conduct email outreach to earn backlinks without paying site owners
Write content that naturally attracts backlinks from great websites
Build the critical relationships needed to acquire backlinks at scale
In effect, you aren't paying for links. You are paying an employee or an agency to do the work needed to acquire backlinks for your website.
What Types of Backlinks Matter? Which Ones Should You Buy?
There are multiple types of backlinks in SEO, and it's key to understand which ones you should focus your time and money on to produce the best results.
Editorial Mentions – Focus on These!
Editorial mentions are the holy grail of backlinks. These are contextual links and references to your website within organic content on high-quality website.
For example, if HubSpot writes a blog post, you want a backlink directly within their blog post, naturally mentioning your brand, your content, or your service:
These links require deep relationships with content publishers, site owners, and journalists to acquire naturally. Which is why we never recommend buying links from a website, but rather, outsourcing link building to an agency that can earnyou the links, not pay $50 to a spammy website to get them.
Niche Edits / Link Insertions – Focus on These!
Link insertions, also known as niche edits, are when you pitch website owners or content managers to add your backlinks as a resource to an already existing piece of content.
For example, maybe you just wrote a guide about data centers. Now, you can reach out to desired publications in your space and ask them to include your guide as a resource to readers.
This is a niche edit, where existing content that is already published gets edited, improved, and includes your link.
These are also powerful links that will require hiring an agency to achieve, as it's all about relationships.
Directory or Profile Backlinks – Ignore These
Directory or profile backlinks are when you create a directory listing for your company, or a profile on a website (like Twitter) and add your company website link.
These are often "nofollowed" and are not treated as quality backlinks.
Forum Links – Ignore These
Forum links are where you post your website URL in a forum discussion to get a backlink from the forum website. Forum links are also not treated as high quality backlinks.
How Do I Buy High Quality Backlinks (And Avoid Spammy Ones)?
The single most effective way to buy quality backlinks is to outsource your link building efforts.
This is because no truly authoritative, big brand websites will sell you a backlink.
For example, if you want to get a backlink from Forbes, HubSpot, GoDaddy, Crunchbase, or sites of similar quality, you will never be able to pay their website editors for a link.
You have to earn a link through great outreach, great content, and digital PR.
The only true way to buy quality backlinks is to work with a high-quality, quality over quantity link building company or SEO expert who can earn them for you.
Is Fiverr Good For Backlinks?
No, Fiverr is not good for backlinks. Fiverr is filled with private blogging networks (PBNs) that have no benefit to your search engine rankings or domain authority.
Never buy backlinks from someone on Fiverr. These services are cheap for a reason: the quality is very poor and nets zero return on investment.
The reason that good backlinks are so expensive and hard to get is the exact reason as to why Google values them so much.
If everyone can buy a $5 backlink, they would have zero value in determining rankings.
How Much Do Backlinks Cost?
Short Answer: Anything less than $500 per link is terrible quality. Avoid at all costs.
Long Answer: truly exclusive, powerful backlinks cost $900-$1500 per link.
The cost of backlinks entirely depends on the strategies and tactics you are using, and the quality of backlinks you are expecting to get.
As I just mentioned: truly impactful backlinks from high authority domains cost large sums of money.
Why? Because they are incredibly difficult to get.
You should never spend less than $500 on a single backlink. The average top-quality backlink from an exclusive, high DR, high traffic, high authority domain will cost you $1000.
Anything less and you are paying for bad quality domains, poor quality content, and poor services.
Let me break down the math for you:
Let's say you want to get a backlink in an article on GoDaddy, a website with a Domain Rating of 94, generating millions of organic visits per month. It's ranked the #83rd best website in the world by authority:
Want a backlink from them? You can't just hire a VA in a foreign country, email them and say "Hey, I loved your article, please link to mine."
They get thousands of these spammy pitches daily. Thousands more asking them to "guest post."
You will get marked as spam and you will waste months sending emails to get zero results.
Instead, to get the best backlinks, you'll need:
Email contact finding tool ($100/mo): find the contact who manages their blog
New domains + Gsuite ($50/mo): don't send outreach from your main domain or you risk spam penalties.
Email marketing tool ($100/mo): to send the outreach, automate follow ups.
Content writers ($500/piece): Once your pitch is accepted (hint, you won't get accepted unless you have a connection), you will need to write a 3,000 word article worthy of publishing on a domain of this caliber (hint: costs you at least $500 for a writer to do this, not including editing, project management time)
Revisions ($100+ project management cost): a domain of this quality will make you do 2-3 rounds of revisions (read: more time, more money)
Seeing a trend here? It is going to cost you time, money, hiring, and a sophisticated team of niche expert writers to get top-quality backlinks.
Meanwhile, link building services like uSERP have all of the relationships built already. Meaning they can tap into their network, produce content, and land high DR backlinks in days.
You are not just paying for the cost of a link. You are paying for a decade of experience, time to results, and expert SEO knowledge on WHICH links to acquire and why.
Are Paid Backlinks Worth It?
Paid backlinks from reputable services are worth it because you are paying for the knowledge and experience of a team to acquire backlinks, rather than the backlinks themselves.
Paying for direct backlinks from shady websites is never worth it.
Paying for a team to handle your backlink building is a key way to scale rankings.
Directly from Google, links are a critical elements of how they determine which pages rank organically for keywords:
"For example, one of several factors we use to help determine (quality content) is understanding if other prominent websites link to the content."
Earning backlinks from the best websites in the world is a surefire way to increase rankings, traffic, and revenue for your website.
How Many Backlinks Do I Need to Rank?
There is no set number of backlinks that you will need to rank. It depends entirely on your niche, your competition, and your current website authority and backlink profile.
There is no magic number with link building. Backlinks are endorsements from other websites that tell both readers and search engines that your content is trustworthy.
Therefore, you can never have too many backlinks, so long as the quality is high.
That is the true key with link building: quality over quantity.
John Mueller of Google has stated this sentiment, labeling quality backlinks as one of the most important rankings factors:
At uSERP, we also surveyed over 800+ SEO professionals, and found that quality is the most important factor when it comes to backlinks:
The ideal mix is of course both, but quality backlinks outperform low quality backlinks every single time.
Google has become very good at discerning which backlinks are good and which aren't. Meaning that if you are spending money on low quality links to be more budget friendly, you are buying backlinks that don't even move the needle and are wasting money.

Conversely, if you are spending your budget to hire a professional agency to build them for you, you are getting the highest quality backlinks you can get that will drive impact.
So, how many backlinks do you need to rank? Based on 100s of clients and 100,000s of links built over the last decade, we find that anywhere from 6-15 per month, so long as the quality is high, is the right amount of backlinks.
Where Can I Buy SEO links? Top 2 SEO Link Building Services
So, you want to buy backlinks and hire a great company to do it?
Here are the top two link building services to outsource your backlink buying to:
uSERP is a top-ranked link building service company by: SEO For Growth, Growth Ramp, Single Grain, Design Rush, and more.
They cater to companies in niches like: SaaS, Ecommerce, Affiliate / Content sites, and more.
Some of their clients include major brands:
The great thing about uSERP is that they don't use middle-men or outsource their efforts to low-quality link farms.
They take a content-driven approach to building links that get recognition from big websites, not spammy guest post farms.
Working with them is like hiring a team of 10+ experts who work with you to build links, strategy, and ultimately organic growth for your bottom line:
2. Codeless – Content and Digital PR
Codeless is a content production and digital PR company that helps big brands earn backlinks through content marketing.
This means that they create content assets on your website that can be pitched to journalists, media, and their existing relationships to expedite the link building process.
Similar to uSERP, you work with a team of dedicated experts in various niches from fintech to security to create long-form content that demands press, media, and links.
Final Thoughts: Should You Buy Backlinks?
The million dollar question is: should you buy backlinks?
If you are in a competitive niche, backlinks are the #1 ranking factor in addition to having good content on your website.
Without links, you won't outrank bigger competitors. Period.
You should not buy backlinks directly from a website owner for cheap. This is how you get penalties and lose your rankings.
You should hire an SEO expert, a link building agency, or build an in-house team to earn you backlinks from great websites.
In effect, you are buying links, but doing it through white hat methods that will only positively impact your rankings, increase traffic, and skyrocket revenue.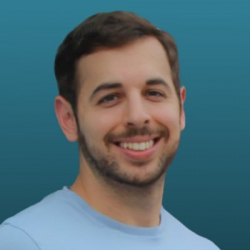 Latest posts by Jeremy Moser
(see all)