This is my review of the AI writing tool, Copy AI.
In this review, I'll cover:
Best/worst features
Pricing and value
How Copy AI compares to other AI writing tools (like Jasper and Writesonic)
Whether or not I recommend it
So if you want an in-depth Copy AI review, this post is for you.
Let's dive right in.
What is ​​Copy AI? Who is it suited for?
Copy AI is an AI-powered content creation platform that uses natural language processing and deep learning to help you automate your content workflow.
It's simple to get started. Just upload your raw text, and Copy AI will take care of the rest.
Copy AI is available in more than 25 languages. And based on your audience, you can choose from different writing styles and tones.
With over 90 tools and templates, Copy AI caters to a wide variety of users, including:
Startup teams
Social media managers
Email marketers
Marketing agencies
Business owners
Freelance writers
Copy AI feature breakdown
With over 90 tools and templates, I will try to scratch the surface of the main features of this AI copywriting tool.
Blog content
Blog intro – brainstorm an introduction for a blog or article
Blog outline – outline or organize your blog sections
Blog title – think of an excellent title for your blog
Bullet point to blog section – write a blog section based on one bullet point
Freestyle – use AI to help you write literally anything
Digital ad copy
Ad copy variants – brainstorm and test variations to your ad copy
Facebook link descriptions – quickly write the link description for Facebook ads
General ad copy – outline copy for any ad
Google descriptions – generate a high-quality description for your Google ad
LinkedIn ad copy – add variety to your LinkedIn ads
Ecommerce copy
Product descriptions – write a compelling product description in less than ten seconds
Sales copy
Attention-Interest-Desire-Action – write a compelling ad, email, or social media post
Feature-Advantage-Benefit – generate ad copy that shows your unique selling position
Pain-Agitate-Solution – rewrite text to address a specific customer pain point
Social media content
Hashtag generator – find the best hashtags to expand the reach of your post
Hook generator – determine a compelling hook
Instagram captions – create engaging Instagram captions for your photos
TikTok brainstorm topics – come up with unique TikTok ideas to go viral
YouTube video title – generate the perfect title for any video
Website copy
Call to action – discover the proper call to action for your website
Meta description – improve click-through rates by writing high-quality meta descriptions
Landing page hero text – craft the perfect hero text for your landing pages
Event copy – create copy to promote or distribute at an event
Testimonial rewriter – rewrite a testimonial to make it more engaging
Content templates
The list of Copy AI features continues. I warned you. There are a lot.
I think the most powerful feature that Copy AI offers is the Blog Post Wizard. It can create the first draft of a blog post in less than five minutes. All it needs is your keyword and a blog title.
But it doesn't stop there. Copy AI offers other templates like cover letters, real estate listings, business plans, and reference letters.
Copy AI has thought of almost every solution for your content writing needs.
Free AI writing tools
To top it all off, Copy AI offers at least 24 free tools. Say what?
Here are some of the top contenders:
Free Instagram caption generator
Super-engaging Instagram captions are just a click away.
This free AI-powered Instagram caption generator will create the perfect caption for your photo and help you get more likes, followers, and comments.
Add a witty tone for some extra flair.
Free email subject line generator
If you want to grab your readers' attention, create catchy subject lines that stand out from the crowded inbox.
The free email subject line generator is the ideal tool to help you craft an eye-catching subject line for your newsletter, blog post, and promotions.
Free meta description generator
Research shows that pages with meta descriptions receive almost 6% more clicks than pages without them.
It's not uncommon for Google to rewrite your meta descriptions. But it's also wise not to leave it blank.
Use Copy AI's free meta description generator to write SEO-friendly meta descriptions that help improve rankings and click-through rates.
Copy AI pricing breakdown
So how much does it cost to access all of these copywriting features?
Copy AI pricing plans include five main options (based on the number of words) per month:
2,000 words: Free
40,000 words: $49 / month
100,000 words: $99 / month
300,000 words: $279 / month
300,000+ words: Custom pricing
There is Copy AI free and Copy AI pro. Is it worth the upgrade?
Let's dive into the main event of the review.
What I liked about Copy AI
Copy AI has some pretty impressive features that make it stand out from the other AI writing tools on the market.
Here are some of my favorite things:
Create quality content briefs in minutes
My team spends a significant amount of time writing content briefs. So if there is any way to streamline this process, I am all for it.
Less time spent on content briefs (without sacrificing quality) equals more time spent on growth initiatives. That makes me a happy camper.
With Copy AI, my team can:
Create briefs for any type of content (blog posts, landing pages, social media posts, etc.) in less than five minutes
Set the tone of the brief (professional, casual, fun) and get recommendations from Copy AI based on their input
Write multiple briefs at once without worrying about consistency or repetition
Copy AI hits the nail on the head with this one.
Topical relevance
Artificial intelligence tools can analyze existing search engine result pages (SERPs) and pull critical information to understand search intent, topical relevance, and topic depth that performs best.
And when writing, it can help guide your focus on what real readers care about most.
Here's the output of the blog outline from the previous example. It helps pull in some of the most asked questions on search engines about AI copywriting and how it can help your small business create engaging content.
With the touch of a button, you gain access to critical pieces of information that help you write content that provides value to your readers, ranks well on search engines, and improves conversion rates.
Copy AI tools are a fantastic addition to your tech stack when used properly.
Cure writer's block once and for all
Writer's block is no joke. You open up a new Google Doc and you hope that the next Harry Potter book will come flowing out onto the page. But hours go by, and there's nothing but crickets inside your head.
Sometimes all it takes is a little spark to ignite your creative juices. That's where Copy AI comes into play. You'll never experience a day of writer's block again (unless the tool goes down, but more on that later).
With the help of the Blog Post Wizard, you only need a simple blog title and target keyword. Hit the generate outline button, and voila. You have an entire list of ideas to work with.
The Blog Post Wizard can help you create the first draft of a blog post in under five minutes. That's an impressive feat for AI content.
Plenty of available features
Copy AI features, tools, and templates can help you:
Generate 100s of headline variations
Write compelling meta descriptions
Structure headlines
Create high-quality content briefs
Generate click-worthy email subjects
As a copywriter and an SEO, that's gold: you save time and get tons of ideas to mix, match, and then ADD your personal expertise to make it truly valuable. Don't sleep on the power of an AI tool.
What I disliked about Copy AI
I experienced plenty of positives with using Copy AI, but there are also a few drawbacks.
Let's take a closer look.
The tool lacks stability
On random occasions, the tool will go offline and be completely unusable.
I've messaged Copy AI support on a few different occasions with mixed response times and explanations for the issues.
One time it was an issue with their AI provider that lasted 12 hours:
Another time it was a backend issue that was resolved within 30 minutes:
And sometimes, it is just slow to load content and you might see this dreaded error: "Error received: Oops! There was a problem generating copy. Please try again."
The tool's stability is a significant concern if you rely on Copy AI for critical parts of your content workflow.
Although I'll say that the Copy AI team is taking these issues seriously, the tool has been performing well in recent weeks, although it still requires running it through an AI detector to add the final human touch. But be prepared for some growing pains. 
Quality assurance checks are required
Let's look at the Freestyle tool in action for these next qualms.
I want to write a blog section (or short form content) about word-of-mouth marketing. Here's a simple input:
Let's put it to the test. The output generated five different examples of content that averaged 200 words. Here's what else I found:
Missing sources
A few of the outputs included statistics. That's great, except the source is nowhere to be found.
Now I have to scour the internet to find the source if I want to use this piece of content.
Sometimes the statistic is easy to find — other times, not so much. To me, this feels counterintuitive. This tool should save me time. Yet I still find myself spending extra time validating information and sources.
Poor grammar
After running the output through Grammarly, it returned an overall score of 95.
On the surface, that doesn't seem so bad. But when you peel back the layers, it could use some help. Grammarly detected 4 "correctness" alerts, 2 "clarity" alerts, and an 18% plagiarism match (more on that next).
The grammar mistakes are mostly incorrect commas, which is a simple fix. But I am being picky here and wish the content was scrubbed for grammar mistakes.
The last thing I want to do is use two separate AI tools to get the job done (generating content through Copy AI and then running it through Grammarly). A one-stop shop would be lovely. Is that wishful thinking?
High plagiarism score
The plagiarism score was much higher than I had hoped — an 18% match for 200 words.
Since I usually shoot for a plagiarism score of less than 2%, this content definitely doesn't make the cut.
Again, I have to spend more time adding sources to the piece or rewriting to avoid plagiarism. And for a 200-word paragraph, I can manually rewrite that faster than it would take to edit and add sources.
I had better success with longer pieces of content that dropped below double digits on the plagiarism front.
Lackluster content
Finally, is this the best piece of content I have seen on the internet? No.
The content is very high-level and filled with fluff.
Does it work as a starting point? Absolutely.
But I wouldn't rely on it to write my most important content pieces, at least without a bit of help from an expert.
Popular alternatives
How does Copy AI stack up against some other AI writing software on the market?
I'll say that Copy AI doesn't skimp out in the features department. There are so many ways to use the tool that I only begin to scratch the surface in this Copy AI review.
Here are some Copy AI alternatives:
Jasper – Arguably the best AI copywriting tool with over 3,000 5-star reviews claiming to create content 5x faster.
Writesonic – The world's only AI writer that helps you write SEO-optimized, long form content (up to 1500 words) in 15 seconds.
GrowthBar – The highest-rated AI writing tool on G2 that's perfect for end-to-end researching, writing, and grading SEO content (all using smart algorithms).
Do I recommend Copy AI?
And finally, what you have all been waiting for. Is Copy AI worth it?
Yes, Copy AI is an excellent AI writing tool to add to your arsenal.
Writing is time-consuming: from keyword research creating briefs, and tying it all together with a unique angle to create a cohesive piece of content. It's not an easy task.
And let's be honest, finding reliable writers who consistently produce high-quality work can be challenging. They are a dime a dozen. So…
Does Copy AI replace an experienced SEO content writer? No.
Does Copy AI help speed up the time it takes to write high-quality content pieces? Yes.
AI writing tools are commonly misunderstood. They aren't terrible or useless. But rather another tool to step up your game.
Are you ready to gain a competitive edge? Give Copy AI a try today. I promise it'll speed up your content workflow.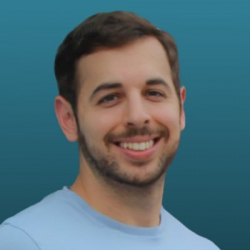 Latest posts by Jeremy Moser
(see all)