Link building value is hard to quantify. I recently sat in a meeting with a business owner who was spending $2,000 a month on half a dozen backlinks from a questionable service.
His traffic was declining, and he couldn't figure out why.
My team pitched better link building to him, and guess what?
Organic traffic rebounded. Sales increased. His loyalty went through the roof. All because of better backlinks.
We know backlinks are valuable to SEO, but quantifying that value can be a tricky process. What makes one better than the other, and how can you know that a link is hurting you?
That's what we're about to cover.
This is an in-depth, step-by-step guide you can use to assess the value of a backlink. You'll have all the knowledge you need to improve your link building strategy in a way that directly benefits your site's traffic.
Let's dive in.
How Do You Determine The Value of Link Building?
Before we show you how to determine the value of link building, you need to understand what we mean by "value."
Most of the time, talk of value comes down to money. ROI (return on investment) specifically.
And while you absolutely can see stellar ROI from link building (especially when done well), that's not the value you should be focusing on. Not upfront, at least.
The main value of link building is in how it benefits your SEO strategy.
Inbound links have a massive footprint when it comes to ranking factors, from what the data shows… No one but Google knows exactly what makes up their secret recipe, but we can make some educated guesses.
Everything from the quality of links to the anchor text used can have an impact on your site's ranking.
(Based on data via SparkToro)
So when we speak of value, we're primarily focused on the SEO impact of your links.
And rest assured that we know how to build links that improve your SEO.
This guide will help you find, assess, and remove the bad backlinks by giving you insight into what a good link looks like.
So let's get started.
Step #1: Assess the Referring Domain
When assessing the SEO value of link building, the first step is to check out the value of the domains that link to your site.
The reason why is fairly simple.
Every search engine wants to know that your site is authoritative.
Part of building that authority is getting sites with a strong domain authority to link to yours.
And the data backs this.
One case study showed — with a single piece of quality content — that building links can make a huge impact.
They attracted 150 links from new domains, including a number with 80+ domain authority.
The result?
Their domain authority jumped seven points in just four months:
A different study looked at the best-performing legal firms in the US.
The ones topping SERPs had more reputable referring sites than their competitors.
The math here is simple.
The stronger the domain rating, the more trust passed onto your site.
You need to make sure you're link building from domains with stronger authority/domain ratings. It is essential to use a reliable domain authority checker tool to gauge the strength of the domains you're considering for link building.
Even though it's not a rating from a search engine (most 3rd party SEO platforms have a proprietary way to rate domains), these metrics can point you in the right direction.
But there's more to assessing domains than authority.
You also need to make sure you have a wide variety of domains pointing to your site.
Studies show a strong correlation between an increase in referring domains and traffic:
So one high-authority referring domain just won't cut it.
Four links from the same site won't have the same impact as one link from four different sites.
To sum up, the reason why you start with a domain assessment:
New links have less value if not from a site that's reputable and has high trust.
New links have less value if not from a new site.
Now — how do you check all of this?
There are plenty of tools that can answer these questions, but I'm going to show you how to quickly assess domains using SEMrush.
It's very easy.
Select their Backlinks Analytics section. Insert your domain, and then click on "Referring Domains."
From there, you can simply scroll down and see all of your site's backlinks.
In the example above, you'll notice a few things:
We prefer to sort by "new" — the checkbox on the left. This tells me whether I've gained new links from new sites, which are likely to be more valuable.
In this example, we have 31 new links from a 13 Authority Score website. That's potential link spam.
Compared to other sites on the list, we'll need to look closer at the "freelancevirtualspot.com" links and see if we need to disavow any. They could be spammy.
It's a simple check but incredibly valuable. We now have actionable next-steps to improve my backlink profile, all from one quick assessment.
But there's still more to consider.
Step #2: Vet The Page Holding Your Backlink
The next step when assessing a link's value is to look at the page referring to your site.
That means navigating to the page and evaluating whether or not it's a good fit.
Why?
Because context is key with quality link building.
Getting crappy mentions or low-page links can be harmful to your SEO.
At the very least, it may not be as helpful as you want.
Search engines assess your site based on the content that surrounds a link to your page.
It's called the Reasonable Surfer Model. Google's algorithm has been using context to rank your site for years — possibly as far back as 2012.
The takeaway?
Check your links. Make sure the content around the link is helpful and relevant to your site.
But there's more to the equation here.
Where your link sits on the page can also affect how powerful that link is.
One study showed that — all other things being equal — building links higher up on a referring page will lead to better rankings.
That means if your link is sitting below a competitor's, you're not getting much value from that link.
The solution?
Do what you can to get your links higher up on referring pages.
And learn how to build high-quality links to begin with.
Your link's may not always be something you can control, but it doesn't hurt to ask. Reach out to the website owners and see if they can help you.
But more importantly, how do you find the pages you should assess?
SEMrush helps us again.
In their Backlinks Analytics tool, simply navigate to the "Backlinks" view:
Below each link, you'll find the page that's referring to your site.
Click the hyperlinked arrow on the right side of the link to navigate to the page.
Now, search for your link.
Here's an example of a link we recently received. You'll notice it's about halfway down the page:
Not bad, but not the best either.
It's a keeper, though.
And we do this with all of the links to our site.
Each one can tell Google what the site's about, so we make sure each one works for us.
Time intensive? Yes.
Worth it? Absolutely.
And it leads naturally to the third value check — anchor texts.
Step #3: Consider Anchor Texts as Part of a Whole
The anchor text of a backlink is a hotly debated subject.
Some people swear by it. Others claim it's irrelevant.
Which is it?
We lean toward it being important, but not something you should focus too much on in the grand scheme of your SEO.
Here's why:
A recent study looked at the anchor text distribution of the average top-ranked page.
Their results pointed toward an "optimal distribution model."
9% of anchors used exact match keywords
60% used natural keywords and brand mentions in the context of the referring page
30% were "blended" — or had part of a keyword phrase, but not the whole
This makes perfect sense, right?
Well, a similar study from Ahrefs found little to no correlation after a barrage of tests.
So who's right?
Both.
For a long time, Google relied too much on anchor texts to assess links.
They've changed their assessment model over time, but they still see anchor text as a valuable part of your link's context.
And remember, context is everything.
The Reasonable Surfer Patent points to the idea that relevant link anchor texts are the key concern for Google — and that naturally begs for a diverse, natural link profile of anchor texts from various sites.
So how do you check in on your anchor texts?
Use a tool like SEMrush from time to time.
Your anchor text information lives in the "Anchors" page of the Backlink Analytics tool in SEMrush.
Each time you check your anchor texts, ask yourself whether the overall distribution looks like manipulation.
Then you can start trying to re-balance your link profile.
Otherwise, leave anchor texts be. As long as they're relevant to your site, don't worry too much.
Which means on to the next step.
Step #4: Ensure the Page Referred to Is the One You Want
You want to make sure that links to your website have maximum impact on your SEO.
And most of the time, that means making sure the context of a link is correct.
But sometimes, the page your link points to is the issue. What do we mean?
We know that pages with more quality backlinks rank better.
So when someone searches for your site, you want Google to deliver a high-value page on the SERPs.
If you had to choose, would you rather someone see:
A low-level blog post, or
The landing page you spent $10,000+ on to help generate leads?
The choice is obvious. You want the landing page because it ties back to ROI.
So when it comes to the page you want to build links for, the answer is the same.
Get links to high-value pages.
You might think you can manipulate this, but you can't.
Some may tell you to get links to a blog post that points to your valuable page, but that may not be beneficial (per John Mueller).
It's better to focus on building links directly to the money pages.
So how do you check where websites are sending links?
Again, SEMrush has the answers in its Backlinks Analytics tool.
Select the Referring Domains tab, and scroll down to see which websites are sending links your way.
It's another simple step, but it will tell you if your links provide SEO value to the correct pages.
If you're finding that the wrong pages receive links, find out the culprits and reach out to the websites referring to you. See if you can get them to change it for you.
If all else fails, you may have to consider disavowing low value links using Google's toolset. It may sound extreme, but bad traffic is no better than no traffic.
Besides, our final value check step can help you make up the difference in short order.
Step #5: Round Out Your Links With a Backlink Gap Audit
It's always good to check in on your competition when it comes to SEO.
Acquiring backlinks that your competition doesn't have only helps you.
The opposite is also true — you need backlinks that mirror your competition.
Then, you can take your link building one step further.
It's all part of building trust signals and both organic and referral traffic to your site.
You likely already do competitive analyses for content. So why improve content but leave out authority?
For this check, we'll jump over to Ahrefs as our tool of choice.
Their Link Intersect checker is second to none. It lives in the "More" menu on their toolbar.
Input your URL next to a competitor's (or two).
The results show you the difference between yours and your competitor's backlink distribution.
This tells you sites you need to target for link outreach. Super easy, and always worth adding on to your link analysis efforts.
Conclusion
Backlinks can boost your SEO and drive traffic to your site. But only if you're building enough valuable links from authoritative domains.
Use these five simple steps to check your backlink value and pinpoint areas for improvement.
Assessing the quality of the site linking to you. Check out the relevance of the page and anchor text. Make sure the links are pointing people to the pages you want them to see. And complete a gap audit to see how you stack up against your competition.
Of course, this isn't a one-and-done approach. You'll need to routinely follow these steps to catch changes and issues that crop up over time.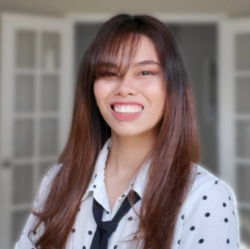 Latest posts by Joanne Camarce
(see all)