Marketers must ensure the businesses they work with benefit from their content marketing efforts. Valuable content helps to attract and engage your target audience while driving sales.
However, many businesses believe blog posts are all there is to content marketing. That's not true. There are other types of content to leverage for the best results.
This article focuses on eight types of marketing content — including blog posts‌ — that ‌every business should invest in.
1. Blog posts
If you're trying to demonstrate expertise and grow SEO authority, blog posts are an ideal place to start. In addition to being versatile, low-cost, and highly engaging, they're one of the most popular types of marketing content for driving traffic to your site.
Usually, blog posts are long-form content, averaging up to 2,500 words per post. This blog length allows your business to target relevant medium to long-tail keywords and tackle specific audience challenges or pain points in detail.
Before you develop a blogging plan for your company, ask yourself the following questions:
Who is your target audience? Determine your target audience's interests and pain points so you'll know what to write and how you'll write it.
What are your goals for your blog? Is it to generate leads, increase brand awareness, or provide helpful information to customers?
It's alright if your blog's objectives change as the website grows. As long as your niche doesn't change entirely and confuse your audience. If you decide at some point you want to change your niche, it's better to start a new website and blog rather than switch gears and confuse your readers.
What topics are you knowledgeable about? Your topic must be something you're knowledgeable about, or you should have access to subject matter experts (SMEs). You need to provide value for your audience, and interviews from industry experts are valuable.
Also, make sure the topic(s) you write about aligns with the company's product offerings. For instance, if you're selling HR software, "How to hire freelance writers" would be a good idea for a blog post topic. Considerations like this will help ensure that people who read your blog posts are the most likely to buy your product.
Your budget, time, and expertise are essential factors to consider when investing in blog marketing content.
As a blogger, you'll need a domain, hosting, a content management system (CMS), and the time to craft insightful long-form content.
Don't just publish blog posts on your website. Have content published on other authority sites, too, for link building. With guest blogging, you can enhance your backlink profile, increasing your business's authority and content visibility.
As mentioned above, finding SMEs to interview or contribute to your blog is a great way to bring value to your readers.
Use an email finder to locate the email addresses of points of contact to websites you'd like to write guest posts for or SMEs you'd like to write for you.
2. Social media posts
According to Hubspot's State of Social Media Report for 2023, 25% of social media users aged 18–44 have purchased something on a social app and prefer these platforms to discover products.
That means social media is their new search engine. Tap into that market by creating social media posts that appeal to their search intent and optimizing your social profiles and posts.
Instagram and TikTok are most suitable for video marketing campaigns since their audiences consume more video content. However, X (formerly Twitter) and LinkedIn are more suitable for text-heavy campaigns.
You might wonder whether you should invest in social media or blog posts first. Your strategy should depend on your business type, target audience, goals, and budget.
Consider the following:
Business-to-business (B2B) or SaaS brands require longer to attract and engage their audience. These business models have a long, complex sales cycle involving multiple stakeholders and marketing channels. Hence, it makes sense to first invest in long-form marketing content, like thought leadership and product-led content, and distribute them on appropriate social media channels like LinkedIn.
Direct-to-consumer (D2C) or Business-to-consumer (B2C) businesses, such as dropshipping or beauty brands, can get away with investing in social media posts first. As mentioned, their target audience or customers use social media as search engines to discover products.
Due to their shorter sales cycle, these businesses can invest in social media posts to engage with their target audience and provide a better customer experience.
Fashion Nova, a clothing and beauty brand, uses social media marketing content to promote new product releases and share customer reviews. Check out the excellent example below.

Image Source
Fashion Nova's review was social proof to attract and boost product interest. It was also a great way to gain more likes and followers on Instagram.
You can cultivate a community on social media and build your brand's online presence by posting regularly.
Make sure your posts cater to different stages of the buyer's journey. For example, short educational posts are for visitors in the awareness stage, whereas product demos and user-generated content reviews are for visitors interested in buying.
3. Video
Video is an integral part of digital marketing that's here to stay. It allows you to visually demonstrate your business' unique value. Video content also spurs emotion. It helps your audience bond with you with its storytelling elements, humor, music, and personalization.
Where better to post videos than on your website, one of your primary digital marketing channels?
Use a wide array on your website to make the most of this medium. You can have:
Explainer videos
Demo videos
Case study videos
Testimonial videos
You should have a goal for each of your videos. For instance, this video testimonial below aims to help increase Keap's sales.

Image Source
When producing brand videos, scripts can help keep a steady flow and the right brand voice and tone. Of course, you won't script reviews or testimonials, but a framework can help with things like explainers or unboxing videos. Video scripts also ensure a comprehensive discussion of the topic.
Also, remember to optimize your videos for SEO. Measure their performance with Google Analytics to determine which videos have the most visibility and engagement. Then, rinse and repeat.
4. Infographics
You can establish credibility using infographics once you've gained visibility with other content types.
Standalone, they help share relevant data, such as business and industry statistics. But as part of your content marketing arsenal, it can help you engage and educate your audience, generate leads, drive traffic, and promote your products or services.
Infographics condense a lot of information visually, making the data easily digestible for readers. This data visualization can increase conversions. You can integrate infographics into your blog posts to illustrate important points you make in your written content.
For example, here's an infographic Venngage created about how to create infographics.

Image Source
It's a simple five-step process. Use a straightforward design to make it attractive and easy to understand.
Canva is a fantastic tool for creating infographics for your business – it's free, easy to use, and has many templates.
Include branding elements, like your logo, in your infographics. It doesn't need to be huge – just legible. It lets people know the source of the information as it gets social shares online.
5. Case studies
If your potential customers have a specific pain point, they want to know you can solve it. Your aim as a marketer is to convince them you have the best solution to the problem. Case studies show your solution‌ works.
When prospective customers see your current customers' stories and results, they can visualize how your product could play a part in their lives. This content also allows you to portray yourself as an expert, building credibility and reducing perceived risk.
Build case studies by working with satisfied customers and sharing the most compelling results on your website.
uSERP has a dedicated page for case studies discussing our client's challenges and how we helped solve them.

Image Source
Having a dedicated page for your case studies can make it easy for you to optimize the entire page for SEO. Most importantly, it'll give visitors access to your product-solution-results archive, making it easier for them to convert.
6. eBooks
Expertise and authority are invaluable in content marketing. Writing ebooks is one of the best ways to demonstrate this. They're content assets that provide longer, in-depth information on a subject and help your audience solve their challenges.
Content marketing agencies, eCommerce, and SaaS businesses typically use ebooks as gated content (lead magnets) for lead generation. They ask for users' email addresses in exchange for the asset (lead magnet) so they can include these leads in their email list to nurture them as part of their content marketing strategy.
Use social media channels to share excerpts of your ebooks and links so audiences can visit your website to download them in exchange for their email addresses. Make sure the book's topic is either entirely new content or contains new insights. To generate interest, it must be valuable.
You may also repurpose parts of the ebook. Take sections and post them on your blog or turn them into social media posts or threads. It's best to do this in small pieces as teasers or after you've finished using it as a lead magnet.
7. Whitepapers
If you're a B2B marketer, creating whitepapers is a great way to generate leads because they contain industry-relevant information.
Unlike ebooks, which are typically promotional, whitepapers should be informative and objective. They're valuable for building credibility and thought leadership in your niche. Whitepapers don't just promote a product or service. They objectively (and exhaustively) explain it compared to competitors and industry standards.
They can be worth hundreds of thousands of dollars or more when done well. They can differentiate you from competitors while generating interest in your business.
SixDegrees, a cloud-managed company, did this by writing on the importance of an agile workspace;

Image Source
8. Email newsletters
According to 31% of B2B marketers, newsletters are the best way to nurture leads. They might seem old school, but statistics from a report by Moosend tell a different story. They show that if you personalize and segment your mailing lists, you'll increase your engagement by 74% and revenue by a whopping 760%, respectively.
Email marketing is obviously alive and well.
Newsletters address almost every stage of the buyer's journey. They keep leads engaged and help you nurture those long-term relationships – turning your audience into loyal customers.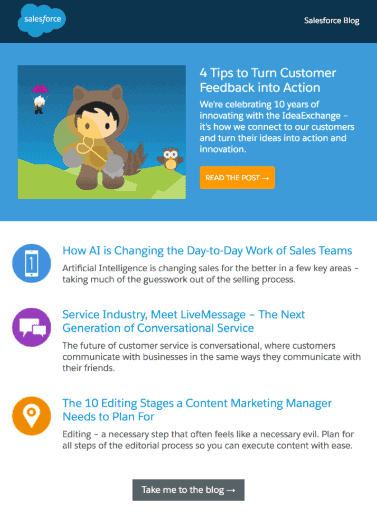 In closing
There are many types of marketing content available to marketers. For the best results, you need to understand the strengths and weaknesses of each type of content. You must also remember your goals and your target audience.
You'll discover what works and what doesn't by experimenting, strategizing, and repurposing. Keep the content that generates leads and revenue, and change the content that doesn't.
Let the data lead you to the next solution, and you'll always find success.
Latest posts by Owen Baker
(see all)