The holidays are the most wonderful time of year.
Christmas music is blaring from every radio station. Starbucks releases its festive cups filled with peppermint mochas. And UGGs are somehow still a hot commodity (even in Hawaii).
But that's not all. The holidays also bring in a wild rush of shoppers looking to score the latest high-tech gadgets, fashion accessories, and toys.
And where do they turn to research products and find the best deals around? Search engines.
With online shopping continuing to pick up steam and US holiday spending inching closer to the trillion-dollar mark, it's more important than ever to capitalize on this uptick in online traffic.
In this post, we'll share eight simple ways to prepare your website for the holiday frenzy and turn traffic into paying customers.
Let's dive in.
1. Create evergreen landing pages for sales and promotions
Don't clutter your website with too much information. Create a dedicated landing page for your holiday sales and promotions.
For instance, you should have one respective landing page for Black Friday, Cyber Monday, and Christmas sales. Then once you have them all set up (with images, CTAs, and compelling copy), you can reuse them yearly with only a few minor tweaks.
The odds are that search engines already indexed last year's page, and it ranks on Google for your target keywords. So why start over?
Using the same landing page every year will keep building the authority of that page and increase the chances that customers will find your website.
For even better results, keep these pointers (recommended by Google) in mind when building your evergreen landing pages:
Establish a recurring URL. Come up with a meaningful URL that you can reuse annually and reflects the proper promotion. For example, if you are building a landing page for Cyber Monday, you can use www.example.com/sale/cyber-monday instead of www.example.com/sale/2022/cyber-monday.
Add internal links to distribute link juice. Help users (and Google) find your landing page by adding relevant internal links. Speed up the process with the help of AI tools like Link Whisper.
Include optimized images. Adding high-quality images (with the appropriate alt-text) is an excellent way to increase engagement rates and improve SEO.
Apply for a recrawl. When in doubt, use Google Search Console to request a recrawl. A quick recrawl will ensure that Google shows the latest content updates on the repurposed URL.
Macy's, one of the leaders in the holiday shopping experience (think holiday windows in Herald Square), does an excellent job with an evergreen landing page for their holiday gift guide.
They chose a simple URL to reuse every year, added high-quality images, and linked to other product pages on their website. The landing page is easy to navigate and festive for the holidays.
A well-crafted landing page can make the difference between someone purchasing your deal or moving on to the next fancy landing page. Make that first impression count. Think about Webflow designers for hire to make your page attractive for potential customers.
2. Optimize your site for mobile devices
Mobile devices quickly became as crucial to holiday shopping as gift bags and wrapping paper. More than 55% of shoppers plan to use a phone or tablet to make at least one purchase during the holiday season.
And with Deloitte forecasting ecommerce sales to grow as much as 14.3% to reach $264 billion during the 2022–2023 holiday season, it's a no-brainer to double down on a mobile-friendly website.
Consumer demands are changing, especially as shoppers switch to browsing and buying items in a non-linear fashion. Therefore, businesses should not only work on improving user experience on their websites, but also use SMS integration, email marketing, and similar methods to notify customers about product updates.
For instance, smartphones have become valuable research companions during the shopping process. After starting the process on a desktop device or in a brick-and-mortar location, consumers sometimes end their shopping journey by making a purchase on their phone.
A YouGov survey by Facebook offers some other valuable insight, sharing that 57% of US shoppers use their smartphones to research gift ideas, and 44% use their smartphones to buy a gift.
All roads lead to the importance of a mobile-friendly website. Thankfully, most content management systems (CMS) already optimize your site on mobile devices.
But if you are concerned about whether your website is optimized correctly, run it through the Mobile-Friendly Test in Google Search Console.
By making your site mobile-friendly, you can increase the number of clicks, taps, and swipes on your site, decrease cart abandonment and boost your holiday revenue. Make sure to speed up your website's overall performance, since the holiday season will send higher traffic to your sites.
3. Prepare holiday-themed content for your blog
During COVID-19, consumers spent less time in stores and increasingly relied on Google searches and Google reviews to make purchase decisions.
It's important to create and promote high-quality content on your website that aligns with the informational search queries people are using around the holiday season. Use keyword research tools like Ahrefs and Semrush to find what people are searching for.
Targeting the appropriate keywords will help your content rank higher in Google, capture more online traffic, improve website conversions, and generate more sales.
Try creating some of the following content to drive traffic to your website: gift guides, product and price comparisons, and top-of-funnel informational articles.
Ambitious Kitchen, a healthy food recipe blog, went with the gift guide approach for the 2021 holiday season. Not only does this guide help drive traffic to the website, but it acts as the perfect place to insert affiliate links (read: additional revenue streams).
Best Products is already ahead of the game with its "50 Best Christmas Gifts For Kids," published on October 3.
This post is a hybrid between a gift guide and a price comparison. It pulls in all the online prices from retailers, making it easy for consumers to find the best deal.
If I were purchasing Artie 3000 as a gift, I'd pull the trigger on the Amazon option. It's the same price as Walmart, cheaper than QVC, and includes free Amazon Prime two-day shipping. The easiest decision I made all day.
4. Use lead magnets to build your email list
It's no secret that email marketing is one of the most effective ways to reach your customers and build brand loyalty. 72% of customers agree that email is their preferred channel for communication with brands. And the average ROI for email marketing campaigns is $42 for every $1 spent.
An email list is a significant asset for your business. And if you're looking for an easy way to boost holiday sales and keep in touch with your customers, start building an email list now.
What's the fastest way to grow your subscriber list? Create a lead magnet that's so enticing that people are willing to exchange their email addresses for access to it.
This can be anything from a free gift card or coupon code or access to exclusive discounts and promotions only available to subscribers. You can also offer free tips, tutorials, sales proposal templates or other resources related to your business.
Next, share this lead magnet with your social media followers and website visitors through various channels like Facebook, Twitter, and LinkedIn to expand the reach and score more sign-ups.
I recently tried this method, and I confirm it works like a charm. I offered a download of my SEO for Startups guide as the lead magnet. By sharing it on Twitter, I landed 2,200 likes, 237 retweets, and more than 1,400 comments. I grew my email list by hundreds and hundreds of subscribers in one day simply by sharing it on social media. Not too shabby.
A solid lead magnet and the appropriate promotion will open the floodgates for new email subscribers. But now what? How do you turn these subscribers into paying customers during the holiday season?
You can send personalized emails about upcoming sales, and new product launches, generating dynamic QR codes that embed coupon codes, etc. The world is your oyster.
Here are a few other best practices for getting your holiday emails noticed by your audience:
Write a personal greeting.
Create eye-catching subject lines.
Use graphics that show off the product in an exciting way (like a GIF, mockup design, or video).
Make sure the call-to-action is clear and describes what they should do next.
Use contrasting colors that make the text easy to read at a glance.
Amazon does an excellent job with email marketing campaigns to remind Amazon Prime Members of upcoming holiday deals. Follow Amazon's lead with this one.
5. Add a FAQ page
If you're like most businesses, you probably get many of the same questions from potential and current customers that come up regularly.
Maybe it's about your product or service, pricing, delivery timeframes, or return policy — whatever it is, it makes the most sense to create a list of these common queries and post them on your site for easy reference.
An FAQ page helps improve the customer experience by giving customers access to a self-service tool that quickly answers their questions without calling a customer service representative or sending an email (then waiting for a response).
It's a win-win situation. The customer gets instant answers to their questions, and it frees your team to focus on more critical tasks.
If you run a brick-and-mortar location, you can also use the FAQ page to remind people about changes to your holiday hours. And provide the fine print for your current promotions, like the sale start and end date and any purchase limit per customer.
Don't underestimate the power of a FAQ page. It comes in handy more times than you might think. If you own a SaaS tool and don't want to create a separate page, you can always add it to the bottom of your pricing page, like Wordable. Consider it a one-stop shop for information.
Wrapping up
The holiday season is upon us, and there's no time to waste. Even Google recommends preparing your website well in advance. And as you saw, sites are already publishing their 2022 gift guides.
Thankfully, this holiday preparation doesn't just result in a one-time traffic boost, although that's always nice.
These five simple steps to prepare your site for the holidays will also drive steady traffic to your website year-round.
So time is of the essence. The faster you get started, the quicker you can reap the rewards.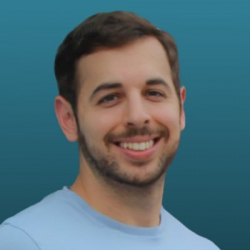 Latest posts by Jeremy Moser
(see all)