Here is how our current PR retainer plans break down. We can also do consulting and custom projects.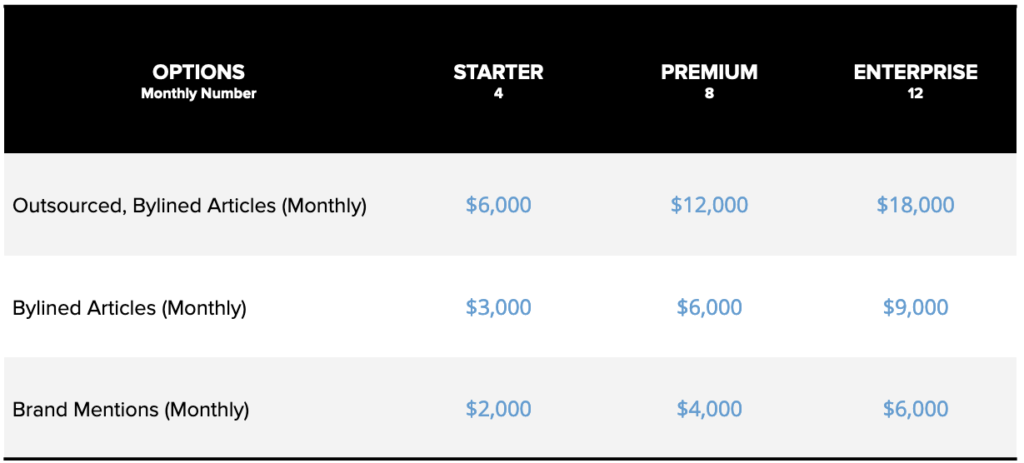 Ongoing Monthly Deliverables
✅ It often takes a few weeks to get up and running, so there is a minimum three-month scope to start, then monthly.
✅ Outsourced = We handle everything, including all outreach to sites and follow-up to successfully place it. All under your own brand.
✅ Bylined = The content will be ghostwritten under someone from your brand. If not "Outsourced," you'd handle all pitching and outreach to each site.
✅ Brand Mentions = We cite your brand and target URLs in non-bylined content on top sites.
✅ You only pay for performance, so you won't be billed if anything is removed or nofollowed.
✅ Only unique root domains, that are relevant to your product/service, with a minimum DA/DR of 50+ sites.
✅ You can get a 10% discount if the quarter is paid in full at the beginning of the period.
Interested? Get started below.
Please provide a few details below to give us a better idea of fit. We'll provide more details about how our services work, and answer any questions you might have. Then, we'll let you know when our next available slots open up. Thanks again for your interest!
Book a Call With Us! 😊👇
Schedule a call and let's chat!