It is a well-established fact that e-commerce is one of the fastest-growing sectors in the world today. This sunrise industry has recorded exponential and unprecedented growth in the last few years. Did you know the global sales from the e-commerce industry have increased from $1.3 trillion in 2014 to a whopping $4.9 trillion in 2021! This growth is expected to continue even further, and the global sales figures are predicted to reach almost $7.5 trillion by 2025.
It is amply evident that having an e-commerce business in this day and age can be very lucrative. If you are reading this article, you probably want to know how to scale your e-commerce business to new heights. This is where content marketing comes in. 
With e-commerce content marketing, you can attract new audiences and facilitate online sales for the business by promoting digital content in unique ways. However, e-commerce content marketing can be quite challenging at times, when you have to juggle numerous tasks at the same time. Thankfully there are many sophisticated content marketing tools that can help in streamlining the various marketing processes.
In this article, we will provide you with some feature-packed tools for content marketing that will help you in promoting your e-commerce business more efficiently. We will also explore how e-commerce businesses can benefit from content marketing. But before we get to that, let us first understand what is meant by product-led content marketing.
Product-Led Content Marketing for E-commerce Sites
What comes to mind when you think of content marketing for e-commerce businesses? Blogs? Videos? Articles? Content marketing is usually concerned with promoting engaging content that will help in improving an ecommerce website's ranking on the search engines.
Now you may be wondering if the articles and video content can really help in generating transactions for a product online. They sure can, with product-led content marketing. With this type of content marketing, the product is strategically weaved into the narrative to –
Illustrate a specific point.
Solve a problem widely encountered by the people.
Help the audience in accomplishing a goal.
Product-led content marketing rests on developing a good storyline to highlight the product. It can be complemented with a visual representation of the products, with designs and laptop mockups. This is done in such a way that it is not only engaging for the audience but also relevant. A good product-led content marketing strategy should consist of the following steps –
Grab the attention of your audience.
Explain a key problem faced by them.
Provide a solution for this problem.
Describe the benefits of this using the solution.
Call to action.
With this outline, you can strategically weave in your product with the storyline after you explain the main problem faced by the audience. This helps in accomplishing the primary goal of a brand-building campaign.
Thereafter, you state the benefits of the product along with a call to action, which helps in accomplishing the goal of performance marketing campaigns. Suffice to say that product-led content marketing is a great marketing strategy because it essentially places the product as a practical solution for a problem.
How can e-commerce platforms benefit from content marketing?
Content marketing is the perfect solution for eCommerce platforms looking to enhance their reach and generate more sales. If you still aren't convinced, here are some benefits of content marketing for e-commerce businesses –
1. Search Engine Optimization (SEO)
The biggest benefit of using content marketing for your e-commerce business is that it allows you to leverage the power of search engine optimization (SEO). When you create marketing content like articles, infographics, and blog posts, targeted keywords can be added to them to enhance their ranking in SERPs. This can be done by researching which keywords are used by people when they typically search for related products. 
Using keywords and other SEO techniques throughout the content can help you in reaching out to a wider audience base.
2. Building Audience's Trust
Content marketing is also a great way to gain the trust of the target audience. When you provide your audience with helpful and well-researched information consistently, they will view you as a trusted source of information. The valuable content you provide will help them achieve their objectives. In this way, you will gain credibility in your industry, among the potential customers and also the industry peers.
Content marketing can open a whole new world of networking opportunities with industry experts and other businesses. This is made possible through guest posts, which allow you to collaborate with non-competing brands while boosting your clout.
3. Greater Conversion and More Revenue
If you have a strong content marketing strategy in place, it can certainly lead to greater conversions and more revenue for your e-commerce business. Good content can help in selling the benefits of your products better. If you use engaging video and text descriptions along with the products, it will catch the eye of a greater number of users and lead to increased sales. There are obvious commercial benefits of using content marketing for your e-commerce site. If you want to drive a better return on investment (ROI) and convert leads into loyal customers, content marketing is the way to go.
E-commerce Content Marketing Tools: What are they?
Although there are many benefits of using content marketing for your e-commerce business, it is not something that gives you the required returns overnight. To derive all the benefits of e-commerce content marketing, it is important to put in consistent effort. You might find yourself struggling with different aspects of the content marketing campaign. There can also be issues with collaboration and team management. This is where e-commerce content marketing tools come in.
E-commerce content marketing tools are essentially apps, software, and platforms that help in streamlining various aspects of your content processes. These tools come with different capabilities like workflow automation, consumer behaviour analytics, content planning, project management, and more. They are designed to help you save time, increase efficiency and decrease stress while carrying out your content marketing campaign.
Benefits of Using E-Commerce Marketing Tools
There are numerous benefits of using e-commerce content marketing tools.
Increasing customer satisfaction and engagement rates.
Streamlining workflow through automation, which helps in saving time.
Gaining valuable information about the target audience, which helps in planning retargeting campaigns.
Better prediction of consumer behaviour through efficiently segmented and concise data.
Good for staying on top of your ROA and ROI budgets.
Pretty impressive, won't you say! Now let's move on to some content marketing tools for e-commerce businesses.
10 Content Marketing Tools to Scale Your E-commerce Business
1. Narrato – Content Planning, Collaboration and Workflow Management
Content marketing is an effort-intensive process for any e-commerce business. It is not an easy feat to create quality content, distribute it to the right audience, and ensure that it fulfils your business goals. Marketers and content teams often have to juggle several tasks related to the content process. Without the right tools, both collaboration and productivity can take a hit, which also affects the final outcome of the content marketing campaigns.
If you want to enhance the content experience of your e-commerce site, a content planning tool like Narrato can prove to be indispensable. This tool comes with a host of excellent features for content creation, optimization, collaboration, workflow, and team management. It essentially brings all your content processes in one place, which helps in saving a lot of valuable time. Here are some of the key features of Narrato –
Content creation and optimization: Narrato's AI content assistant makes it easier to create high-quality content and optimise it for readability, grammar, and SEO. There is also an AI Writer, which can be used to generate content for common use cases like content outlines, blog post conclusions, intros, etc. With Canva integration and a free image search tool, adding graphics to your content becomes simplified.
Content planning: If you are stuck with topic ideas for your content, the AI topic generator can come to your aid. It essentially provides you with a list of topics based on your search. Another incredibly useful content planning feature on Narrato is the SEO Content Brief. This can be used to generate automatic content briefs, which consist of keywords, references, questions, and other SEO parameters. Narrato also provides a Kanban board and content calendar to help you organise your content better.
Workflow management: Narrato provides you full control of the content process by making it easier to assign tasks and keep on top of the workflow statuses. Workflow automation helps you in saving time. You can also manage a repository of your content by organising it under different projects.
Content Collaboration: With in-line text comments and on-platform messaging, communicating with the content team and collaborating with other stakeholders becomes easier.
Team management: Narrato makes it easier to manage your team as it allows you to provide custom access to different user roles.
Content marketplace: On top of all of these great features, Narrato also has a content marketplace which is a great option if you don't have an in-house team of content writers. When you place an order for content in this marketplace, it matches you with the best-suited writer from hundreds of expert freelance writers. You can also be assured that your content will be delivered within 24 to 48 hours.
Pricing: Teams that are starting out can use Narrato for free. The paid plans for the Narrato Workspace start at $8 per user per month, while the prices for the Content Marketplace are dependent on the four different service levels.
2. ProofHub – Project Management
ProofHub is an all-in-one project management tool that can be used to design creative content marketing campaigns. This tool allows you to track the results of your projects, hold discussions with the team and maintain transparency in the content processes. This project management software essentially streamlines the important tasks for marketing and content teams.
Develop marketing strategies: ProofHub can be used to kick-start marketing campaigns, define its goals, streamline content processes, analyze important metrics and coordinate with ad agencies.
Plan multi-channel campaigns: It can help with lead nurturing and outbound marketing, while ensuring that the internal and external communication remains robust.
Get the desired results: It helps in executing the marketing campaign effortlessly by identifying loopholes, scouting responses, and delivering the required results.
Pricing: ProofHub can be used for free by users that are starting out. The paid plans start from $45 per month, and they come with a host of great features like time tracking, file versioning, activity log, and more.
3. BreadnBeyond – Video Marketing
The power of video content in marketing cannot be overstated. According to a report, video content has a 50 times greater chance of driving search results. If you want to leverage the power of video content for your e-commerce business, explainer videos can be great for the purpose. BreadnBeyond helps businesses with custom explainer videos.
They provide a wide variety of video styles, like –
Motion graphic
Cartoon
Kinetic typography
Cut-out animation
Other video marketing strategy such as 2D and 3D animation
What's better is that you can get high-quality explainer videos for your business in just 25 days. With a custom explainer video, you will be able to educate the audience about your services better.
Pricing: The price for the BreadnBeyond explainer videos varies according to the project.
4. Insightful – Activity Monitoring
To drive a successful content marketing campaign, it is important to ensure the productivity of your teams. Insightful is an activity monitoring and workforce productivity software that can prove to be very useful. This can be used to gain relevant insights and real-time visibility into the performance and efficiency of your team members.
Key features offered by this tool are –
Screen Activity Recording
Productivity Analysis
Browsing History
Pricing: The pricing of Insightful differs according to the plans –
Employee Monitoring: $6.40 per month per employee
Time Tracking: $8.00 per month per employee
Automatic Time Mapping: $12.00 per month per employee
5. MailChimp – Email Marketing
Email marketing should be an integral part of your content marketing strategy as it can be an indispensable tool to build a community around your e-commerce business. This email marketing automation tool allows you to create and manage email marketing campaigns, customer lists, newsletters, and more. The user-friendly interface makes it easier to access the dashboard on both desktop and mobile devices. You can easily build a mailing list with subscribers and also track them. MailChimp also simplifies the monitoring of metrics.
Pricing: The free plan allows you to send out 10,000 emails to 2,000 contacts per month (with ads). If you want to send out more emails, you can avail the paid plans which start from $9.99 per month. They also come with advanced automation.
6. EasySendy – Hybrid Email Marketing Platform
EasySendy Pro is an email marketing platform for digital marketing teams. It integrates with multiple email delivery API relay service providers and enables the delivery of email campaigns to a list of opt-in emails.
You can split test email deliveries across the relay servers, do email list cleaning, email warmup and check reports, email verification, track email clicks, and open each email campaign. It also has a smart autoresponder and email list segmentation.
You can add Web Pop Forms to capture email subscribers from a website, clean an email list, build an email warmup process, build custom subscriber pages, edit email templates with a drag-and-drop editor, and do subscriber segmentation filtering. Connect your app/website through API, Google Analytics, WordPress, and Zapier.
So, if you make digital or physical products, provide services, build software, and market/ sell online, EasySendy Pro is for you.
7. KeywordKeg – Keyword Research
If you want to leverage the power of SEO in content marketing, it is important to research relevant and targeted keywords. This is where a feature-rich tool like Keyword Keg comes in. This marketing tool can be used to find keywords on the basis of product information and buyer intent. By conducting an in-depth analysis of keyword research, you can get the most relevant keywords based on your audience's search behaviour.
Pricing: KeywordKeg does not provide a free plan. The paid plans start from $38 per month.
8. Woopra – Customer Journey Analysis
 A customer journey analysis tool like Woopra can be incredibly useful for designing a customer-focused marketing campaign. This tool essentially helps in gaining deeper insights into the customer behaviour on your website. You can access the individual profiles, and also segment your visitors based on certain parameters. This will allow you to create the right content for the right customers at the right point in their customer journey. 
Pricing: You can use the core analytics features offered by Woopra for free. The paid plans, which come with additional features, start from $349 per month.
9. SlideModel – Your Ultimate Solution for Ready-to-Use Presentation Templates
SlideModel is an all-inclusive platform that provides a vast collection of pre-defined presentation templates, presentation slides, and infographic templates. It is specifically designed for presenters, consultants, and professionals looking to create eye-catching presentations without the hassle of designing from scratch.
SlideModel offers an extensive library of professionally designed templates for PowerPoint and Google Slides presentations and infographic templates that are 100% editable and fully customizable to meet your needs. This means you can effortlessly craft compelling visual content that will resonate with your audience and captivate their attention.
Top Features
Extensive collection of ready-to-use PowerPoint templates, presentation slides, and infographic templates
Full customization capabilities for all templates and slides
Unified interface for efficient teamwork and collaboration
Compatibility with popular presentation software
Pricing Plans
Free basic plan that includes access to free PowerPoint templates section.
Individual plan for professionals and design enthusiasts at $59.90/yr.
Business plan for small and medium-sized businesses at $199.90/yr.
Enterprise plan for large corporations. For detailed pricing, contact the SlideModel customer service team.
10. Visme – Visual Communication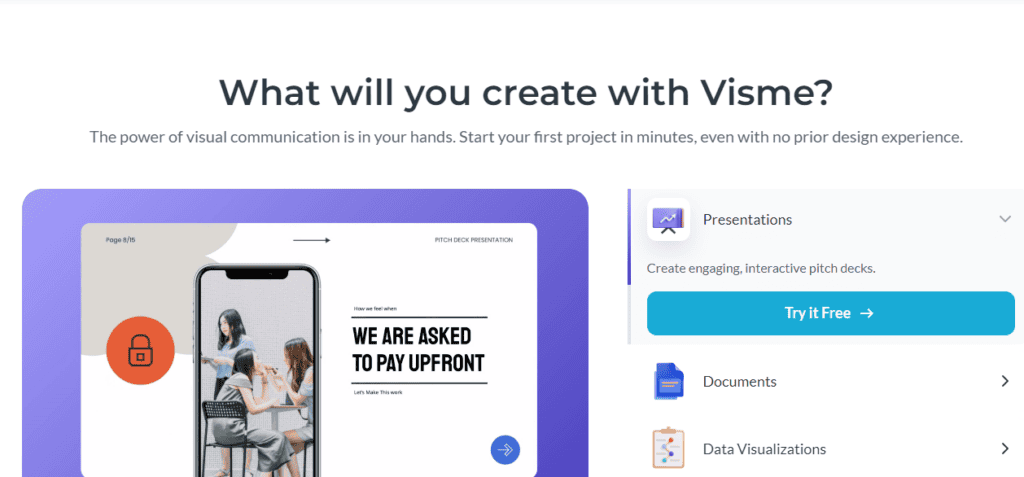 Visme is a visual content creation tool that lets you create infographics, presentations, animations, and other forms of visual content. Visme is easy to use, yet can be used to create professional-looking assets with little to no design skills.
Visme combines simplicity with flexibility. A large collection of templates and visual elements that can be included allows you to create engaging visual content to reach out and captivate your audience's attention.
Top Features
Powerful presentation tools
Creative control over infographics
Unified dashboard for effective collaborations
Third-party integrations
Pricing Plans
Free basic plan that comes with most templates.
Personal plan for design professionals at $29 per month.
Business plan for SMBs at $59 per month.
Enterprise plan for corporations. You will have to contact the Visme sales team to learn about the pricing for this plan.
11. Renderforest – All-in-One Design Tool
Renderforest is an all-in-one online design tool that can be used by both professionals and amateurs to create high-quality videos, animations, logos, slideshows, professional websites, free mockup designs, SMM graphics, and printables.
It is the best solution if you're looking for an easy-to-use tool that can help you create outstanding visuals and gather all your designs in one place in the most orderly manner!
Features
Create Videos and Animations
Build Websites
Make Logos
Edit Mockups
Design Graphics
Pricing: Renderforest has 4 pricing editions, from $0 to $34.99. A free trial of Renderforest is also available.
Conclusion
With this, we have provided you with recommendations for some of the best content marketing tools and e-commerce trends for scaling your e-commerce business to new heights. However, the key lies in using inbound and digital marketing the right way, so that you can attract more customers to your e-commerce site.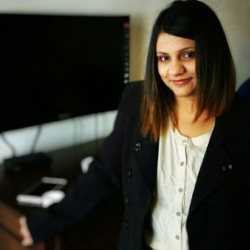 Latest posts by Akshita Sharma
(see all)