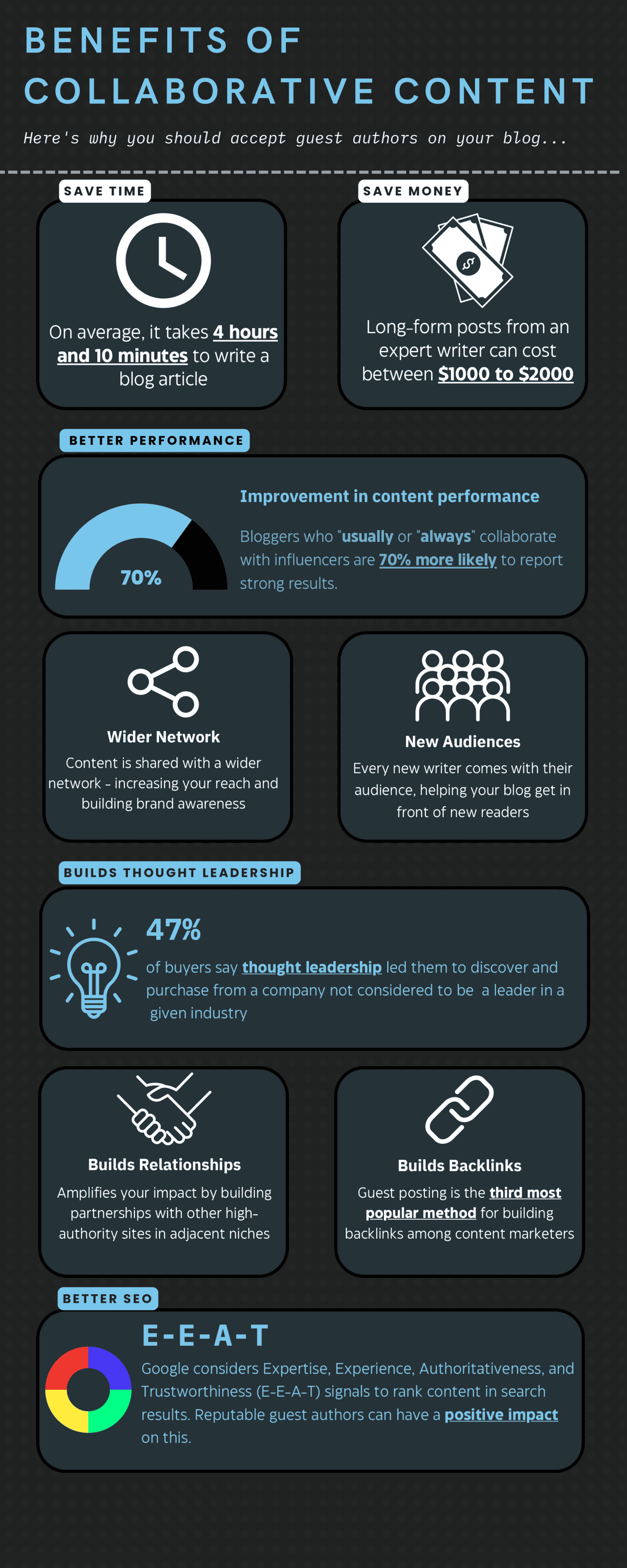 As the Co-founder and CEO of uSERP, I've spearheaded hundreds of SEO campaigns that have taught me countless life lessons. From monday.com to Freshworks to Hotjar, I've worked with some of the world's biggest SaaS companies.
Want to know one of the most profound lessons I've learned?
Accepting collaborative content is an SEO and reputation-building game-changer.
The best part is that if you value working with expert, diverse voices and hand them specific guidelines, your role in the game will be mostly hands-off.
If you're ready to lighten some of the load off your content production team and grab some much-needed SEO brownie points, stick around to learn why you should accept external contributors for your blog.
1. Save time
Every freelance writer or contributor I've worked with that's followed our submission process and produced high-level content has helped our blog blossom into the successful resource it is for B2Bers today.
They write most of their work in a Google Doc, which they send to our editorial manager for a quick review when complete.
If they follow our tone and content guidelines, the review process is over in a pinch.
Next, we add their piece to our staging and publishing calendar and let the external contributor know when their article will be published. From there, our editor takes the wheel, maybe adds some internal links, gives it a second proofread, and sends it to our QA and publishing team.
Pretty simple, but the impact has resulted in thousands of saved hours.
How? It takes an average of four hours and 10 minutes just to write a blog article.
That doesn't include research, optimization, editing, QA, staging, or publishing. If you run an in-house content team, you know exactly what I'm talking about.
TL;DR: Handing the reins to subject-matter experts can lighten the load off your content production team and provide your blog with much-needed expertise.
2. Save money
Not only do blog posts require a significant time investment, but they can also cost an arm and a leg, depending on the article type. Long-form posts from an expert writer can cost between $1,000 to $2,000 per article! If you need a content team of full- and part-time employees, those costs add up fast.
While some freelance contributors charge more affordable rates — $250 to $500 per article — many require contracts or retainers before they consider working with you. Alternatively, they have the option to employ invoicing software for the efficient creation and dispatch of a detailed invoice for their services.
But external contributors pitch and produce content knowing they (likely) won't get paid for their work.
That's because guest authors would rather share their personal experience and wisdom in exchange for quality backlinks to their site and a chance to position themselves as industry experts. In other words, it's a shift in priorities.
TL;DR: Guest authors aren't looking for quick cash. They're interested in building higher domain authority and long-term business growth. That means more oomph for your blog and less impact on your bottom line.
3. Reap better content performance
As an Entrepreneur.com Leadership Network Advisor, one of the most common questions I get asked is how to improve content performance.
One of my top answers? Lock arms with B2B influencers and affiliates that have aligned target audiences, business goals, and core values.
But don't just take my word for it.
According to Orbit Media Studios, bloggers collaborating with influencers are nearly 70% more likely to report strong results.
The reason is simple.
People trust B2B influencers and affiliates. They provide a no-nonsense approach when they review software, provide product demos, and produce explainer videos.
They're sincere and put in the backbreaking work it takes to build a curated audience that's ready to buy.
TL;DR: With highly curated audiences and, consequently, higher DA scores, B2B influencers, and affiliates can help your site perform better simply by sharing the collaborative content you've made together on their sites and yours.
4. Share your content with a wider network
And speaking of sharing content …
When these experts write for you and share the collaborative content you've made together on their social media profiles, blogs, and other marketing channels, they're spreading your name like bees pollinate flowers.
Sharing content with a broader network like this increases your reach, boosts your brand awareness, and builds your reputation at record speed. It also puts your content in front of new audiences.
That's because guest contributions (when set up correctly) should spell out a two-way benefit, not just some site promising "social proof." That's BS. If a guest author can link to their own stuff (so long as it's useful to your readers), they'll happily share the published piece with their networks.
That's why it's pivotal to create an external contributors policy that's fair and supports a win-win approach for you and them.
Not sure what to include in your policy?
Steal some of the guidelines we created at uSERP, which include:
Link to your site when it's helpful to our readers, but please don't be a jerk about it, i.e., don't link to yourself 15 times in one paragraph (yep, it's happened before!)
Please don't include any direct or indirect competitor links — these will be removed
Introduce your helpful resources in a way that's natural and beneficial to the reader
Do not include any outbound links in the intro (before the first H1 or H2)
Do not include any links to CBD/Adult/Gambling/Casino sites
Any affiliate links added to the piece will result in a complete rejection
I also recommend adding the top rules you've included in your company style guide to this list or providing contributors with a copy.
Here, you'll include what kind of tone, style, and subject matter you cover in your blog, as well as your target audience, required content production tools (and scores to aim for), and any formatting requirements. Stress the importance of hitting these metrics if the guest author wants their best chance of scoring a published article.
You might also consider making it a requirement for both you and them to share the post across your networks. This requirement is becoming increasingly popular as more sites compete for the same keywords and topics.
TL;DR: Every new writer comes with their own audience. Your blog can reach endless new readers and networks with the right guest posting guidelines.
5. Build a strong thought leadership presence
At uSERP, we accept guest contributions to our blog from great publishers — but we don't just accept any content. The pieces must fit our audience and live up to our reputation in the market.
As industry leaders in Digital PR, SEO, and link building, our articles are grounded in thought leadership and expert insights.
Not only is this key to building trust and authority, it's also the most effective way we can demonstrate the immense value we offer SaaS brands.
In fact, 61% of decision-makers in Edelman and LinkedIn's 2022 B2B Thought Leadership Impact Report (a report with perspectives from nearly 3,500 management-level professionals) stated that an organization's thought leadership could be "moderately or a lot more effective" at demonstrating the potential value of its products or services compared to traditional marketing tactics.
The report also touches on the importance of thought leadership as a way to combat economic downturns:
"We found that thought leadership is one of the most effective tools an organization can use to demonstrate its value to customers during a tough economy — even more so than traditional advertising or product marketing, according to B2B buyers."
That's why having a few guidelines in place is crucial to help contributors understand what qualifies as thought leadership.
For example, consider providing inspiration, such as:
Share a business lesson with our audience that you haven't talked about anywhere else
Produce original content only and focus on sharing your unique expertise with our readers
Discuss top industry challenges and the groundbreaking solutions you've found to solve them
Lay out a case study that presents a problem, the solution you used, and what the process looked like before, during, and after
TL;DR: Stress the importance of writing thought leadership content when working with external contributors. Spell out what thought leadership content means to you and your audience.
6. Build relationships with high-authority sites
While some SEOs are under the impression that link-building and guest posting are spammy marketing tactics, the truth is, it's all about building quality relationships.
Anyone can promise you the world — and for just a few bucks. But are these sites and guest authors reputable, in line with your values, and offer high DA scores? Additionally, is the content they're promising up to Google's (and your) standards?
Probably not.
But when you engage in ethical guest-authoring practices, you're on a mission to build long-term, quality relationships with high-authority (HA) sites — not just scoring a few nice pieces for your blog. Ideally, you'd contribute to their blog, and, in return, you'd get some great external contributions from them.
If you both show up and produce high-quality content that's in line with each other's tone, style, and target audience, you'll continue syncing up to create pieces again and again. Over time, this grows your impact and theirs.
If you ask me, you can never have too many HA brands on your side. Do right by them, and they'll do right by you.
TL;DR: Collaborative content amplifies your impact by helping you build partnerships with other high-authority sites in adjacent niches.
7. Build valuable backlinks and get better SEO results
I've mentioned link building a few times, but I wanted to dedicate a section to stress how effective guest posting can be at building valuable backlinks.
Guest posting is the third most popular method for building backlinks among content marketers. And at uSERP, it's our number one strategy – to score valuable links from HA sites to boost our clients' rankings and DA scores.
How do we do it? Our specialists work their magic.
Our outreach specialists contact HA sites with curated pitches that meet every inch of their guidelines.
Our leaders show off previous guest authoring metrics to prove our position as the industry authority. And we also have in-house subject matter expert writers that produce our guest pieces. We also embed links to our link-building clients' sites in these pieces in a natural way that provides value.
Over time, this helps our link-building clients, our sites, and the HA sites that accept our pieces get better SEO results. It's the ideal win-win-win scenario.
Additionally, Google considers Expertise, Experience, Authoritativeness, and Trustworthiness (E-E-A-T) signals when ranking content in search results. Our reputable authors make sure to hit these metrics when writing every piece so we have the best chance at an SEO success story.
Following the EEAT principle was one of the most successful strategies my co-founder and I used when we increased monday.com's traffic by 1,570%:
If you're interested in digging more into these SEO details, Brad and I compiled four+ hours of video training on the exact systems we used to scale Monday's organic traffic. You can get the free video training here.
Wrap up
Accepting articles from external contributors is one of the easiest ways to scale your blog content without pouring hundreds of thousands of dollars into robust SEO campaigns.
From getting better content performance to positioning yourself as an industry expert and building valuable backlinks, I can't stress enough how much impact collaborative content makes.
If you're ready to strengthen your SEO results without burdening your team, you can't overlook the power of accepting content from external contributors.
PS: Need help securing subject-matter experts to author guest posts for your site? We've got you covered. Reach out to learn how uSERP can support your scaling efforts today.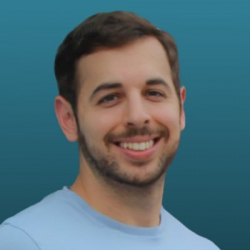 Latest posts by Jeremy Moser
(see all)