Internal links are links that point from one page to another page on the same website.
Most of the time we neglect internal links and are therefore unable to reap the benefits of internal linking for SEO.
Having a good solid internal linking structure on your website helps a lot as it makes it easier for search engines to locate, crawl and inevitably index the pages on your site as easily as possible.
Not only this but internal linking also helps your audience to find more interesting information on your website therefore also indirectly increasing your site's performance for visitors that make their way to your site in addition to its performance in search.
Disclosure: these posts are reader-supported. We might earn a small commission if you purchase something through our site.
The Difference Between Internal Links & Backlinks
Internal links and external links both are vital for search engine optimization and contribute to a large section of off-page SEO.
The quality of your website's internal links and external links has a direct impact on how well your page ranks in the search results.
Let's now take a close look at the difference between internal links and backlinks. By utilizing internal linking, you can improve your WordPress website's user experience and SEO, making it easier for visitors to navigate and for search engines to understand your site's structure. If you're looking to take your WordPress development to the next level, consider implementing an effective internal linking strategy with the help of Userp's powerful tools.
Internal Links
As said earlier an internal link is a hyperlink that points to the other page on the same domain. For example: yourwebsitename.com/products/ is linking to yourwebsitename.com/products-q/
With the help of internal links, the users can easily navigate to your website as it allows the relevant content to be connected on your website and will help in the structural maintenance of your wordpress website.
Backlinks
A backlink is a hyperlink that points to a page on another domain.
If some other website links to a page on your website then you gain a backlink. If your website links to another website then that particular website receives a backlink from you.
For example, think of userp.io (the amazing site you're reading this post on 😉) linking to rankmath.com (the company behind the best WordPress SEO plugin).
Internal Linking Basics
Internal linking can turn out to be a goldmine if used correctly.
However, too many links will only make your page look spammy which can negatively affect the page's (or even the site's) ability to rank.
We recommend adding three or four internal links to your post depending on the length of your post.
This is obviously just a general rule of thumb and obviously there will be exceptions – just write to help users find content, the moment there are so many links that the content is messy and no longer serves a specific purpose, that's generally a great sign that you're already way past the number of internal links that's suitable.
Using Over-Optimized Anchor Text
Let's begin with what is anchor text first.
Anchor text is the text of your links to your web pages from the authoritative sites generally highlighted in blue and underscored within a sentence.
For example, if I were to link to our guide on Schema Markup – the anchor text of the way I've added this link here is "Schema Markup"…
Now, over-optimized anchor text means that there is an insignificant amount of anchor text pointing to a page.
Anchor texts play a vital role in SEO as they help to boost your search engine rankings.
But if they're not used correctly or they are over-optimized there are chances of your website even being penalized that will ultimately hamper your page rankings.
Avoid Unnatural (Non-Contextual) Internal Linking
Using unnatural or non-contextual internal links will only disrupt the site's authority.
For example, if you're using a plugin to link automatically to the pages on your website, it creates an unnatural backlink for those pages.
All of these will have the same anchor text which is not what we're looking for.
Another thing that you'd not want to overdo is to apply a nofollow tag to the links on your domain. This is another way of unnatural Internal linking that can also get you penalized if done on a frequent basis.
The Concept of Link Equity
Link equity also known as link juice is a process in which the links can pass authority from one page to another.
Link equity can be passed from both internal as well as external links.
How does Link Equity Work?
When we talk about Link Equity, let's not forget PageRank as this ties in very nicely here and is still applicable to this day.
PageRank was Google's first algorithm that made use of a website's backlink profile to determine the search engine rankings.
PageRank functions on the basis that the most suitable content/websites will receive the most links from other websites. And therefore it wouldn't be an incorrect assumption to make that this is one of many factors to be taken into consideration when choosing which sites should be shown to users in search results.
The concept as it applies to internal linking is that every page has some inherent "value" which it can diversify by linking to too many external sources or also pass on by strategically linking to related content on a site internally.
How is Link Equity determined?
1. Follow or No Follow links
Links that make use of the nofollow tag are not crawled nor followed by the search engines. These links will not pass link equity.
2. Link Relevancy
Links that are not relevant or authoritative will not be of any value to the search engines.
For example: If you link to a website from a bakery page to homeschooling tips, the link is not relevant and Google is smart enough when it comes to understanding the relevancy of links.
Hence it's important to know that the links will only pass value if they're relevant and offer some value.
3. Crawlable Links
The link will not pass any value if the page is blocked by the crawlers via the robots.txt file.
4. Number of Links located on the Page
If there are numerous links to your website, then it's not considered to be valuable. If your link is lost among the sea of links then it's pretty obvious that the user will not be able to find it thereby devaluing it further.
5. Does the Status Code pass?
Google retains link value through 200s, 301s, and 302s.
How to check Link Equity?
There are various free link building tools that make it possible to check related/somewhat similar metrics, such as Ahrefs and SEMrush which are helpful in understanding this.
How To Add Internal Links In WordPress (2 Ways!)
1. Use LinkWhisper for Internal Linking

LinkWhisper is a WordPress plugin tool that helps you build internal links across your site with ease. It gives you suggestions on what pages to link from, what anchor text to use, and helps you avoid orphan pages which hurt your SEO: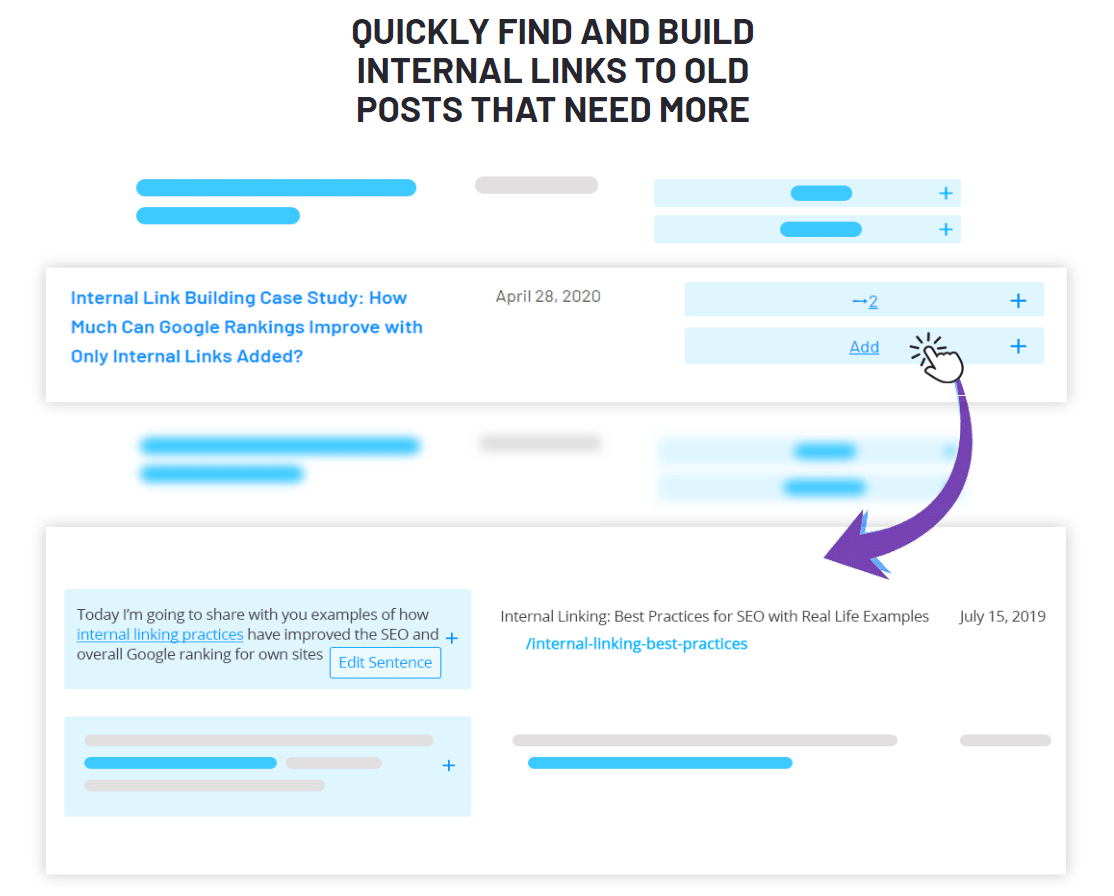 It's $77 per year ($6.50 per month) and saves a ton of time and energy. Check out LinkWhisper here, or read our Link Whisper review to dive deeper!
If you're serious about improving rankings, it's a must-have for your site.
If you don't have the budget yet, here is how to manually add internal links:
2. Manually Add Internal Links
If you want to use a free tool, you'll have to put more time and energy into adding every internal link yourself. Here's how:
Navigate to the Post
First, navigate to the post or page on which you want to add Internal Links from WordPress Dashboard > Posts > All Posts. Click on Edit in order to edit the post.
Highlight the Text and Add the Link
In the post editing screen, highlight the text on which you want to insert the link, click the link icon and paste the internal link as shown below:
If you're not sure what post you want to link to then just enter the keyword and WordPress will search through your website and find the relevant content to link to. Then click on the post you'd want to link and that's it! You're done!
Update/Publish the Post
Once you've added the link, click on Update as you would normally do or Publish the post if it's newly created to preview the changes. The internal link will then be visible in your post and on clicking it, it will redirect you to that particular post.
And that's how you can add Internal links in WordPress.
Conclusion
Starting a WordPress website has never been easier, but scaling it to the next level requires a deep understanding of the types of links and how they work.
Internal linking is a legitimate way to boost your rankings and performance if implemented correctly.
Even If you have top-notch content, it's quite possible that your content won't rank without links.
A solid internal linking strategy will help your users understand your website better and ultimately increase your chance of ranking on search engines to drive organic growth.
We hope this guide has made it extremely easy to get started & take advantage of internal links.