Everyone loves a David and Goliath story. The plucky underdog rising to do battle against a titan. That was the case when we took up the fight for our client Kudos. This client had a lower domain rating (DR) and needed to go up against heavy hitters like Apple, credit.com, NerdWallet, and WalletHub.
This case study will examine the results uSERP generated for Kudos and explain the power of high DR backlinks.
An Overview of Kudos
Kudos is a smart wallet platform that helps you pick the best payment options for every purchase. It does this by calculating different rewards and benefits while making recommendations to help you get the most bang for your buck every time.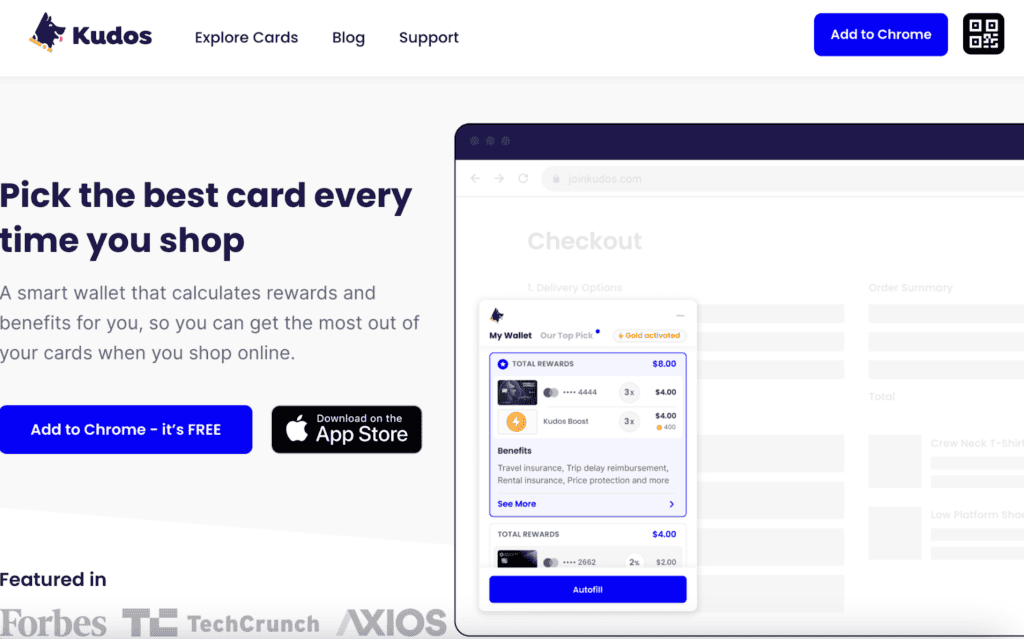 The challenge
As a smart wallet, Kudos needed to compete on a high level with significant competition to succeed. The terms that Kudos needed to rank for were a lot of general credit card terms typically dominated by sites like NerdWallet, credit.com, and WalletHub.
Why was competition in this arena so tricky? It all boils down to domain authority.
When we started working with Kudos, their domain rating was very low. We're talking around 20. Typically, to be in the conversation, you have to be over 50 at least.
And those competitors we mentioned before? They had DRs in the 80s and 90s, a truly monumental hurdle to overcome.
So, how did we bring Kudos to the table and get onto the SERP with the big boys? It all came down to backlink generation.
The content strategy
For Kudos, we chose two target pages for link building. One was the main page of the site, joinkudos.com.
For the main page, we were trying to rank for the following terms:
Digital wallet
Rewards solution
Credit card rewards
The other focus page was joinkudos.com/revvi-credit-card. We tried to rank this page for a single term:
While some of these terms are popular, we tried to be realistic about our targets. We typically try to choose terms with a keyword difficulty (KD) no higher than 10 below DR.
So, with a DR of 20, we wouldn't go after a KD of more than 10. As the site's DR rises, we can go after more robust keywords with a higher KD.
How did we do? Read on to find out.
The results
Domain overview
The first order of business was to use these authoritative backlinks to increase Kudos' DR. We were happy to see that our efforts had raised that number by 15 points. Thanks to authoritative backlinks, Kudos grew its DR to 35.
While it was not quite 50, it was a big positive step in the right direction.
Backlinks to the site increased by an impressive 218, with referring domains increasing by 92.

URL Results for joinkudos.com
The "kudos" search term saw 54,000 monthly views on average. We brought this client from position 18 up to position 10. That means it has moved from page two's obscurity into page one's coveted realm.
The term "kudos website" had already hit page one in the ninth spot, but thanks to this campaign, it climbed up to number four.
Finally, the term "kudos rewards" also went from page two to one, going from the 12th position up to the 10th.

uSERP's impact
A lot of this upward momentum had to do with the backlinks the site was getting from high DR sources. For this client, we kept our link-building efforts to sites with a DR of 60 or higher.
That begged the question, how many of these high-quality backlinks were coming directly from uSERP, and how many were organically popping up? After all, we didn't want to take credit for any momentum in which we didn't have a hand.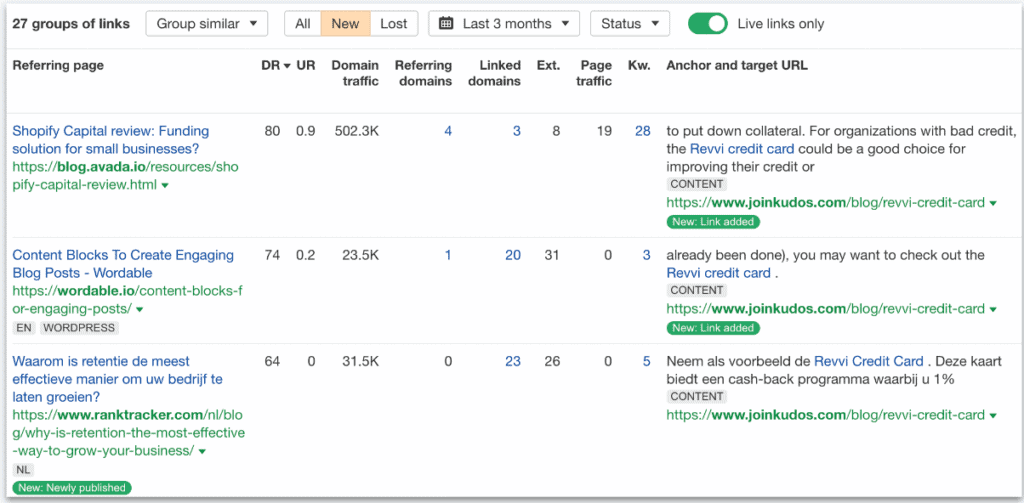 When we examined the high DR backlinks pointing to the /revvi-credit-card URL, uSERP's link-building efforts generated all of them.
Our dedicated writers were crafting content that we shopped around to these high-DR sites. Each article contained a natural link to Kudos, using anchor text that applied to a relevant key term the client wanted to rank for.
That means the positive growth generated by the link-building campaign came entirely from uSERP.
Big wins for Kudos
Kudos had several big wins to celebrate throughout this campaign. While it hadn't achieved the coveted number one spot, it was slowly but surely climbing the mountain and standing tall amid these powerful competitors.
Brand mentions came rolling in from several authoritative sources, including
Avada, with a DR of 80
Europeanbusinessreview, with a DR of 79
Mailmunch, with a DR of 78
The attention and acceptance of these powerful, authoritative websites made Google sit up and take note of Kudos. Its forward momentum and steady climb proved the power these links generated.
Final thoughts
The battle Kudos fought on the SERP wasn't easy. When going up against such massive odds, throwing up your hands or getting impatient is easy. But with SEO, you must never forget that it takes time and consistent effort.
You can't go from a 20 DR ranking far down the SERP to an 87 DR and the number-one spot overnight. It's not possible. SEO is a war of attrition — it's a crawl, not a sprint. You can achieve your goals over time by focusing on incremental growth and gathering resources like high DR backlinks.
If you want to challenge your major search competitors and growth through a strategic high-DR link-building campaign, contact uSERP to schedule your free call today!