Demand generation software plays a pivotal role in any effective marketing strategy.
Unless you like doing things the hard way, that is.
But as marketers, we don't like doing things the hard way. We're pros at turning digital marketing strategies into tailored, automated machines.
We rely on tools to optimize the customer journey, plan generation strategies, and attract the right audience.
That last piece is a doozy, though.
Attracting the right audience is vital to any brand's success story (as long as you turn that audience into loyal customers, of course). 😉
But today, I'm not going to focus on lead generation. Instead, today is all about demand generation marketing — and the software you'll need to make it as seamless as possible.
If you've been looking to create killer generation campaigns without clunky tools, stick around.
Today, I'm sharing seven must-have demand-generation software tools every marketing team needs in their arsenal.
Ready to learn more?
Let's get straight into it.
What is demand generation software?
Demand generation software refers to digital tools you use to attract a potential customer. The main goal? Using software to create free content so you can generate awareness and interest in your brand's products and services.
Demand generation software doesn't help nurture qualified leads — it's about attracting quality leads in the first place.
For instance, since email marketing requires opt-ins, you won't be focusing your demand-gen efforts there. When it comes to lead generation strategies, on the other hand, email should be high on your priority list.
In other words, free content is to demand generation, as gated content is to lead generation. A key component of effective demand generation software is the utilization of a secure and efficient data room, where businesses can store, manage, and share valuable information with the right audience.
In your quest to become a known and trusted expert in your niche, you'll need to opt for content marketing tactics, such as:
Creating informative carousel posts
Recording mini how-to videos
Writing blog content based on search
Optimizing your content for search
Creating infographics and shareable visuals
Posting value-driven content on social media
Writing sales copy
And, of course, to do all of the above, you'll need some tried-and-true tools to help you streamline your efforts.
After all, why work harder when you could work smarter? That's one of the best pieces of advice I received early in my career.
It helped me move from an entry-level marketing associate to a skilled content writer and now co-founder and CEO of an SEO agency in under six years.
But before I cover my faves, let's dig into some of the main benefits of using demand gen software.
Benefits of demand generation software
A solid demand generation strategy can stir curiosity and put your brand on the map.
How?
By posting content that shares tremendous value and targets your ideal customer, your sales team can put its best foot forward and attract the right audience. The kind that cares about your product or service and believes you can solve their problems!
But as my team at uSERP can tell you, creating content is a legit production. It takes a village.
From research to planning to drafting and publishing, you have your work cut out for you.
That's why learning which tools can help you streamline your team's precious time and resources is crucial.
Here are some additional benefits you can look forward to when you use demand-generation software:
Prime every demand generation campaign with the right copy and visuals
Save time and get access to valuable insights with marketing automation
Become memorable with consistent branding
Give your inbound marketing strategy a leg up with time-saving tools
Nurture every top-of-the-funnel prospect with tailored content
And with that, let's get to those tools.
7 demand generation software tools
Here are seven demand-generation tools my team and I can't live without.
Where is the first place people turn when looking for credibility in this digital age? Your website.
They're scouring your blog, case studies, and customer testimonials for any form of validation for your product or service. As cliche as this saying is, content is king. Well, good content, that is.
Your blog is the backbone of your content marketing efforts, so you need a tool that can help streamline your publishing processes. And the tool that steals the show (no questions asked) is Wordable, which saves my team 100+ hours per week.
Whether you run one, two, or endless WordPress blogs, you can use Wordable to one-click publish content from Google Docs to your websites, stat.
If you manually publish and reformat content to your WordPress blog, this tool will change everything for you.
You can save at least 30 minutes per published post. And if you are publishing dozens of articles per day, it adds up quickly.
Now you (and your team) have more time in the day to focus on other more important tasks like keyword research, content planning, and other growth initiatives to take your business to the next level. 
Try it now for five free exports. Don't forget to thank me later!
Best for: Publishing content from Google Docs to your WordPress blog in seconds.
Successful content marketing campaigns without compelling visuals are rare.
Audiences aren't just getting pickier, they're also constantly bombarded with messaging.
And don't get me started on the extreme overuse of stock photos, which consumers tend to ignore completely.
To stand out in the noise, you need a reliable tool you can use to create tailored:
Campaign images
Social media Stories, posts, and carousels
Infographics
Branding elements
Blog images
That's where Canva shines.
With Canva, you can upload your brand colors and custom elements to create branded, shareable content across your marketing channels. And studies show that custom imagery can boost conversions by 35%. 
Here's an example of a LinkedIn carousel post I created using Canva, complete with uSERP's brand elements and colors that pop:
In this example, my audience can quickly scroll through each page to digest my SEO tips. Super convenient and engaging!
Best for: Creating images, digital posters, and branding elements for marketing campaigns.
Social media content takes forever to plan and schedule — even longer when you need approvals or collaborate with someone. 
Planable solves this pain point with its intuitive social media planning tool.
With Planable, you can plan, create, and schedule your social media content without needing any other tool or integration.
Approvals can go through at the click of a button. Comments and feedback show up in real time. And each social media channel is housed in its own folder for easy access.
Need I say more?
After some A/B testing, you can also determine the best times to post your content. Then, with the click of a button, your posts will go live automatically. So say hello to that coveted beauty sleep instead of waking up at 3 am in California to post for the optimal engagement time in the United Kingdom.
Best for: Planning, creating, and scheduling social media content. Also an effective social media collaboration tool.
Blog content relies on screenshots to walk audience members through key steps, break up large chunks of text, and illustrate key ideas.
Also, remember how I mentioned the importance of custom graphics earlier? Screenshots count as custom graphics and significantly improve the customer experience.
That's why it's essential to get your hands on a screenshot extension tool you can use for all of your screen recording needs — both still images and video.
And for that, I recommend Awesome Screenshot. 
It's free, easy to use, and you can use it across any marketing channel. Done and done!
Best for: Taking screenshots of relevant images, stats, and graphs to use in blog content.
Social Curator is a monthly subscription to a caption template and image library, complete with anything you need to show up on social media — even a monthly marketing action plan.
If you're looking for a tool that can take the guesswork out of social media copywriting and image sourcing, this one's for you! And bonus: It designs each caption to help spark audience engagement!
Best for: Planning, creating, and scheduling social media captions, hashtags, and images. Access the caption library, professional image library, and social media marketing guides.

MarketMuse is to SEO what butter is to sliced bread: The GOAT.
For everyone running for the hills, bad-mouthing AI writing tools, this tool might change your mind. None of my clients' rankings would be where they are today without the help of MarketMuse. Check out what we accomplished for Monday.com.
The proof is in the pudding. And the best part? MarketMuse makes optimization super easy.
With MarketMuse, you can research topics, pull semantic keywords, monitor competitor scores, and optimize content. And you never have to leave the tool or use integrations.
The tool also feels incredibly intuitive, making tech training and adoption a breeze. 
Best for: Conducting keyword research, competitor content score research, and optimizing content.
When content is the show's star, you must do your due diligence to ensure it's grammatically correct, free of errors, and tailored to an online audience.
That's why I can't say enough about Writer.
With Writer, you have access to a:
Plagiarism checker
Inclusivity detector
Grammar checker
Spell checker
Readability score
Clarity checker
Sentence length checker
Style guide and content brief import feature
My team uses this tool to edit every asset before we send deliverables to our clients — so trust me when I say it's worth looking into!
Best for: Editing your content, copy, and communications with the online reader in mind. Also an effective plagiarism checker, grammar checker, and spell checker.
Wrapping up
Stirring curiosity about your brand is the first step toward attracting the right audience.
But producing content responsible for said curiosity requires a suite of trusted software tools.
That's why I can't say enough about the importance of using demand-generation software.
If you're ready to call in your ideal customer without the stress of manual processes, refer to the toolbox I shared today to elevate your next demand-gen campaign — I guarantee you'll see success. 
That's it for today, everyone.
Now, go and be awesome!
PS: Do you want to skip the tools and hire someone to take care of content production for you? Let's chat about your organic growth goals. Book an intro call to learn more.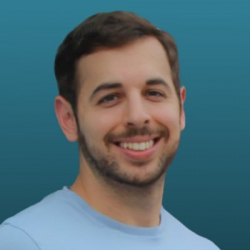 Latest posts by Jeremy Moser
(see all)