With people's attention spans shrinking lower than a goldfish's, you have only a few seconds to attract their interest and engage in your brand. 
So, how do you develop long-term relationships with your target audience and build trust in this lightning-fast digital age?
How can you improve conversion rates, generate leads, and strengthen your online brand presence?
That's where high-quality, consistent, and engaging content can help you.
Tailored content marketing is a fundamental growth method to improve your brand's interaction with prospects at different stages of the buyer's journey.
A focused content strategy covers everything, like:
Getting your potential prospects' attention
Nurturing them for lead generation
Selling them your products/services
Ensuring customer retention
How to build one for your brand?
Let's find out.
What is a content strategy?
A content strategy is a well-thought plan that uses different content forms for multiple communication channels to help you achieve your business goals.
For example, from posting brand reels on Instagram to publishing long-form guides on your website and sending engaging emails to converting ad copies, a content strategy is when, where, why, and how your content will interact with your target market.
While planning a tailored, account based marketing content strategy, focus on maintaining consistency in brand messaging, which can determine your business growth and success.
It can benefit your business once you strategize and execute a pitch-perfect content marketing strategy.
Here's how.
Why is a content marketing strategy necessary?
60% of top B2B marketers have a content strategy. And even B2C marketers have brand awareness, advertising products, and higher revenue as top content marketing goals.
So, why do businesses and marketers rely on a tailored content marketing strategy to stand out in the industry?
Well, planning, executing, monitoring, and optimizing your content strategy can help your business to:
Increase audience retention and build trust
After reading a brand's educational content, 65% of consumers feel the brand is trustworthy and positive.
Content created for a specific audience that answers their questions and pain points can be your most important asset and trust-builder.
It can help you deliver a positive experience to your potential customers and guarantee they will return for more.
Ensure your content marketing strategy is tailored around helping your audience with useful, personalized content. It'll showcase the brand's expertise and empathy, highlighting your understanding of their problems.
Rank better on search engines
Top-ranked organic positions in Google SERPs earn a 39.6% click-through rate.
And how can your website rank at the top of search results?
Using a professional content marketing strategy.
A tailored content strategy can help you create SEO-focused content that can entice readers and search engine crawlers. For example, if your website offers more robust, helpful, practical, and engaging content for your audience, the search engines will also like that.
You can improve your organic search visibility and drive organic traffic to achieve your business goals.
Increase conversions
A properly executed content marketing strategy can give you six times higher conversion rates than non-adopters.
Whether conversions for you is…
Purchase of product/service
Lead generation for your sales team
Email sign-ups
Entries from TCPA consent form
….content marketing is an integral part of every inbound lead generation strategy. It can help you connect with customers and educate your leads to achieve better conversion rates.
Plan a content strategy with clear call-to-actions. Educate the readers on what they need to do next and take them to the next stop in the conversion process.
Save on your marketing expenses
Tailored content marketing can cost 62% less and generate three times more leads. Additionally, leveraging quality content across digital platforms can maximize your long-term marketing efforts.
Although paid marketing efforts can boost your sustainability, planning and implementing a content strategy is necessary.
Posting consistent, relevant, and engaging content on the website, social media, forums, and other communication channels can aid your marketing efforts. You can also further enhance your outreach with text message marketing campaigns.
But how to create a successful content marketing strategy for your brand?
7 result-oriented steps to build your content strategy
A good content strategy is your working game plan for your content marketing processes, goals, and expectations. Your strategy should consider a KPI and then work towards achieving it. It's fundamental it's structured properly since, much like a teacher's lesson plan template dictates the success of their students, your plan will dictate the success of your content strategy.
Here are the steps you must follow to plan your personalized content strategy.
Be clear with your content goals
You must be clear with the objective of your content goals. Answer a few questions, like:
Why do you want to implement content marketing?
Do you want to educate your audience, generate leads, or increase sales?
What does your audience want from your brand?
These questions can help you build a solid foundation for creating a result-oriented content strategy. Don't forget to document the content goals for staying on track with your KPIs in the future.
Here's an example of a content goals template that can help you get more clarity with our content marketing approach.
For example, if you own an eCommerce brand and want higher brand awareness results, you can add a KPI of increasing your website traffic by 100% in the next quarter. Align your content strategy to accomplish this goal.
It can help you channel your efforts towards specific marketing goals and avoid a waste of resources, effort, and time.
Segment your audience
If your audience doesn't consume your content, it's ineffective. So you must know who you are creating it for, what they want, and how to position your brand in front of them.
Segment your audience based on different criteria to increase the efficiency of your content marketing strategy and get valuable insights about your target market.
Creating different precise buyer persons can help, but before that, you can create an empathy map to highlight valuable insights about your audience's behavior and their pain areas.
Here's an example of an empathy map created to understand the behavior of a female prospect for an eCommerce brand.
Using the insights from the empathy map, you can create a detailed buyer persona to discover what kind of content, topics, and medium your audience will react to best.
In-depth content audit
Another critical aspect of creating a professional content marketing strategy is conducting an in-depth content audit to assess your low-performing and top-performing content. Then, you can tailor your content strategy using this information to optimize your results.
By analyzing the content audit results, goals, and audience details, you can understand the content marketing framework you should follow to achieve your goals.
For example, to achieve organic business growth with a 100% increase in website traffic, you can assess existing content quality, conversion optimization, search engine optimization (SEO), and strategy alignment. 
It can provide insights to pave the way for implementing a better content strategy and filling the content gaps.
Write down street-smart content ideas
Understanding which type of content you want to create for your audience can help you brainstorm powerful content ideas. You must create suitable content for multiple stages in a buyer's journey, like awareness, consideration, decision, and loyalty.
Once you know the purpose of your content in the customer journey, you can use some excellent ways to brainstorm great content ideas:
Curate and repurpose content that's been successful in the past.
Create a community where your audience can help you generate new content ideas.
Be aware of trends and use social listening to understand what the industry and target audience is talking about.
Visit websites like AnswerThePublic to get a list of questions people have searched for about a topic on Google.
From video marketing to blog articles and podcasts to social media posts, brainstorm content ideas for different channels. But keep your brand's voice and image uniform throughout.
Create a content calendar
The core reason for a successful content strategy is consistency. You must remain consistent with publishing content on your website, social media, or other community forums.

It can help boost your visibility, build long-term relationships, and establish yourself as the subject expert.
But keeping up with the posting schedule can be hectic. Although content management software like WordPress and multiple social media platforms offer content scheduling, creating and scheduling social media posts using third-party tools is still vital.
You can use these powerful tools to manage, publish, and stay on top of your content schedule. Here's a sample template for creating your social media content calendar.
You can create multiple content calendars for different communication channels based on the topics to maximize your planned content strategy.
Create authoritative and credible content
Once your content marketing strategy foundation is set, you must start with content creation based on the research, ideas, and content calendar.
Hire a team of creative and experienced writers or outsource your work to a professional content writing agency to align with your plan. Also hire python developers and UX/UI developers to take care of the appearance of your website.
Irrespective of the content creation approach, you ensure your content has your brand's voice and delivers the message with finesse. Incorporating front-end development services into your strategy will enhance your website's user experience and overall visual appeal.
Stay aligned with the multichannel marketing approach and create pitch-perfect content for different platforms. Ensure you promote your content across multiple touchpoints for better reach.
But how to finalize the best channels?
You should choose the top channels first to boost your engagement rate. For example, a B2B content strategy can work great on platforms like LinkedIn, while a B2C content strategy may work wonders on Facebook or even TikTok for younger audiences.
After finalizing all the requirements, start publishing your content.
Publish on different digital touchpoints
You should have a dedicated team of professionals handling content publishing and monitoring. Try multiple new things with your content strategy to determine the best combination for your target market.
Ask your team to measure your content marketing using user behavior, engagement, SEO results, and leads and revenue metrics.
As defining your KPIs gives you a clear map of your content goals, you can use analytics tools and software to track the success of your content and analyze whether they are aligned with your goals.
If not, you must modify your strategy and reach your goals.
But even after thorough planning and execution, your content campaigns might not meet their KPIs.
That's ok because a great content strategy also includes measurement and optimization processes to improve the strategy for better performance in the future.
Optimize your content marketing strategy
Implementing a tailored content marketing strategy is incomplete until you measure and optimize it.
You can collect multiple data points to understand the performance of your content and analyze whether your strategy is a hit or a miss. This process will help you understand what works with your target audience and what won't work in the future.
Optimizing can mean rewriting a blog with relevant keywords, adding different subject lines for an email, changing the design and layout, or altering the publishing schedule.
Being an ongoing process, it can be hectic and time-consuming if you don't have the right tools to help you with analytics and reporting on your social media or other communication channels.
Use powerful analytics tools to get a clear video of your content's performance and gain insights into your audience with graphs and charts of critical metrics.
Create well-vetted reports and share them with your team to improve content performance and fill the gaps.
You'll slowly understand better what your audience likes as you create more content. Those insights can help you accomplish goals like better SEO, higher user engagement, and improved ROI.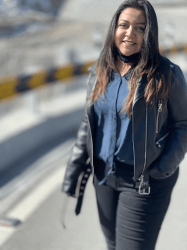 Latest posts by Pragnya Singh
(see all)