If you understand SEO basics, you know link-building's power is hard to underestimate.
E-commerce link building will move your website to the top of search results. It increases domain authority by getting links to your online store from other sites. This results in better target audience engagement and enhances brand awareness vital for online sales.
Many digital marketers focus on creating quality website content. It helps build authoritative external links on reputable platforms. 
But don't overlook social media.
Social platforms provide access to a huge audience base. They also offer excellent opportunities for e-commerce link-building.
This article will explore using social media (SM) for e-commerce link-building and how to connect with qualified customers in your niche to increase your online sales.
Let's go!
Importance of social media for e-commerce link-building

As of January 2023, the total number of social media users reached 4.80 billion.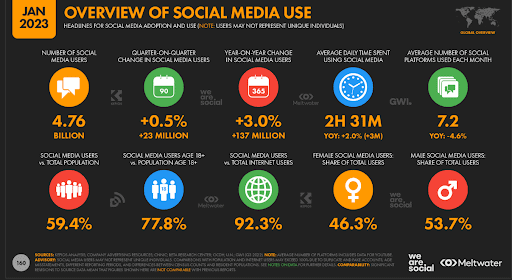 That's around 60% of the global population. And on average, they spend over 2.5 hours on social platforms daily. This data reveals the SM potential for e-commerce linking at a glance. 
According to the Smart Insights survey, around 46% of Millenials and 50% of Gen Z buyers search for products and goods on social media. So, by sharing your content, products, and services via SM links, you can win over a wider target audience for your online store. 
The main benefits of these platforms for e-commerce linking are as follows:
Improved visibility: You'll be able to embrace a larger audience far beyond your existing customer base while remaining within your niche. Popping up on different platforms, you'll boost your brand awareness and product visibility while attracting the attention of more potential customers. Over time, it'll result in more traffic to your online store and more sales.
Building relationships: Social media is a perfect tool for building strong and reliable relationships, which is the core of successful link-building. To inspire people to share your content, you must first gain trust. After creating a business profile, engage with customers or other businesses to show your value. Respond to comments, answer questions, and share useful information.
Attracting more traffic: E-commerce sites' popularity and recognizability depend on rankings. SM backlinks don't usually directly impact rankings since most platforms "nofollow" links. However, they provide opportunities to drive traffic via outreach, content promotion, and link prospecting. In the end, all those tools work for increasing search engine rankings. 
It's worth noting that many digital marketers still think that SM links are pointless since SM platforms allow only no-follow links that don't transfer link juice to external pages. As such, they don't contribute to boosting the page's rank.
The truth is, though, that they are an essential ranking factor. The SEMrush survey shows that backlinks make up five of ten SEO ranking factors.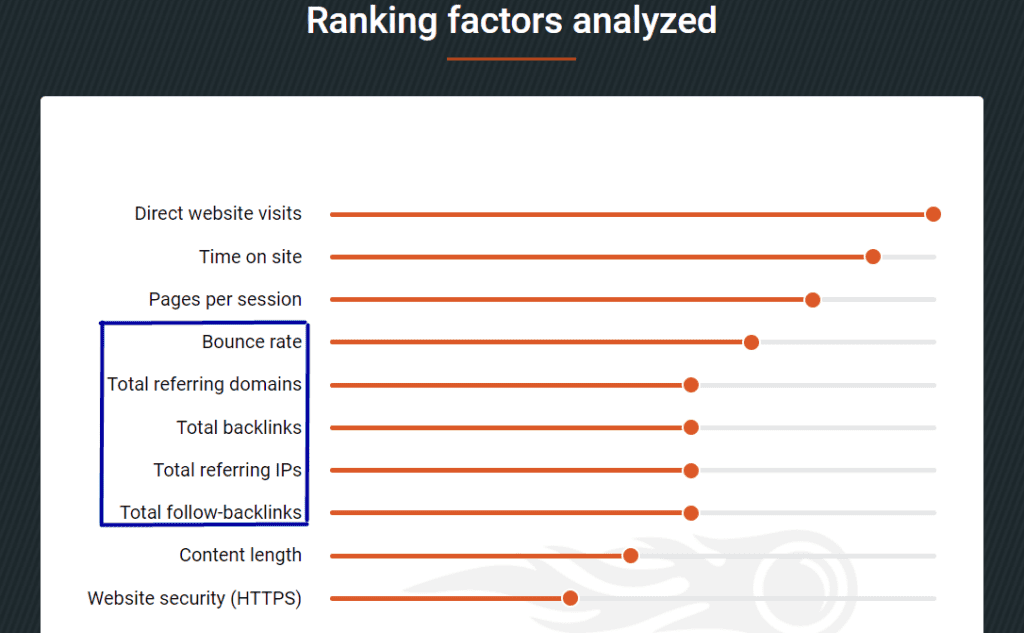 Many SEO professionals recognize social media efficiency in building quality external and internal links. 88% of experienced specialists make links a part of their SM profiles. 81% of professionals tend to share content through their SM accounts. Over 50% use viral campaigns.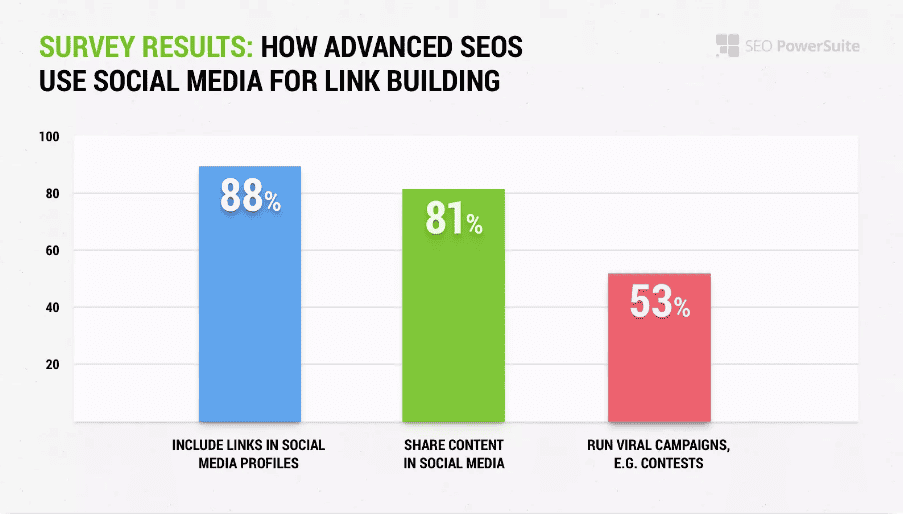 Consider using social networks to make your e-commerce link-building campaign effective and successful.
It's also a way to find unlinked mentions of your brand on social media and turn them into valuable backlinks to boost your domain rating. You can use social media mentions analysis tools that work like SERP APIs (application programming interfaces).
Social platforms for e-commerce link creation

Billions of people use Facebook, Twitter, Instagram, TikTok, and Youtube globally. But are they all good for e-commerce linking?
First, explore SM popularity and demographics compared to your ideal customers (buyer personas). Then, use this information to focus on the platforms with the most potential customers. Then you can develop a dynamite SM link-building strategy for your e-commerce business.  
Below is a social media popularity rating suggested by Shopify for 2023.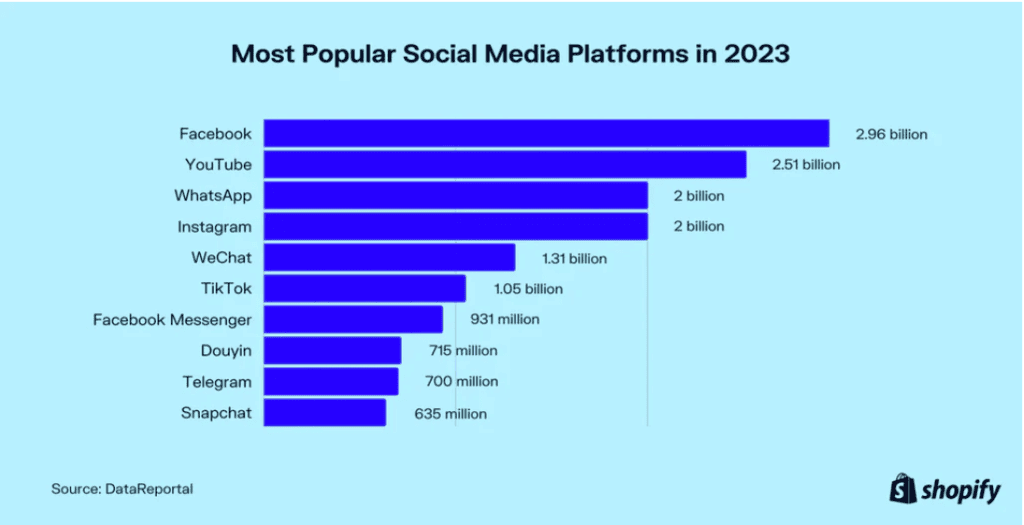 To make the task easier for you, we've made a list of social networks most often used for e-commerce linking:
Facebook: The platform has almost 3 billion active users each month. It is by far the most popular social media platform on the planet. So, your link-creation opportunities here are almost endless. You can create a business page on this platform to post relevant links to your e-commerce site. You can also join groups and communities within your niche to share your product links and engage with potential customers.
Instagram: Instagram is ideal for promoting products or services using visual content. It has 2 billion active users and will help you reach your target audience and expand your online store customer base. Use the platform's algorithms to build your community via posts and link-in-bio. Contact influencer accounts for cooperation and guest posting. Some scraper APIs also work with this platform. You can use them for specific tasks.
Twitter: Twitter is a micro-blogging platform. It allows e-commerce businesses to reach their audience via short messages, hashtags, and link sharing.
Youtube: Youtube boasts over 2.5 billion monthly users, second only to Facebook. It offers great opportunities for sharing video content and establishing relationships with popular vloggers to share your e-commerce links.
Linkedin: LinkedIn is a professional networking and mini-blogging platform. It offers many promising opportunities for B2B (business-to-business) e-commerce. For example, you can place internal links to your website via your profile and "featured" section and create a dedicated business page. Or you can access potential clients via targeted advertising and organic content.

Tips for e-commerce link-building with social media

At this point, it's clear your digital marketing efforts, including e-commerce link-building, should include your social media channels. So let's look at precisely how that works.

Outline your social media presence

E-commerce business owners want their websites to be engaging, informative, easy to use, and attractive to potential customers. You should do the same for your social media content.
All big market players and new e-commerce businesses strive to maintain a solid presence on social media. The trick is to focus on the platforms where your ideal customers spend the most time. 
If you try to target all social media platforms, chances are good, you'll miss the mark. Why? Because you'll spread yourself too thin, and your message will get watered down.
So, check your buyer personas and invest the time and resources into the platforms where your customers hang out.
Hang out with them. Spend time. Give them value.
And remember to link ‌valuable content from your website and other platforms, such as a YouTube video you made, to your Twitter feed or Instagram Stories.
Don't forget to make the content on your website shareable too. Use fixed and floating social media share buttons. These enable your website visitors to share your content via their social profiles.

This is one more way to improve your content visibility and increase your website's search engine rankings. You don't need to include all the above buttons. Just the ones most appropriate for your audience.   
Establish relationships

Social media and link-building both focus on engagement and relationships. Ultimately, you want to earn shares for your e-commerce link on other SM profiles relevant to your niche. But first, you've got to get people interested.
It might seem simple, but it's easier said than done.
You'll only get high-quality, natural links from people you trust. Moreover, the links should connect to relevant, trustworthy websites. So, obviously, you should avoid automated interactions.
Here are a few strategies to build honest relationships and strong connections that are perfect for link-building:
Engage with audiences by participating in conversations related to your industry. Share experiences, answer questions, share content and product reviews, and comment on them. It's a great way to get subscriptions, likes, comments, and shares. It'll help build your authority in your niche and grow your community. Utilize social media platforms for e-commerce link building, and engage your audience by leveraging inventory management software to provide real-time updates, personalized recommendations, and seamless shopping experiences. Also, integrate warehouse management systems and yard management solutions to streamline your inventory control and order fulfillment processes, ensuring efficient operations and timely deliveries.
Join niche-relevant networking and blogger groups to build relationships and examine link-building opportunities. Explore topics and questions relevant to group members. Share your knowledge and expertise by directing them to your posts or website articles.
Track brand mentions on social media. You can earn valuable links by contacting people who already know and love you. Use one of these helpful tools to track your brand mentions online. Then, if you find an unlinked brand mention, you can contact the website's owner and ask for a link. Simple.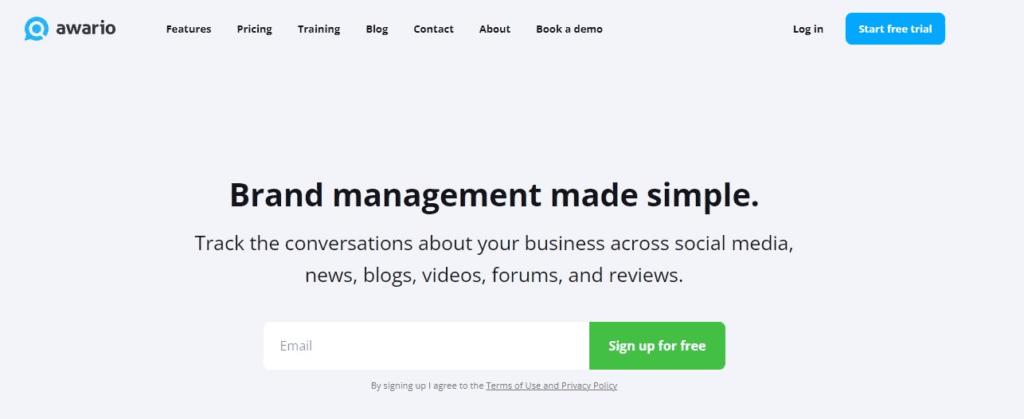 Communicate to your audience by asking your readers about their interests, issues, and concerns. Then generate articles and blog posts that answer their questions and contain the necessary links.
Create quality shareable content
Quality content is one of the keys to successful e-commerce link-building. You should generate content that people want to share. It should be interesting, informative, valuable, and credible.
Break up your text content by posting visual content, one of the most shared types of content. High-quality visuals help you get attention and more links. You can use the best galaxy brush Procreate to create those visuals. It'll make your social media pages catchy, attractive, and engaging. 
Here are a few principles that'll help you promote content and build links:
Don't post all your best content at once, even if you have tons of ideas. Post regularly or use a scheduling tool to batch your content.
Create expert content by adding "how to" posts, webinars, and video tutorials to your SM pages. People primarily use the internet to find information (59%, Oberlo) and learn new things (48%, Oberlo). And they eagerly share this content, especially when provided in a visually-enhanced format. Therefore, you've got a great chance of earning backlinks and social shares when you produce high-quality, authoritative content.
Use infographics to increase shares since they're an excellent tool for long-read article optimization and a great link earner since most people prefer to share images.
Consider using viral content that's often controversial (read: click-worthy) yet extremely shareable. While the biggest challenge is to generate viral content, it might bring you many links, even unintentionally. This is how Wendy's fast-food chain earned millions of backlinks in 2017 on a random tweet. It was the tweet from Carter Wilkerson, who sought to get a year of free nuggets by getting 18 million retweets.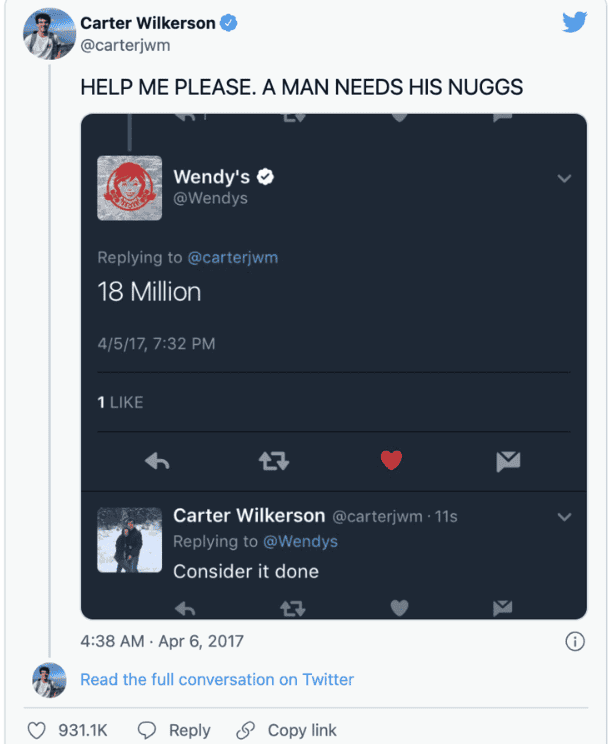 Though the tweet didn't hit the target, it did go viral, and Wendy reaped the rewards.

Collaborate with influencers

Identify people or brands that are influencers (have a solid position and strong following in your niche). Collaborate with them for guest posting and generating social media content, and include your e-commerce links. 
To find influencers in your niche or industry, you can
Take a look at your existing follower or subscriber base
Perform a hashtag search using the most popular hashtags relevant to your niche or product
Scrutinize the follower base of your competitors to pinpoint appropriate names or brands
You can also use an influencer marketing tool. It'll help you find the right creator using a keyword (or domain) and save you lots of time and guesswork.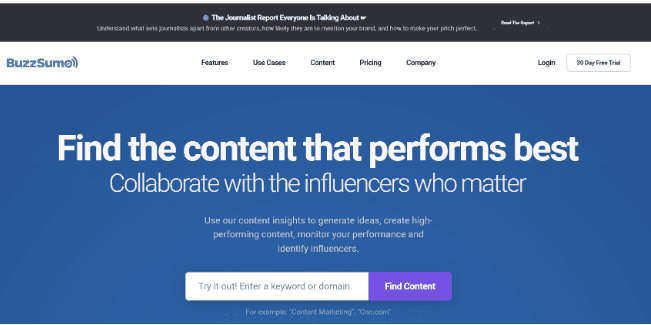 Determining the influencers you want to contact involves interaction and building relationships. Engage with their content, show interest, and DM them once you've established some rapport. This way, your chances of getting a positive reply when asking for links, guest posts, and mentions will be higher.
Host social media contests

Social media contests are great for generating backlinks and driving website traffic. You can require participants to share a link to your e-commerce website to join.
For example, we've all seen those contests on Instagram and Twitter where you like a post, comment on it, and tag friends or share with a specific hashtag to enter. You can do the same.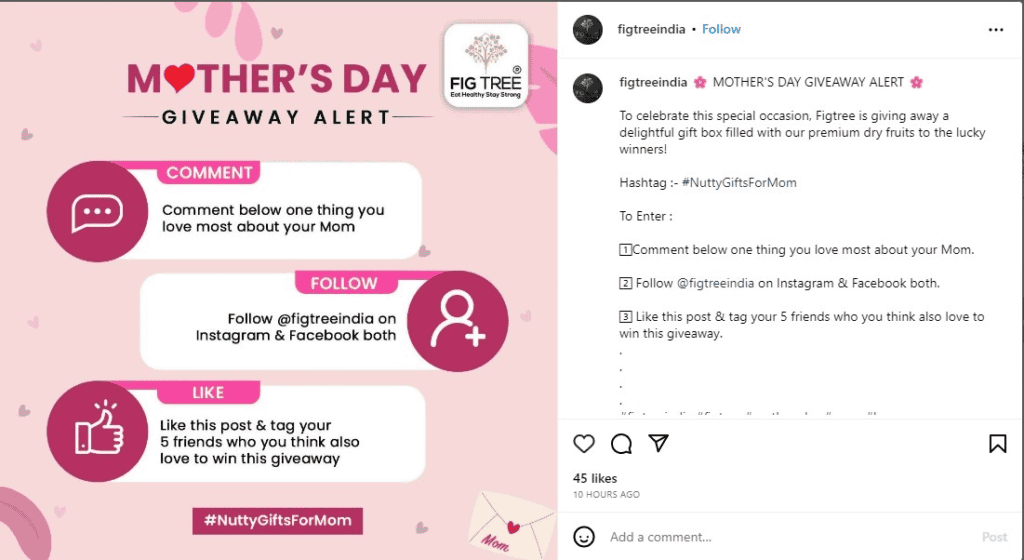 Use your e-commerce website backlink as part of the content in the contest post to get your followers to share it with their friends and contacts.
Or you can sponsor an event and hire an event photographer to capture moments. Collaborate with this photographer to co-promote on social media or collaborate with other bloggers in giveaways.
Whatever your choice, it's an effective link-building technique to draw attention to your online business and expose your brand to a bigger audience.

Conclusion

Social media offers multiple opportunities for e-commerce link-building that are perfect for long-term strategies and quick one-time wins.
It's a valuable tool for increasing your search engine rankings, improving online visibility, and fueling organic traffic to your online store.
As a result, you'll enhance your brand reputation, increase sales, and grow your customer base. 
Good luck, link builders!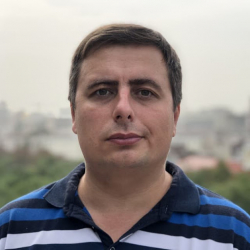 Latest posts by Dmytro Sokhach
(see all)