E-commerce marketing comes with a unique set of challenges.
There has to be a balance between web development, conversion optimization, user experience, and of course, SEO.
This guide will cover the fundamentals needed by marketers, agencies, and website owners to scale their link building and traffic for ecommerce sites.
We'll give you actionable tips and time-saving tricks to tackle SEO like a pro.
Why SEO is crucial for e-commerce websites
Until just a few years ago, online shoppers would head straight to their favorite online stores to look for what they want to buy.
These days shopping begins with search engines. The digital market is inundated with competing retailers, and customers are always on the lookout for quality products with customized packaging, the best prices, and great shipping options.
With search engines, customers can compare the products they want across multiple e-commerce websites.
For your e-commerce website to get a share of the market, it's vital to appear in those search engines.
This means you need SEO, and SEO has three main areas to consider:
#1 – It all begins with keywords
To get anywhere on the internet, you have to have a URL or do a search. Some shoppers will use vague search terms (short-tail keywords) like "frying pan."
Others will use targeted search terms like "red, non-stick, cast-iron frying pan." These are called long-tail keywords and are heavily targeted, making them more likely to attract high-quality traffic.
If your SEO is optimized to cover long-tailed keywords, you'll get visitors that are more likely to convert while also ranking for the short-tail keywords that are part of the phrase.
As shoppers search, they may narrow down their searches by using common brand names or searching for a solution to a problem – for example, "frying pan that's easy to wash."
But how can you find long-tail keywords?
To find the right long-tail keyword for your brand, you can leverage a keyword research tool. Using these tools, all you have to do is enter the primary search term and they'll show you a list of relevant long-tail keywords. Let's say, your restaurant management needs SEO marketing, your keyword research starts not with "restaurants near me" but rather stretches to "restaurants serving beef stake near me" or "restaurants with beef stake options in my area". From these, you can choose the best one for you.
The Search Engine Results Page (SERP) would then show several products that match the search keywords.
#2 – Don't forget about user experience
We all know that keywords are super important, but that's not all SEO is about. Yes, the keywords can draw traffic to your site, but what then?
After a potential customer arrives on your e-commerce website, the goal is to convert the visit to a sale. Ensure to follow the Web Content Accessibility Guidelines which is the accessibility standard for ADA compliance.
This requires a quality user experience which includes:
Attractive design.
Quality content.
Ease of use.
Page speed.
Cross-platform compatibility and more.
#3 – Conversion rate optimization (CRO), anyone?
In a nutshell, this system's goal is to turn a higher percentage of visitors to e-commerce websites into paying customers or taking the desired action (like signing up for a newsletter).
It sounds technical, but the concept is not new at all.
Imagine you're a salt merchant in medieval times, and you pull your cart through the village twice a week.
On Monday you feel a bit sluggish after a relaxing weekend, and you only manage to convince two people to buy from you, even though you passed by 100.
On Thursday, you sell to 10 of the 100 people that you pass by. That's a whopping 100% conversion rate!
That's what you want, right? Only now, you have a website instead of a cart.
The nuts and bolts of e-commerce SEO
SEO consists of on-page and off-page SEO.
On-page SEO covers everything that happens on your page and is influenced by your e-commerce software's tools.
Off-page SEO covers all of the promotional actions done to get links to your website from other sites. This includes:
Creating and sharing valuable content that links back to you
Marketing on social media platforms with links to your site
Guest blogging on industry sites linking back to your site
All your SEO efforts should be geared to convince search engines to give your site a top spot. To understand how you can achieve this, let's explore the basics of how search engines work.
Search engines 101
How search engines work is technical, but it's by far not rocket science. A search engine is a software system that uses a combination of crawlers (also called bots), indexes, and algorithms to decide which content should be displayed first. This is how the process works:
Crawling
Search engines, like Google, send out bots that crawl around the internet and find new content. This could be anything from a listing of a new product in your store to a review left on your site.
Indexing
The newly found content is then stored in a database which is known as an index. Once Google has indexed your content, it begins to compete to appear in relevant search engine results. Every time someone performs a search, Google scours its index for appropriate content. If your content is considered a good match for the search, it will be displayed in the results.
Algorithms
The results are determined by algorithms that arrange the content so that it would resolve the search as efficiently as possible. This is called ranking. Your website's rankings will determine where it appears in search results. The closer your score is to the top spot, the more traffic it could receive.
According to research, if you reach the #1 spot in a Google search, you would have an average click-through rate (CTR) of 31.7%. Even if you don't score that coveted spot, the higher you are, the higher your CTR will be. This could evolve into a significant increase in visits and conversions, ultimately bringing in more revenue.
11 Steps to e-commerce SEO success
SEO is critical for driving traffic and generating sales. If your e-commerce website is going to thrive, it's crucial to harness its power; this is how:
Step 1: Keywords are King
There are two basic types of keywords: informational and product/transactional. People use informational keywords to find helpful content like tutorials and how-to guides. If your e-commerce website has a blog, these are the terms you should use.
People use product/transactional keywords when they are searching for a specific product. If you have an e-commerce website, these terms will form the core of your keyword strategy. Try these methods to find keywords:
Use Google's automated suggestions, and its "people also ask" feature to get keyword suggestions.

Look at the terminology your competitors use for their SEO strategy.

Use Amazon's automated suggestions by entering keywords that describe your products and seeing what comes up. Additionally, utilize Amazon PPC Advertising effectively by leveraging the platform's automated suggestions. Begin by entering relevant keywords that accurately describe your products and observe the results that emerge.


Step 2: Research your competitors
Brick-and-mortar stores need physical space and have all kinds of overheads that online stores don't have. Although you save on a lot with an e-commerce website, the competition is also a lot tougher.
The best part about having a digital store is that you can use this competition to your advantage.
By analyzing your competitors' SEO strategies, you can identify their tactics and adapt them to your e-commerce store. A simple way to do this is to do keyword gap analysis with a tool like Moz's Keyword Explorer.
With the Moz Pro Site Crawl, you can quickly identify SEO issues like broken links and fix them up in a flash.
Step 3: Optimize product pages
You've done your research, your keywords are ready, now what? Now it's time to use this information to optimize your on-page SEO of the product pages. The idea is to improve your e-commerce site, so it ranks higher in Google. Target these areas:
Product descriptions
Most e-commerce sites are product-driven, and the description of each product is the perfect place for optimization. If you're using an e-commerce platform like WooCommerce, you'll be able to specify two separate product descriptions, so you can include a short one and a long one.
This is where you can organically include your keywords while also persuading your customers to make the purchase. Try to add your main keywords at least once in both descriptions.
Heading (H-1) tags
Every product page has to have one main heading marked with an H1 tag. Search engine bots use these tags to identify the most critical content on your product page. Don't be tempted to put more than one H1 on your page; it will only confuse the bots, negatively impacting your SEO.
Pictures tell stories
Product pages usually have at least one image, and the associated alt text gives Google helpful information about the image. For an extra SEO boost, optimize your images' alt text and file names to include keywords.
This is pretty straightforward to do in e-commerce platforms like WooCommerce. Take a look:
If you want to add more accessibility features, you can use an image to text converter for your e-commerce site. This can help you rank for more keywords in addition to being user friendly.
Step 4: Optimize snippets
A snippet is the first text somebody will see about your website or products. The short description comes up in the search results and consists of a meta title and meta description. Since this text could persuade a visitor to click through or move on, it can be pretty powerful!
Meta titles and descriptions
Make your life easy, and use an SEO plugin to generate a meta title and meta description. The perfect title will grab attention and encourage the reader to click through. The ideal description will be short, to the point, and compelling. It should be relevant to the search and highlight any initiatives like free shipping or special prices.
URL slugs
Another useful snippet is a URL slug. This is the part of your website's URL that identifies the content of a page in an easy-to-read form.
This is a simple way to feed search engines with your keywords. In e-commerce sites, especially ones with several sub-categories, the auto-generated slugs can be complex and not particularly useful. It's always a good idea to make your URLs short, concise, and relevant.
Rich snippets
Although rich snippets don't directly improve your SEO rankings, they can help your website stand out in search results, improving your click-through rates. Rich snippets include star ratings, recipes, events, reviews, and other structured data. WooCommerce has an excellent widget for this.
Step 5: Optimize category and tag archives
Begin by optimizing your product pages with relevant keywords and phrases. Then jump into your category and tag pages and create unique SEO-driven descriptions. These descriptions will help search engines to understand what your pages are all about to be ranked appropriately.
Yoast SEO is a powerful tool available on WordPress, WooCommerce and Shopify has its own built-in tools to make this easier. There are also many apps on the Shopify App Store that can make this process seamless. Include relevant keywords and phrases, both short-tail and long-tail versions, to make your category and tag pages as SEO-friendly as possible.
Step 6: Work on your breadcrumbs
Breadcrumbs are the lines of text on your website's pages that show where the user is within your store. This helps them to navigate, especially when products are contained within categories and sub-categories. It enhances the user experience (UX), which improves conversion rates.
Besides making navigation easier, breadcrumbs also help Google understand and crawl your store, improving rankings. The easiest way to control your breadcrumbs is to use tools like Yoast SEO or the dedicated breadcrumbs widget that comes with WooCommerce if you're using the Elementor builder.
Step 7: Test your robots.txt file
Your website's robots.txt file instructs the crawlers that search the web. It's a great way to specify which parts of your site these bots should ignore and which parts they can access. If this file is not configured correctly, it could prevent Google from indexing some, or all, of your product pages!
To test your robots.txt file, use the Google tester tool. If it identifies an issue, you will be able to edit it with an SEO plugin like Yoast SEO.
Step 8: Safe sites rank higher: switch to HTTPS
E-commerce sites process payments, which means that you have to provide a secure connection to ensure your customers are safe. Use Hypertext Transfer Protocol Secure (HTTPS) to encrypt the data sent between your server and the shopper's browser.
For e-commerce businesses, VPNs are important to protect data in transit. For example, if your company is entering a partnership with an organization, you want to make sure hackers can't tamper with or expose confidential information. With so many options online, even the most affordable VPN or a free trial VPN will guarantee good internet security and network security.
Besides keeping your customers safe, switching to HTTPS can also improve your SEO rankings. Google loves the idea of encouraging website owners to switch to HTTPS to promote safety on the internet.
Overall, there are quite a few cybersecurity threats these days, and shoppers want to feel safe when they are entering personal information. They do not want to get exposed to ransomware or malicious malware, nor do they want to eliminate computer malware just because they chose an unsafe site to do their shopping on.
Step 9: Test your site regularly
Regular testing is crucial. Here are some handy tools you can explore to test your online store and its performance:
Server errors can cause issues with keywords, and if your site is offline for a while, it could negatively impact your SEO. If you test your website regularly, you will identify and resolve any issues before this happens. It also means you can continuously work on your rankings and site performance.
Step 10: Strategize your content marketing
Content like infographics, blog posts, and explainer videos can attract traffic to your e-commerce site and be the driving force behind conversions. Content marketing involves giving your followers valuable information, especially something that helps them to solve problems. Quality content creates trust and builds long-term relationships.
While SEO is the process of attracting visitors to your website, content marketing is what drives conversions. Earlier, we touched on conversion rate optimization (CRO) and how important it is. Without content marketing, your website won't have the substance it needs in the form of keywords, articles, and valuable information.
Identify challenges your customers are experiencing, and create content, utilizing tools like ChatGPT for e-commerce, that can help them tackle these issues. Make sure you build your content around the keywords and phrases you need. Then create a content calendar tailored to meet their needs. Don't forget to include at least one relevant call to action (CTA) in every piece of content, for example:
"Join for free."
"Sign up, and save."
"Learn more, talk to us."
"Explore our range."
Step 11: Link it all up
Link building is the soul of SEO. Every time another website links to your e-commerce site, Google counts it as an endorsement of your store. To measure more or less how strong your backlink profile is, check the Page Authority and Domain Authority with a tool like Ahrefs.
The most effective way to get backlinks to your e-commerce store is to create valuable content. This could be how-to guides, quizzes, videos, infographics, or listicles.
Don't forget about internal links; this can also give your SEO a boost. Internal links are simply hyperlinks between two different pages on your website. If you can get visitors to hop from page to page on your website, Google will rank you higher. Session duration and number of pages visited during each session are two significant factors in ranking.
Internal links can also help to define your website's architecture. By creating internal links, you are in control of your anchor text. Try to use keywords that you want your site to rank for in these anchors.
Tackling CRO
After taking the necessary steps to get a virtual footfall crossing your digital store's threshold, it's up to you to convert "browsers" into "buyers." A successful CRO strategy involves getting more paying customers out of the same amount of traffic. Here are some tips:
Make the buying process and checkout as simple as possible by improving your eCommerce checkout rate. This involves giving customers a clear sales funnel from when they arrive on your website until they complete their order.

Offer multiple payment methods. The more payment options your store offers, the more customers are likely to buy from it. You could even incorporate a subscription model using a recurring payments provider like Ordergroove, Recurly (or a Recurly alternative such as Chargebee).

If possible, allow customers to checkout without having to create an account.

Showcase products with videos and quality photographs from multiple angles.

Showcase customer reviews.

Make your product description and benefits clear and concise.
Invest in high-quality, eye-catching packaging. If you're not sure where to start, there are plenty of small business packaging ideas online that you can use for inspiration.

Make a chatbot available to answer basic questions.

Offer free shipping where possible with the right delivery management process.
This is not where it ends
SEO optimization is not something you get done, and then you're done. Over time, search engines change their algorithms and ranking factors, and you have to keep up with this.
It's essential to keep monitoring your website's performance and refining your SEO accordingly, and that's where ecommerce dashboards can help. Use them to easily visualize your SEO metrics and identify and improve any issues you may have.
Keep adding quality content and optimize everything. This not only keeps your rankings high but also gives your visitors a reason to keep coming back.
Boost sales with SEO
There are several reasons for SEO optimization, but the bottom line is to help you boost e-commerce sales through conversions.
When your products rank highly in search results, you have a better chance of conversions. The first step of an SEO strategy is keyword research. This will form the basis of an effective content marketing strategy that goes hand in hand with successful SEO.
When you begin to make sure your e-commerce website is SEO-friendly, you'll start to see an increase in high-quality traffic, repeat visitors, and sales. Stay on top of changes made in search engine algorithms, keep testing your website and adjusting your strategy accordingly, and you'll be ahead of most of your competitors.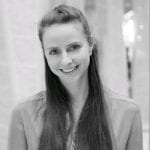 Latest posts by Kristina Ziauke
(see all)