Last updated: Feb 17, 2022
Google is constantly updating its ranking algorithm to deliver relevant results. But one signal continues to have a strong impact on rankings — link building.
External backlinks from other sites act as a vote of confidence. All other factors equal, a site that has more backlinks will outrank a site with no backlinks.
Now, that doesn't mean you can spam your site with backlinks and rise to the top. You need links from relevant and trustworthy sites to build your authority.
The good news is there are plenty of tools you can use to develop a link-building strategy, from analyzing your competitors' link profile to conducting outreach, monitoring existing backlinks, and more.
Are you looking to get a successful link-building campaign off the ground?
Then you're in the right place. In this article, we'll give an in-depth look at the top free link building tools.
Top 14 Free Link Building Tools
There's no shortage of link building tools on the market, but choosing the right one for your business isn't easy.
Here's a list of free tools you can use to aid your white hat link building strategy.
1. Majestic SEO For Monitoring Backlinks
Majestic SEO is a popular link building tool. It offers an extensive "Link Intelligence" database by crawling and mapping the web.
How it Works
Majestic SEO offers two indexes: Fresh Index and Historic Index.
The Fresh Index contains a list of pages and links that it has found in the past 120 days. It also includes any links that you might have lost in that period. This is useful for understanding how link building campaigns affect your immediate rankings.
The Historic Index is a massive database that spans the last five years and contains trillions of unique URLs. This lets you measure your site's SEO performance over time.
Registering for a free plan does give you limited access to some of its features. But you can still view important metrics like external backlinks, referring domains, and more.
Trust Flow is a metric that displays the quality of links that point to a URL, while Citation Flow represents the quantity of links that point to a site. (Both are available in the free plan.)
One way to use Majestic SEO is to view the Trust Flow and Citation Flow of sites that are ranking on the first page for a target keyword. This can give you a better idea of how easy or difficult it is to rank.
Majestic SEO Pricing
If you're looking for features and metrics beyond what's available in the free plan, you can upgrade to a paid plan, too.
The Lite plan starts at $49.99 a month and goes up to $399.99 for the API plan (ideal for developers and agencies).
Here's an overview of the plans that Majestic SEO offers:
Note that you can also save when you choose an annual plan.
2. Respona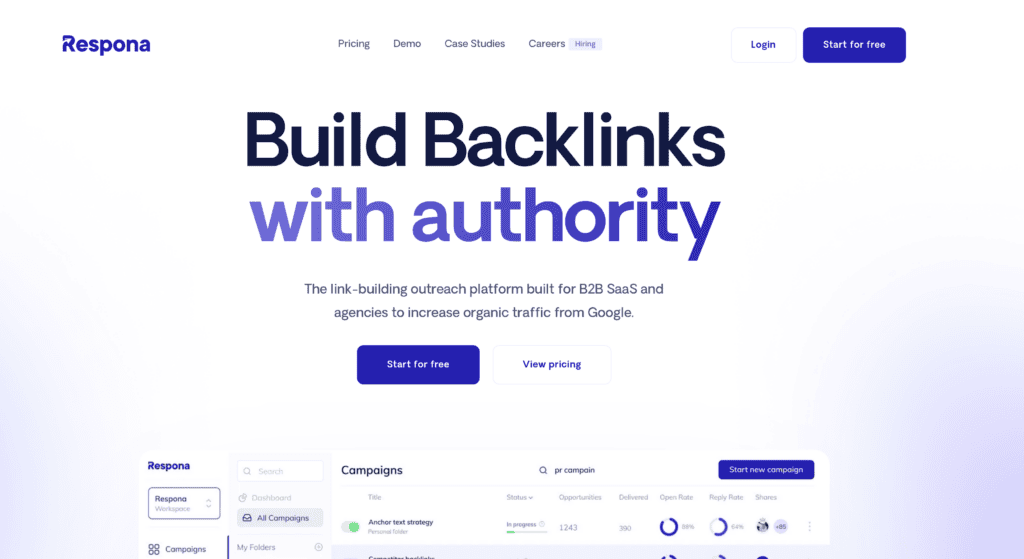 Respona is an all-in-one blogger outreach platform outfitted with all of the necessary tools to set up and launch an email campaign of any kind, be it for link building, digital PR, marketing, or even sales.
How it Works
It's integrated with Google, and popular SEO tools such as Ahrefs and Semrush for streamlined prospecting, and pulls metrics such as domain rating and organic traffic.
A powerful email finder is also included, making it extremely easy to find the right person's contact information on auto-pilot.
Respona's intuitive interface guides you through every step of creating and launching your outreach campaigns, keeps track of your performance, and also the status of your conversations with each prospect.
The tool will be especially useful to link builders, as it was initially used to help Visme scale their link building outreach efforts, helping the website gain over 3 million organic visitors a month.
Automated email finder/verifier
Drip email sequences
Great for prospecting link opportunities
Deep personalization
Built-in analytics and reporting
Email health reports
Integration with popular SEO tools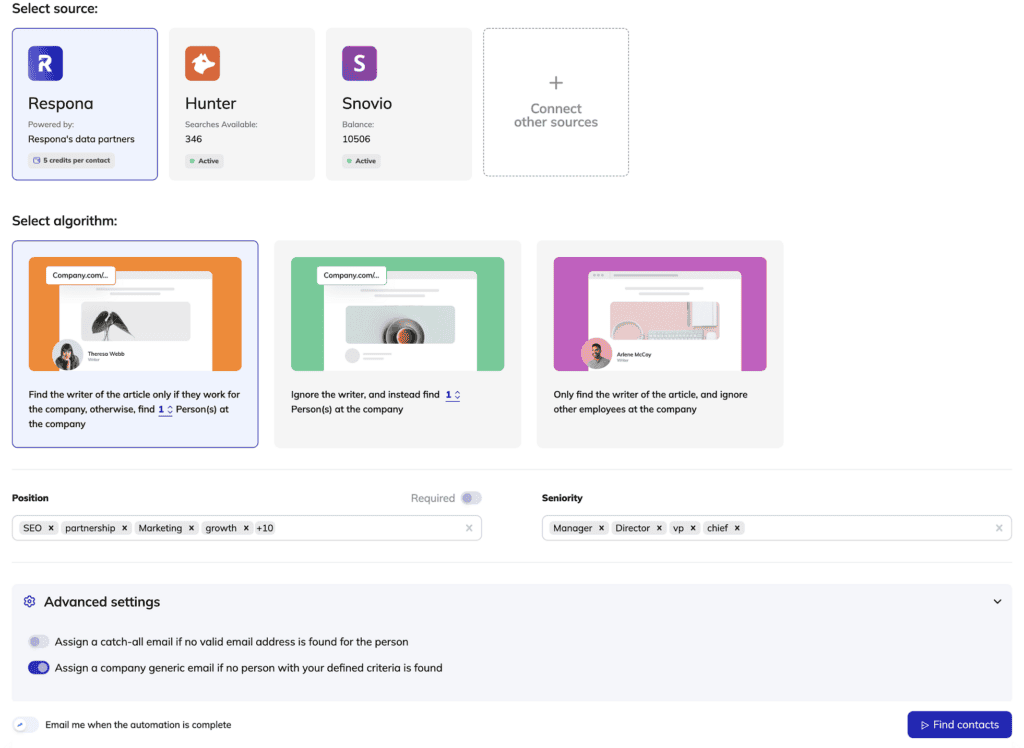 Respona pricing
Respona offers a 7-day free trial and two base plans: Starter ($99/month) and Unlimited ($499/month):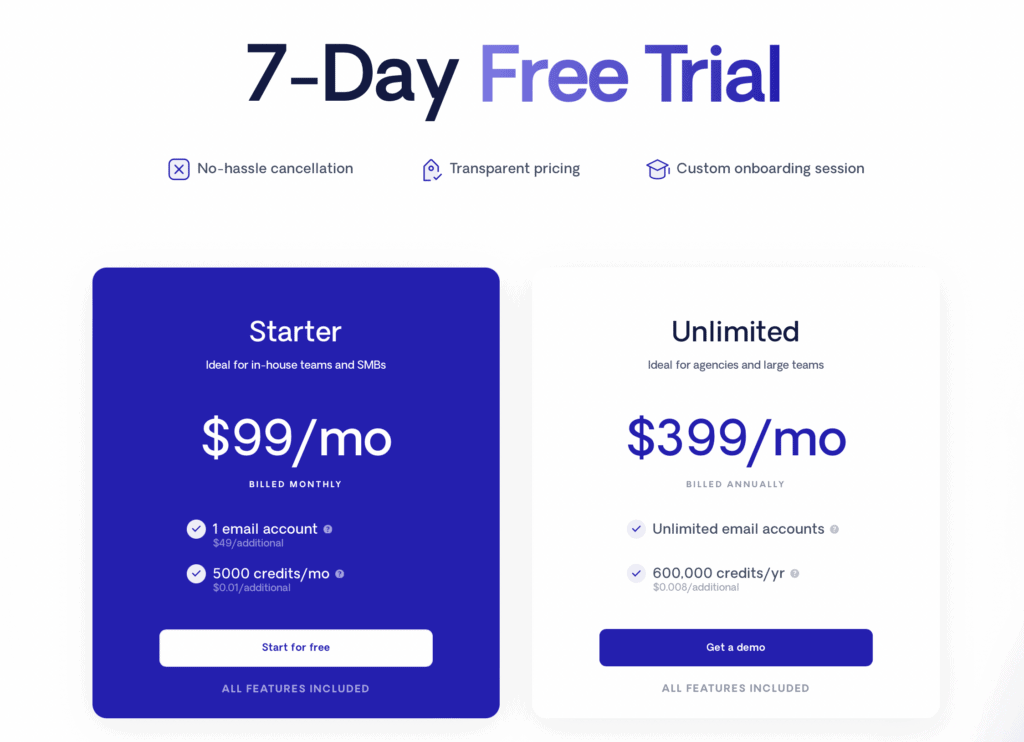 With the Starter plan, you will be getting one sender email to connect, as well as 5000 monthly email lookup credits.
As the name suggests, the Unlimited plan gets you unlimited sender emails and credits. Both plans get you access to all of the features.
Custom plans to suit your specific needs are also available.
3. Hunter.io For Finding Emails
Hunter.io is a tool that makes it easy for you to find email addresses.
How it Works
Conducting outreach is one of the most important aspects of link building and PR. The process involves reaching out to webmasters and requesting an inbound link back to your site.
But a common challenge with an outreach email campaign is finding the right contact information.
If you don't reach the right person, your email will likely go unread. Complicating matters even further is the fact that companies don't always list email addresses of their employees.
Hunter.io lets you quickly find email addresses associated with any website. Simply type in the company's URL to start your search.
You'll need to create an account to view the full results and access other features like search filters and CSV downloads.
Another handy feature that Hunter.io offers is email verification (as seen by the green checkmarks above). This tells you that an email is active and in use.
A free account gives you access to 50 free searches a month, but you can always upgrade to a premium plan as you ramp up your outreach emails.
Hunter.io Pricing
Hunter.io offers different plans depending on your needs. If you're still getting started with outreach for link building, then the free plan is perfect for your needs.
Here's an overview of the different plans that Hunter.io offers with its email finder tool:
Note that you can save 30% with a yearly plan.
4. Ahrefs For Finding Broken Links
Ahrefs offers a suite of powerful SEO tools for keyword research, rank tracking, backlink building, and more. But in this post we're only going to cover their broken link checker. It's available for free and you can use it to build quality links to your site.
How it Works
With Ahrefs' broken backlink checker, you can quickly check for broken inbound and outbound links on your site. Fix any broken links, so you don't send visitors to a 404 page.
Ahrefs' broken backlink checker isn't just limited to your own site. You can also use the tool to check for broken outbound links on sites in your industry.
Simply enter in a URL and the tool will show you a list of broken links.
If a site is pointing to a resource that no longer exists, you can create something similar and ask that they point to your page instead.
Ahrefs' broken link checker also lets you run daily, weekly, or monthly crawls to help with your broken link building efforts. You can then export that data to a CSV file and get to work on an outreach campaign.
Ahrefs Pricing
Ahrefs' link building tool only shows a portion of broken backlinks. You'll need to subscribe to one of their premium plans to see all the link data. The good news is that you get access to their other tools too.
Here's a snapshot of Ahrefs' pricing: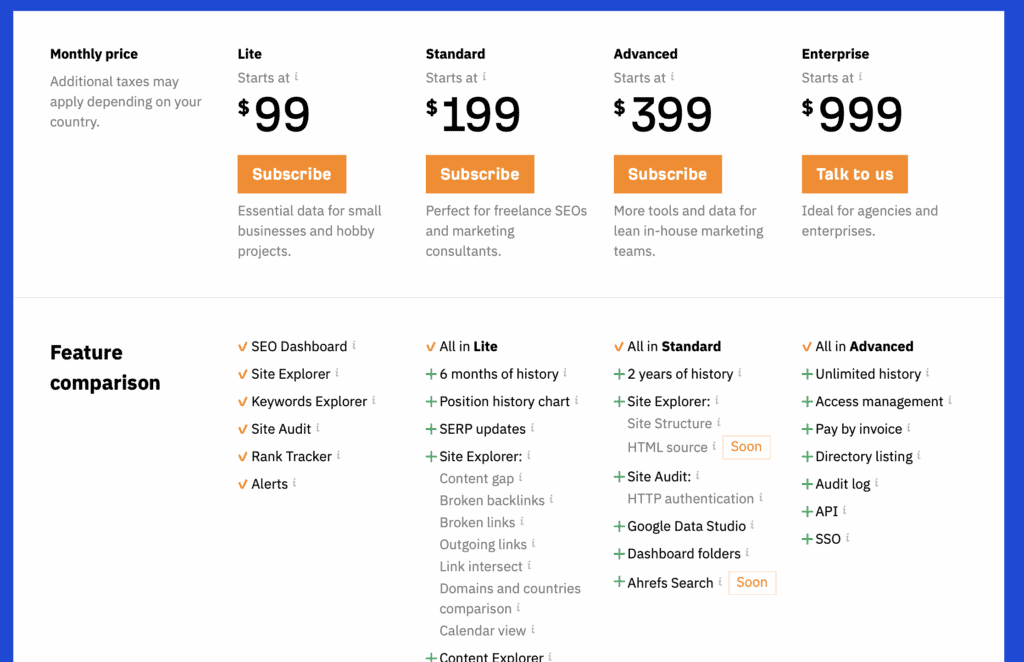 You can get two months free with a yearly plan.
5. Sitechecker For Monitoring Backlinks and Backlinks Generator
Backlinks Generator and Backlink Analysis are handy SEO tools from Sitechecker platform that greatly simplify external website promotion. They make it possible to monitor the number and quality of backlinks on your project and competitors' sites, as well as generate links to landing pages for free can be created easily with the help of landing page creators. It doesn't require much of your time and can help you get started in no time.
How it works
Backlinks Generator is a tool for getting free links to a page. It automatically builds indexed backlinks from analyzer sites. These projects have a high-quality link profile and a lot of traffic. This allows you to more effectively promote the new site and prevent overspam on projects working in competitive niches.
Backlinks Generator is especially recommended for newly created projects: it generates the first URLs for landing pages in a few seconds. It is recommended to use the tool with other similar services from Sitechecker: Backlinks Checker to identify links built naturally and Backlinks Tracker to understand which links have the best impact on ranking growth.
Backlink Analysis is a tool for comprehensive analysis of backlinks in different time periods. It also features an analysis of competitors' link strategies to find methods to improve your positions. This tool collects data from different services, providing the most objective information about the link profiles.
In the process of studying traffic dynamics and link growth, you can find the most important URLs for a website. Analysis for different periods of time is allowed: from 1 to 12 months. Using historical data from the last year, you can develop your own link building plan.
To use the tool, you just need to collect backlink data from Ahrefs, Semrush, Majestic, Serpstat and download them in one click. Next, select a period and get the analysis data.
Based on this data, you can form your own strategy.
Sitechecker Pricing
Backlink Analysis and Backlinks Generator are included in Sitechecker's product range and are available on three pricing plans. Pricing starts at $49 per month, with maximum features available starting at $249 per month. You can save a lot by purchasing an annual plan.
Here's an overview of the plans that Sitechecker offers: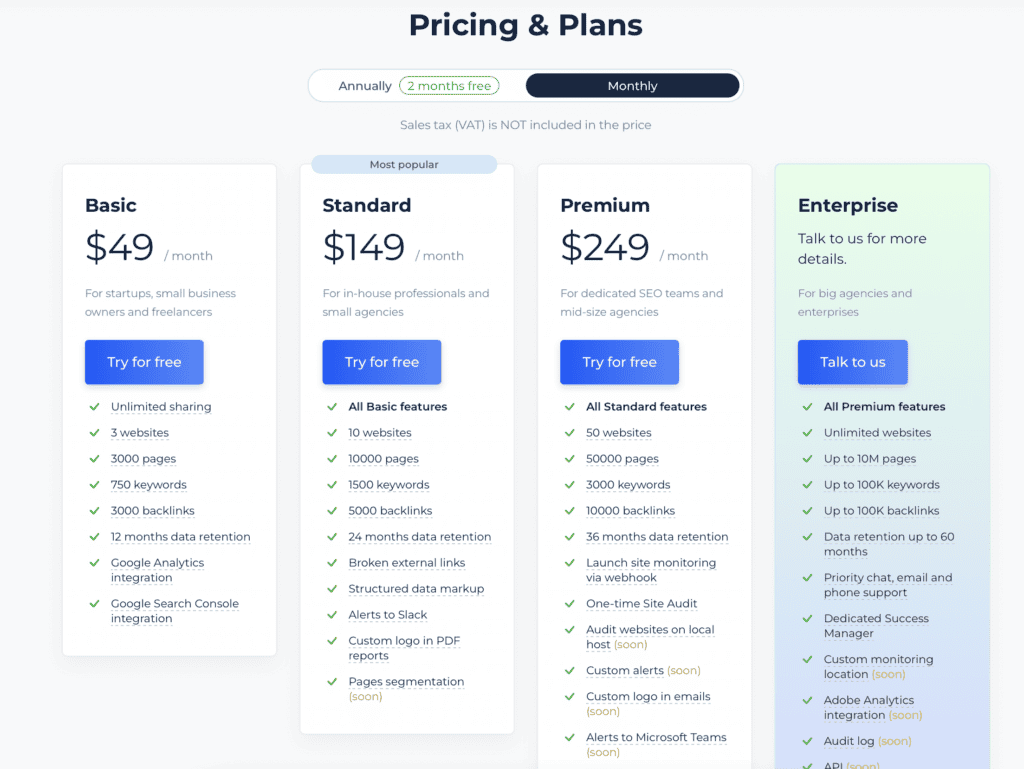 A free 7-day trial is available, and you can save 20% by switching to an annual plan.
6. MozBar For Analyzing Keywords
MozBar is a free Chrome extension that lets you conduct backlink research and view metrics right from the search results.
How it Works
MozBar is an SEO tool that's incredibly easy to use. After installing the extension to your browser, enter in a keyword and you'll be able to quickly analyze how competitive that keyword is.
The free version has limited features, but you can still view other metrics like Domain Authority and Page Authority.
Domain Authority is a metric that was developed by Moz as a way to measure the strength of an entire site and its ability to rank in the search results. (Websites with a higher Moz Domain Rating correlate with higher rankings on the first page of Google.)
Page Authority is a metric that measures a specific page's ability to rank in the search results for a keyword. Both metrics range from 0 to 100 with higher scores correlating to better rankings.
If the search results contain sites with a low Domain Authority, you'll be able to rank for that keyword with relatively little effort.
Even if the results contain high authority competitors, you can increase your domain authority to compete.
You can also use the Link Explorer feature in the MozBar tool to conduct link research and view other SEO metrics to see how sites on the first page of Google are achieving those rankings.
By conducting a backlink analysis, you'll have a better idea of what it'll take to outrank your competitors.
MozBar Pricing
MozBar is a free tool, but most of its features are limited. If you're looking for additional features like rank tracking and more backlink data, you can also sign up for Moz Pro with the following plans: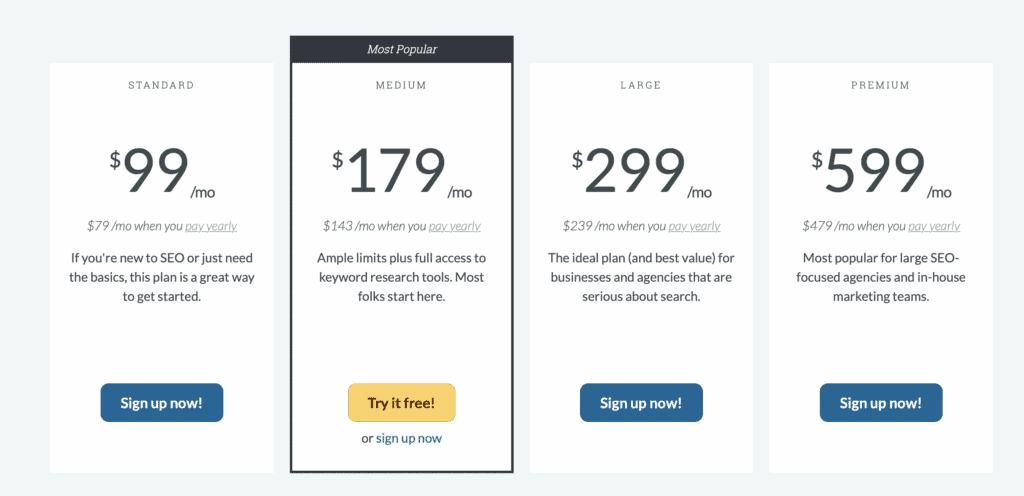 There's a free 30-day free trial available and you can save 20% by switching to a yearly plan. They just increased pricing in 2023.
7. Whitespark For Finding Local Citations
Whitespark offers a local citation finder that you can use to track your citations on the web and identify new places you can submit your site.
How it Works
Building citations are a must to rank for local search queries. A local citation is a mention of your name, address, and number on the web. An example would be a profile on a business directory like Yelp or Foursquare.
With Whitespark's local citation finder, you can find new local directories on the web where you can submit your site to. You'll need to create an account to use the tool.
Create a new campaign and add relevant details about your business. The tool will then compile a list of citation sources based on what you entered. Be sure to keep your NAP (name, address, and phone number) consistent with each source you submit to.
Whitespark Pricing
The downside with the free version is that you can only create 1 campaign and you're limited to 3 daily searches. A lot of the citation sources it compiles is also inaccessible.
Whitespark offers a number of premium plans depending on your needs. These give you extra features like the ability to track citations and get unlimited search results.
Here's how much Whitespark's plans cost: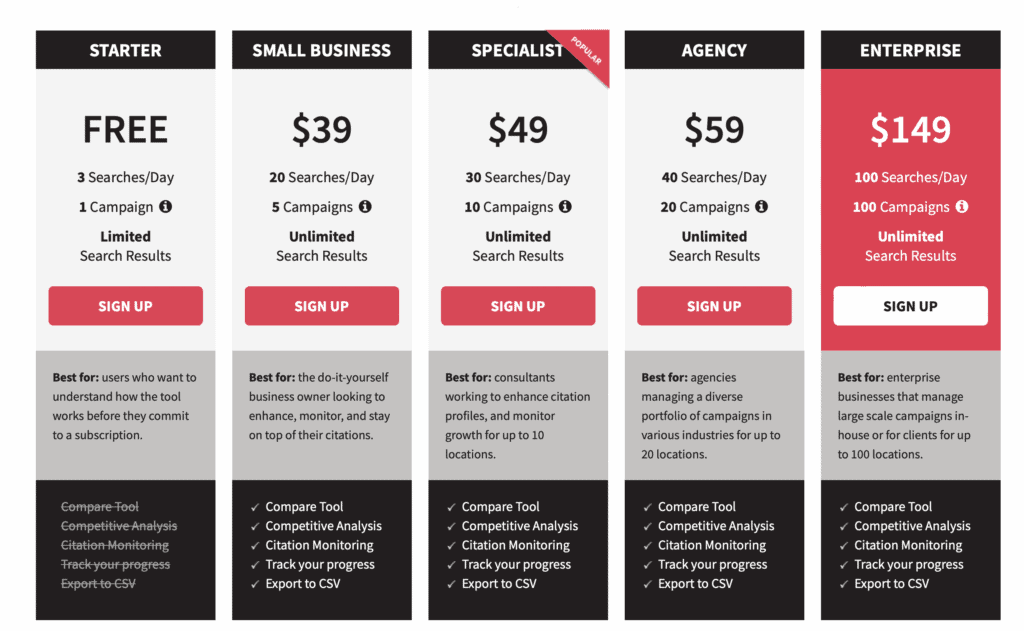 You can also save on your plan by switching to a yearly subscription. They just increased pricing in 2023.
8. Ubersuggest For Analyzing Backlinks
Ubersuggest is a keyword research tool that provides tons of keyword suggestions and SEO metrics like search volume, CPC (cost per click), and ranking difficulty.
The tool also includes a free backlink checker that shows who links to you and your competitors.
How it Works
Before you start building links, it's important to conduct a link analysis of sites that are ranking on the first page. This will give you a better idea of what it'll take to outrank those pages.
Ubersuggests' backlink checker allows you to conduct a backlink analysis of competing sites and see where they're getting their links.
Simply search for a keyword you want to rank for. Take note of the sites that are ranking on the first page and enter those URLs into the backroom tool.
Here's a quick link analysis of a site that ranks for the term "build a home gym":
It'll take some effort, but outranking this site is possible with some quality backlinks.
Another handy feature is being able to view where your competitors are getting their links.
With this information, you can reach out to those sites and request a link. Improving your link profile will also increase your rankings.
Ubersuggest Pricing
Ubersuggest is competitively priced compared to other link building tools. Upgrading to a paid plan gives you access to SEO training materials and other tools like keyword discovery, daily rank tracking, site audits, and more.
Here's a snapshot of Ubersuggest' pricing:
You can also get started with a 7-day free trial to test out the tool's paid features.
9. Google Alerts For Brand Mentions
Google Alerts is a tool that lets you create notifications on any topic. It's a great way to stay up-to-date on industry news. And, of course, you can also use this tool to build links.
How it Works
Brand mentions are when another site mentions anything related to your company. If your brand name or products get mentioned online without a link, that's an easy link building opportunity.
You can configure Google Alerts to send you a notification whenever any web pages mention your brand or products. Then you can click through those notifications to look at the content that cites your brand.
Whenever you find an unlinked brand mention, send an outreach email and request that they link to your site. This makes it easier to identify link building opportunities as they happen.
Google Alerts Pricing
Unlike most of the link building tools on this page, Google Alerts is completely free for all digital marketers to use. You only need an email address to get started.
10. BuzzSumo For Identifying Influencers
BuzzSumo is a content marketing platform that enables you to discover and research high-performing content.
How it Works
With BuzzSumo, you can gather content insights like Facebook and Twitter shares, engagement scores, and the number of links an article has.
This kind of insight allows you to identify content that others are sharing and linking to. You can also use BuzzSumo to dig deeper and find industry influencers.
With a list of influencers in your industry, you can conduct an outreach campaign and ask them to share or link to your content.
BuzzSumo Pricing
BuzzSumo offers a free 30-day trial. But if you want to keep using their software, you'll need to upgrade to one of their paid plans which starts at $99 a month.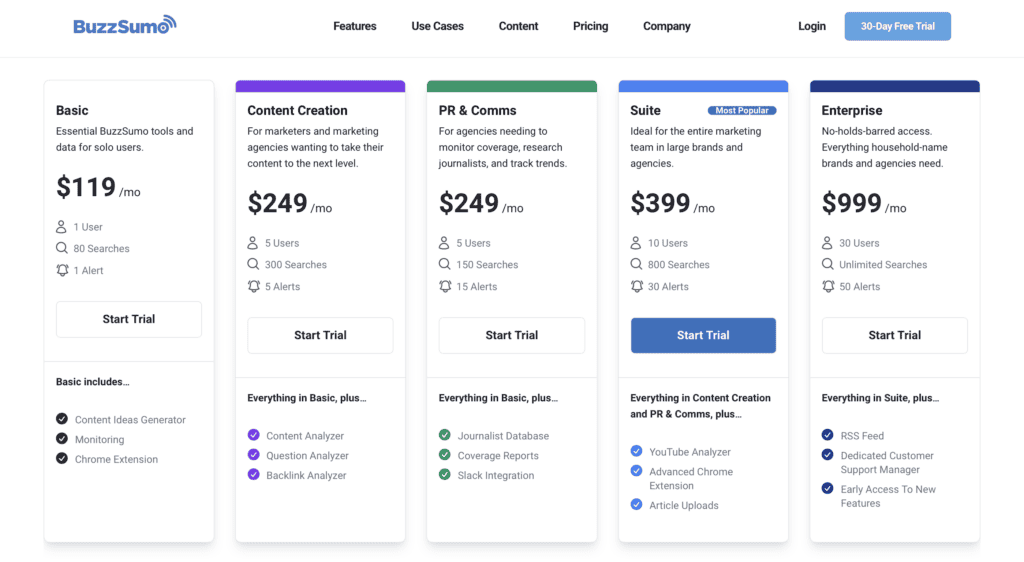 You can also save 20% when you pay yearly. BuzzSumo just increased their pricing in 2023.
11. Snov.io For Conducting Outreach
Snov.io is an outreach platform that enables you to find email addresses and create drip campaigns.
How it Works
Conducting outreach allows you to build high quality links from authoritative sites in your industry. But one of the biggest challenges is doing so at scale.
Using a spreadsheet to keep track of individual outreach campaigns is incredibly tedious and time-consuming.
With Snov.io, you can scale your outreach efforts and track your emails. The tool also provides an automated follow-up feature, allowing you to stay in touch with potential link prospects.
Another feature you may find useful is the email verifier:
You can upload a list of emails and it'll verify it against its database of over 90 million verified email addresses.
Snov.io Pricing
Snov.io offers a free plan with 50 monthly credits (payment units to find and verify emails) and 100 drip campaign recipients.
Even with the free plan, you get access to all the tools and features, and you can upgrade your plan as your needs grow.
Here's an overview of the plans that Snov.io offers: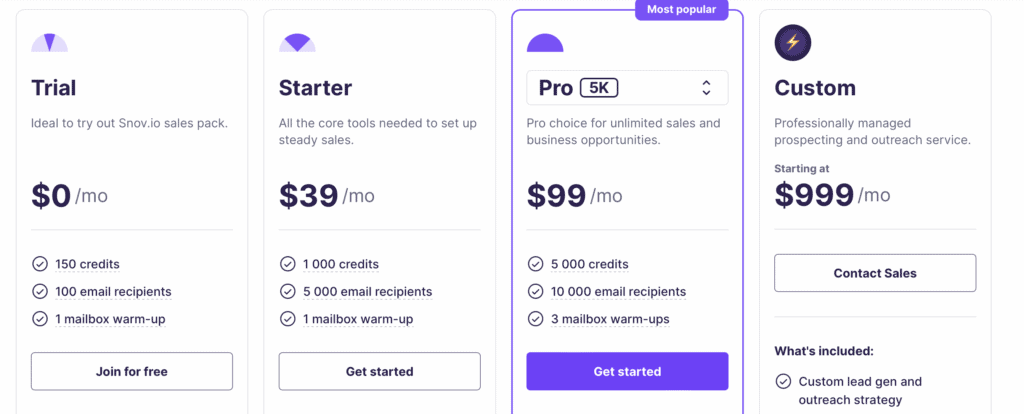 You can get two months free by switching to a yearly plan.
12. SE Ranking For Checking Backlinks
SE Ranking's SEO Backlink Checker provides a bird-eye view of a website's backlink profile while allowing you to dive deeper with the details.
How it Works
With SE Ranking you can analyze domains, domains excluding subdomains as well as certain URLs. Just paste the address in the search bar and hit the Find backlink button.
You'll immediately get a list of the domain's/URL's key metrics such as Domain Trust and Page Trust, the total number of backlinks and referring domains the site boasts, the number of the referring domains that come from .edu and .gov TLDs.
With this, you can also see how many of the site's backlinks are dofollow and how many have the nofollow attribute assigned to them.
These metrics allow you to get an idea of how strong the domain's backlink profile is. For example, you can find guest posting opportunities through Google by sourcing for sites with "Write for us" pages.
Before contacting these websites, you'll need to take a pick under the hood to assess the value of the potential link and decide if it's worth your while. You can use the SE Ranking tool to qualify your prospects.
SE Ranking Pricing
The Backlink Checker is a part of an all-in-one SEO platform available at a monthly fee. But, you can opt for the limited version on their landing page.
The data you acquire from the Backlink Checker's landing page is very limited. To get access to a comprehensive list of any site's backlinks, you can sign up for a 14-day free trial.
Once the trial is over, you'll have to purchase one of the subscriptions.
Their Essential package comes with an annual subscription for $18.6/month. With this pricing plan, you'll be able to check up to 20 domains daily.
You'll also get access to a complete SEO toolkit that includes tools for ranking tracking, keywords and competitive research, website audit, backlink monitoring, and more.
13. Disavow Link Tool For Disavowing Links
Disavow Links is a tool that lets you tell Google to ignore certain backlinks that are pointing to your site.
How it Works
The Penguin algorithm update penalizes and decreases rankings for sites that spam their pages with backlinks.
This may sound good in theory, but it also has unintended consequences. A sketchy competitor could spam your site with questionable links in an effort to decrease your rankings.
That's why it's a good idea to audit your link profile and remove spammy links.
If you're unable to manually remove low-quality links pointing to your site, you can use the Disavow Links tool to get Google to ignore them when assessing your site.
Create a list of backlinks in a text file and then submit it.
Here's an example of how to create a text file with the links you want to disavow:
Google recommends that you use this tool with caution and only when you're unable to get spammy links manually removed.
Disavow Links Pricing
Just like with Google Alerts, the Disavow Links tool is completely free to use. However, once you submit a file, it'll take a few weeks for Google to process and disavow the links.
Currently, we are also seeing a lot of cases of SEO spam in websites where hackers change SERP results to Japanese or Pharma characters by injecting malicious scripts.
14. SEO SpyGlass from SEO PowerSuite
SEO SpyGlass from SEO PowerSuite is SEO backlink software that will be incredibly helpful for link-builders.
How it works
First, you need to launch the, create a project for your website, and the tool will collect all its backlinks.
SEO SpyGlass looks into all possible backlink attributes, sorting them by types, such as nofollow/dofollow, image/text links. The software analyzes anchor texts and creates an anchor cloud for the domain. The tool lets you detect spam websites and spam networks and forecasts a Penalty Risk metric. It also provides referral traffic estimations (according to Google Analytics).
Besides, it shows a breakdown of all backlinks by TLDs, locations of linking websites, the number of unique IPs, etc.
SEO SpyGlass has its own metric for measuring domain strength and page strength called InLink Rank / Page InLink Rank, which roughly correlates with PageRank.
For link-builders, SEO SpyGlass has a bulk analysis option to check the domain strength of up to 200 URLs at once.
All the discovered linking domains can be filtered and exported in a CSV or Excel table. Then, you can enter the discovered domain into Link-Assistant and find the contact emails (if they are publicly available on the websites).
Link-Assistant is a link management tool where you can reach out to link prospects and request a link from them. Once your backlink is in place, you store it in Link-Assistant's project, so that later the links are verified that they are all in place.
Pricing
So, together SEO SpyGlass and Link-Assistant are great tools for link-builders to discover link prospects and keep track of their work progress. The free versions of the tools have some limitations. For example, the Free version of SEO SpyGlass has a limit of checking 1,100 links per website. The Professional version allows checking up to 250,000 links per website and running automated tasks. The Enterprise version additionally provides possibilities to generate and send white-label reports and store 100 projects in-cloud.
The Professional version of SEO SpyGlass costs $99/year and Enterprise costs $199/year, and the price is cheaper if ordering the whole SEO PowerSuite bundle.
Conclusion
Backlinks are perhaps the most important signal in Google's ranking algorithm.
If you want to outrank your competitors and drive more traffic to your site, then link building needs to be a priority.
While you can manually build links on your own, you'll eventually want to consider investing in premium link building tools to streamline the process and keep track of your efforts.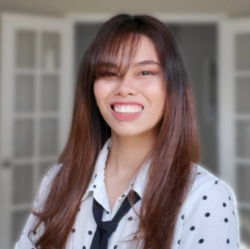 Latest posts by Joanne Camarce
(see all)