Link building for SaaS is a critical component of ranking for organic keywords, driving relevant traffic from ideal customers, and building an SEO growth engine for your software company that fuels customer acquisition and revenue.
I've built over 20,000 high authority backlinks for SaaS. I've tested every single strategy in the book.
And I found that only five specific tactics will generate 95% of your SaaS link building results.
Doing them can land you high authority backlinks in just 29 days.
Here are the top five ways to get valuable SaaS backlinks this month so you can skyrocket rankings, traffic, and SEO-attributable revenue.
Why Link Building For SaaS is Key to SEO Success
When building an SEO marketing strategy for your SaaS company, (i.e., coworking space software company, project management software company, online CRM company, and others) your goal is simple: increased relevant traffic from your ideal potential customers.
This means tapping into what they are searching for and capturing their demand with valuable content.
The problem? Ranking on Google isn't that simple. You can't just publish content and expect to capture every single searcher.
Why? There are more factors to Google's algorithm than just publishing a new blog post.
The most important ranking factor is backlinks. It's a critical component of how Google determines what an authoritative, trustworthy (think: E-A-T) website is. Here's what Google says:
"For example, one of several factors we use to help determine (quality content) is understanding if other prominent websites link to the content."
Think of backlinks as an endorsement of your content and your brand by other websites. Backlinks are like Yelp reviews. They tell readers and Google that you are trusted. That you are a brand worth caring about.
The better quality (and more) endorsements you get, the better.
For instance: getting a backlink from HubSpot or Forbes is 100x more valuable than getting a backlink from a site you've never heard of. If you've never heard of it, you can bet Google doesn't care.
Now that you know the importance of link building for SaaS companies, here are five strategies to implement today to earn big backlinks in just 29 days.
Strategy 1. Digital PR Link Building
The first and most impactful long-term SaaS link building strategy is digital PR.
Digital PR involves creating content assets that earn media attention, getting branded features and press, as well as developing a company and personal brand through podcasting, webinars, and more.
Here are key examples and how to take action on digital PR link building today:
Surveys and Studies
Surveys and studies are the cream of the crop for link building. They make outreach easier, make branding better, and can drive massive links at scale.
It's why we focus on these most for our clients to drive links that make a true impact and solidify brands as market leaders.
Surveys and studies are exactly what they sound like: surveying your niche for interesting data that journalists will want to share and report on.
When you send emails to website owners, bloggers, and journalists, you better come armed with valuable data, content, and information.
If you ask them to just blindly link back to your website, you'll never earn backlinks.
So, what do these look like? Here is an example of a survey and study we created:
It's an industry-shaping study that dives deep into how impactful link building is for SEO.
We don't just talk the talk. Here at uSERP, we do the tactics we recommend. Here's how well our link building study performed and how many backlinks it acquired:
336 unique websites linked back to our study, generating over 2,500 backlinks in total.
It landed us mentions from massive brands like Neil Patel, Crazyegg, AppSumo, and hundreds more.
Another example you can execute on short-term is creating quick data sets and studies using social media.
Poll an audience on your niche and ask them a pressing question that your niche can't stop talking about online.
For example, I recently did this on Twitter, sparking a huge discussion and immediate press linking back to my link building company:
Surveys and studies can generate a ton of backlinks from great sources, and is a key digital PR link building tactic for SaaS.
Trend reports
Another similar strategy is creating trend-based content and reports.
Like surveys and studies, trend reports should be released yearly to set the industry standard, rather than just recirculate existing studies.

Your goal here is to be the trend leader that brands look to each year, not the trend reporter.
Leave the reporting for journalists who will then link back to your SaaS report!
Some great examples of trend reports come from HubSpot:
They release trend reports in their niche each year, surveying experts and gathering unique, proprietary data that journalists love to cover.
Think about trends in your niche, predictions you have for the future, and who you can survey to get interesting reports that spark discussions and virality.
Podcasts, Webinars, Conferences
One of the best link building strategies for SaaS is to book more podcast appearances, or conduct webinars and speak at conferences.
These strategies are powerful for multiple reasons, both long and short-term.
In the short-term, when you go on a podcast, you often are linked back to from the podcaster's website in the "show notes" section:
As you can see, going on this podcast and sharing my expertise on link building got me a nice backlink from a high authority website!
Find podcasts in your niche by simply using Google. Reach out to them, offer them a valuable topic or conversation, and start podcasting multiple times per month. You will earn some good backlinks in just days.
Long-term, you'll be building relationships with creators who have huge networks. This extends your reach and helps you acquire even more backlinks at scale when people listen and share your content and your brand.
The same goes for webinars and conferences. Speak at them frequently and collaborate with other brands.
For example, I recently collaborated with Clickup to do this:
Build relationships by podcasting, and you'll build links at the same time.
Strategy 2. High-Quality Guest Posting Contributions
Guest posting is not dead. In fact, it's alive and well. But not in the spammy traditional sense from 10 years ago.
Now, guest posting isn't just Googling "guest post websites" and submitting 400 word articles that link back to you.
Guest posting has transformed into content contributions on high quality websites, like so: This not only exposes you directly to readers who might be interested in your SaaS solution but also improves your website domain authority, rankings, traffic, and more.
This means you:
Identify a target list of websites in your niche that are high quality, reputable websites and company
You collaborate with them to produce a valuable content asset that their readers will actually consume
You earn a backlink in the byline of the article as author credit (and maybe link to your company within the blog post itself, too!)
This not only exposes you directly to readers who might be interested in your SaaS solution, but it improves your website domain authority, rankings, traffic, and more.
Take a more direct approach. Don't Google for "guest post websites," ever.
Find relevant sites, build relationships, and write valuable content that they want to publish. Finally, as artificial intelligence (AI) continues to grow, it will be beneficial to enter Artificial Intelligence SAAS Market and try to boost link-building efforts with AI.
Strategy 3. Resource And Statistics Pages
Resource and statistics pages are a phenomenal resource for SaaS link building. Here is how to execute them well to earn backlinks that impact your SEO.
SaaS Statistics Page Link Building
A statistics page looks like this example from Varonis on cybersecurity:
They are a cybersecurity SaaS, and they have created a lengthy, detailed statistics page for their niche.
This is impactful because now when journalists and bloggers in the cybersecurity industry go to write an article, they will likely search for "cybersecurity statistics" to reference! By incorporating information about the benefits of using a Virtual Private Network (VPN) or antivirus for your phone, you'll provide a comprehensive resource for writers to reference, further solidifying your position as a go-to source for cybersecurity information.
Meaning if you can rank this article #1, you will be the go-to resource for writers to reference, driving powerful links back to your SaaS.
Leverage strategy number one in this article to help you inform this strategy.
Create your own statistics and then make them discoverable by creating a "[industry] statistics" page.
SaaS Resource Page Link Building
Another similar strategy is building resource pages around your software. This often means creating a comprehensive round up of tools, tips, or tactics that other writers can reference and link back to.
For example, we helped our client monday.com create a massive round up of every single project management tool:
In total, we added 300 tools to the list! I know what you are thinking: isn't this counterintuitive? Aren't you promoting competitors?
Yes and no. You can list your competitors here and not link directly back to them.
Instead, you are giving a fair comparison and gaining the trust of readers.
So, does it work for building links? You bet. This piece netted monday.com 1.87k backlinks from 627 unique websites. It generates $9,000+ a month worth of traffic.
That means you'd have to spend $9,000 every single month to get the same amount of traffic through ads as they do through a single piece of content.
That's the power of a resource page. It can drive relevant traffic and earn you hundreds of backlinks.
Strategy 4. HARO Pitching and Journalist Round Ups
Journalist round ups are a great way to land press and media style backlinks from high-tier websites.
While these links are often no-follow, they are still incredibly important from a branding perspective.
Google recently changed how it attributes no-follow links, too, so don't discount them as second-class.
Here is an example of a round up and getting a brand mention for my company in a popular SaaS website with millions of visitors per month:
You can land these amazing backlinks by pitching journalists and bloggers by using HARO, otherwise known as Help A Reporter Out.
Fair warning: this strategy is crowded and competitive.

Instead of using HARO, I actually recommend using a platform like Twitter, and going direct to the source using hashtags like #journorequest:
This gives you a direct line to journalists in real-time. HARO, conversely, is flooded with thousands of other brands vying for attention.
Use Twitter to reach journalists front and center and 10x your SaaS link building success.
Strategy 5. Hire a SaaS Link Building Agency
Lastly, the most effective and fastest time to results is outsourcing your link building by hiring a SaaS link building service.
By outsourcing links, you are effectively skipping the time and money it takes to hire a team internally.
Remote hiring a qualified SEO expert (which you need to guide strategy and earn real backlinks that matter) will cost you $74,000+ per year.
This doesn't include…
Content costs $$$: you still need to hire incredible niche expert writers who can craft content assets like surveys, studies, trend reports, and long-form blog posts. Each piece you create will cost you more money.
Hiring and training $$$$: It takes 45 days to hire a single employee on average. And that doesn't include training, onboarding, and more. Even if you hire an expert at SEO, they won't be directly familiar with your industry. If you choose to hire a junior SEO, you're on the hook to train them about your industry, link building, and content creation at scale. Not to mention benefits, salary, and additional micromanagement headaches.
No guaranteed results $$$$$: Lastly, the biggest benefit to outsourcing is that any good link building company will guarantee you backlinks! This means every dollar you spend will get backlinks. Meanwhile, you might spend two months hiring, another month training employees, and tons of money on content costs to get zero backlinks.
Slow time to links: A good link building company will get you quality backlinks in just a week or two. Can you afford to wait months to train a team while your competitors build more links with an agency?
Hiring a reputable link building agency solves these problems and nets you a fast time to results.
uSERP – Link Building Experts For SaaS Brands
Here at uSERP, we work with some of the biggest SaaS brands on the planet, or companies that want to become one.
Our portfolio of clients includes brands like: monday.com, ActiveCampaign, Hotjar, Freshworks, Reply, Robinhood, Nav, EarlyBird, and 100s more.
Specializing in SaaS, we understand your business SaaS model and how to tie SEO back to revenue, leads, and sales.
Our team of 30 seasoned experts helps SaaS brands scale organic growth.
Wrapping Up: Link Building For SaaS Final Tips
Link building for SaaS is a powerful strategy to increase SEO success, improve brand visibility, and ultimately drive qualified leads and revenue.
When getting backlinks for your software company, it's key to take a digital PR approach long-term. Build content assets, relationships, and pitch to valuable publications.
Write high-quality guest posts and build resource pages you can link back to.
Use HARO to pitch journalists and land big media coverage.
And lastly, hire a SaaS link building company / SaaS marketing agency (like uSERP) to scale your link building before competitors outrank you.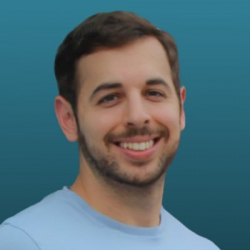 Latest posts by Jeremy Moser
(see all)