What if ranking your local business for keywords related to your services and products was 'set and forget?' You rank once on Google and stay there forever.
Ah, if only it were so.
However, local search engine optimization (SEO) requires ongoing efforts. Like you, your competitors will keep working on their rankings, which can impact your local search performance. But, by setting up local keyword tracking, you can stay a step ahead of your competitors.
This post will explore five local keyword-tracking software you can integrate into your workflow. As well as tips for using them to improve your local keyword rankings and scale your leads and customers. 
Ready? Let's begin with the basics.
What is a local rank tracker?
A local rank tracker tool helps track a business's keyword rankings in Google, specifically for Google Maps. If you search for services offered by nearby local businesses, Google will show the Map Pack (also known as the local pack). The section on top of organic results shows the three most relevant local listings for search queries.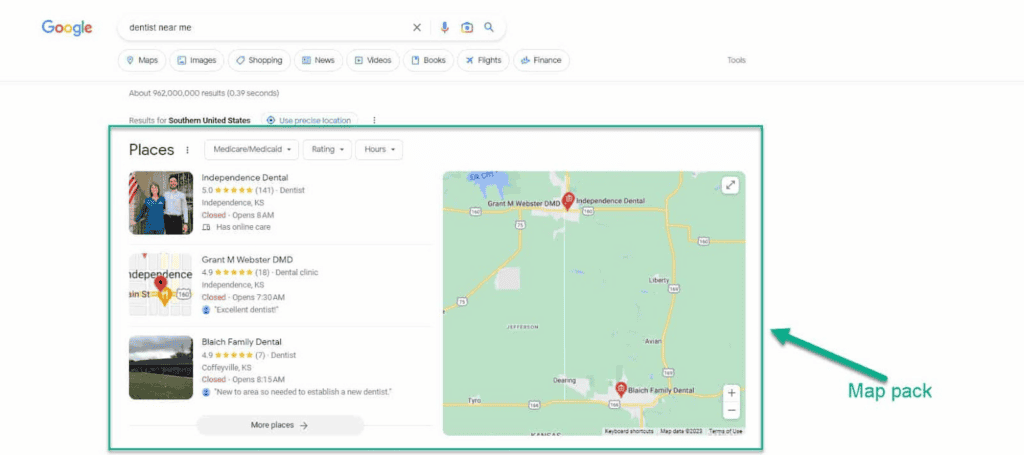 If you click on any listings, Google will redirect you to Google Maps. It then shows more results and where they appear on the map. From here, the local rank tracker helps determine in which position your listing appears on Google Maps.
Why are local rankings important to monitor?
Tracking local rankings allows you to track your local SEO performance and determine how it significantly impacts your bottom line, which is essential in developing an SEO strategy for new websites.
For instance, if your business listing appears on the Map Pack, expect to generate more foot traffic, phone calls, and website visitors. The opposite also applies here‌ — ‌if your business listing drops out of the Map Pack, this could result in lower engagement with prospective customers.
To know for sure, you must check your business performance in relation to its local keyword rankings. Doing so lets you identify areas where you can improve your local SEO strategy.
You can also track your competitors' keyword rankings and see how they stack up against yours if they perform much better than you on the Map Pack. 42% of local searches involve clicks on the Google Map Pack.
Staying on top of your local rankings helps you make data-driven decisions to improve your online presence and attract more local customers.
And don't underestimate the value of mobile search traffic. 76% of people who search for a business nearby using their mobile device will visit that business the same day, while 28% of those searches will result in a sale.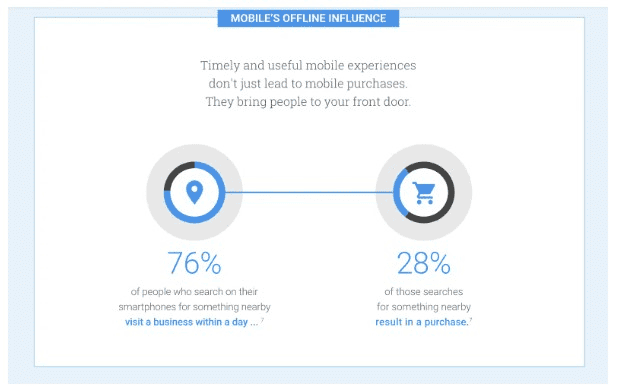 How to conduct local keyword research?
Identify keywords to optimize for business listings
To maximize your local SEO efforts, you must determine which keywords to optimize for your business listings. Start with your industry keywords, which will serve as "seed keywords" from which you can generate additional suggestions.
Narrow your seed keywords with modifiers to get better and more precise results. For example, if you specialize in HVAC services, you could enter "HVAC cleaning" and "HVAC maintenance" in the search bar.
Choose a dedicated keyword research tool
You then need a local keyword research tool where you can enter your seed keywords and get ideas for your research. For this example, you can use KWFinder. It's an affordable keyword research tool providing many suggestions for your upcoming local SEO campaign.
Narrow down your keyword search to location
Also, consider searching for adjacent services your business is offering. For example, you may be doing "duct cleaning" and "A/C cleaning" since both are related to HVAC.
Before clicking the "Get Results" button, include the location where you want your business to appear on the Map Pack. For instance, if your business is based in Boston, enter "HVAC cleaning Boston." This explicit local keyword clarifies that you're looking for this particular service in the Boston area.
But you don't have to include the location name if the tool lets you choose the location of the search database, just like KWFinder.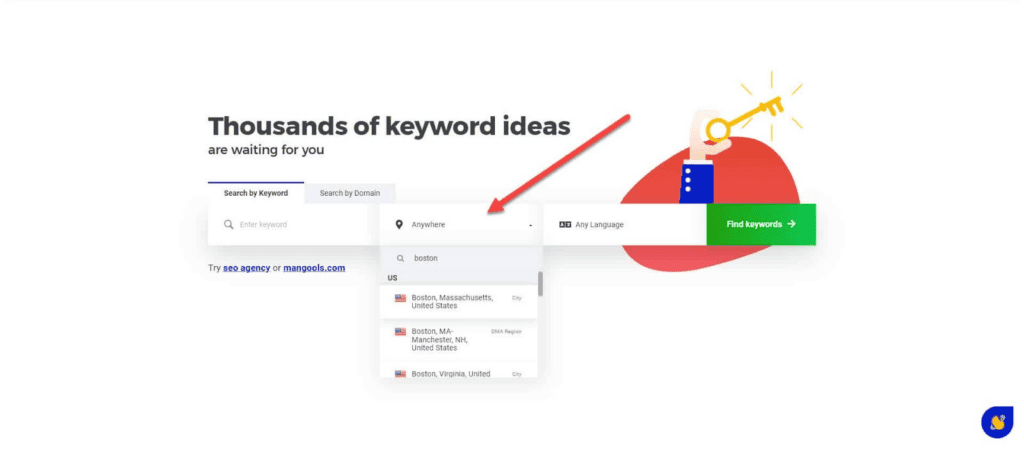 Choosing a database with the exact location of your business gives you more precise keyword suggestions.
Now, click on "Find keyword" to see the ideas. From here, you can see the keyword suggestions KWFinder found for you.
Use keyword metrics to determine which keywords to prioritize
Search traffic and keyword difficulty (KD) are the most important metrics to consider in your research.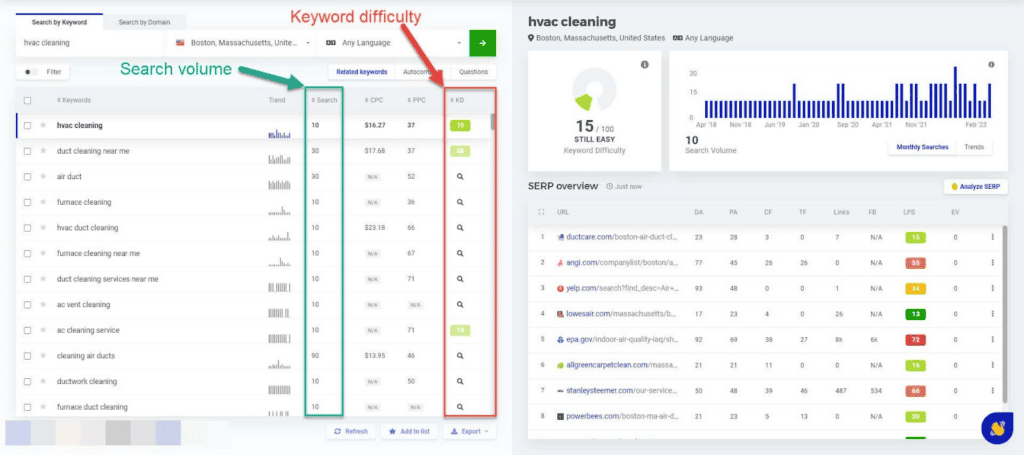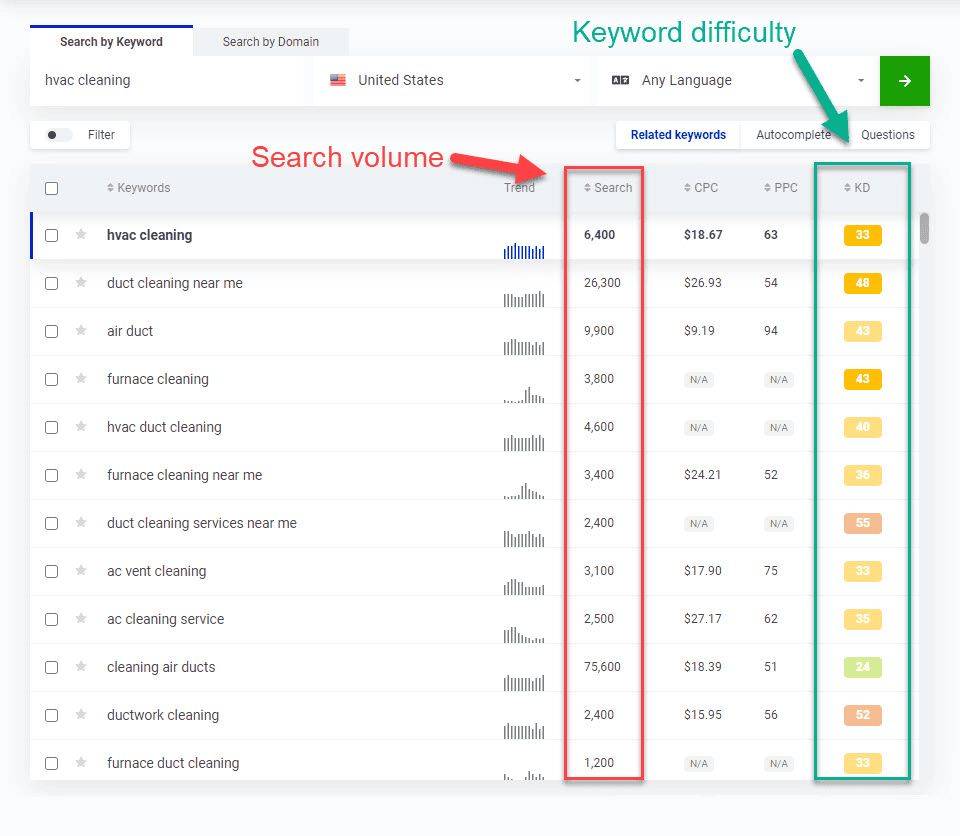 The goal is to find keywords with the highest search volume and lowest KD. It means lots of people are searching for the keyword on Google. Also, the search engine can't find pages optimized enough for the search query.
This is an opportunity to capitalize on these underserved keywords and traffic to get the most traffic and engagement.
6 top local rank tracking tools you can consider for tracking
Like brainstorming local keyword ideas using tools, you also need a tool to track local rankings. There are lots to choose from that can perform this task for you. But below are five of our most highly recommended tools:
TrackRight – Perfect for business owners needing in-demand organic and Map Pack rankings or agencies working on SEO campaigns for local businesses. This solution offers comprehensive demand generation strategies to drive targeted traffic and boost online visibility.
AccuRanker – A powerful tool that helps you monitor rankings for a specific country, state, city, and even postal code for as many keywords as you need.
Semrush – A full-suite SEO software that not only lets you track local keyword positions. It also helps manage your business listings, which is vital to your local SEO needs.
GeoRanker – This software keeps tabs on your local SEO initiatives by offering multi-location rank tracking and a local citation finder.
Mangools – Another all-in-one SEO tool that's light on the budget and can track local keyword rankings.
Local Ranking – Local Ranking is a local rank tracker that comes packed with other local SEO and Google My Business management features. These features include a GMB audit tool, Google review management, and more.
How to set up local keyword tracking
In this part, we'll show you how to set up your local keyword tracking campaign using the local rank checker TrackRight.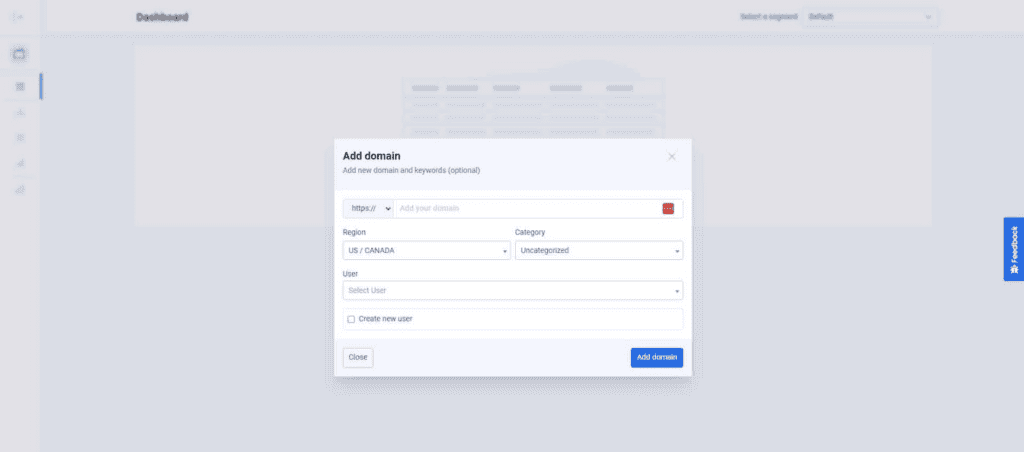 Upon signing up for an account, go to the Dashboard and add the domain you wish to track. Next, choose the region of the business and the category that best defines it. Then enter the keywords you wish to track (one keyword per line) before you can successfully add your domain.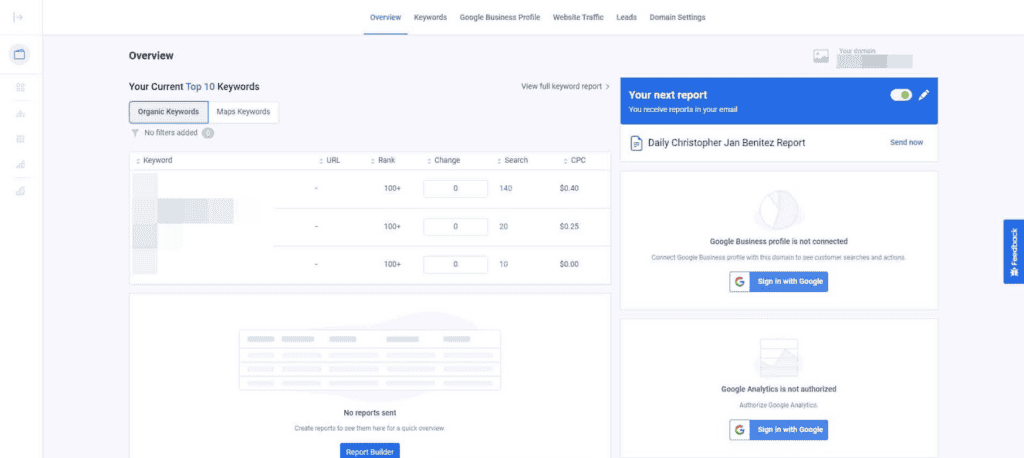 Once added you can see the overview of your organic rankings. Connecting your domain's Google Business Profile (GBP) to your TrackRight account is also an option. You can then enter the keywords you want to track for ‌Maps rankings. Finally, you can authorize the tool to access your Google Analytics data to view your website traffic alongside your keyword rankings.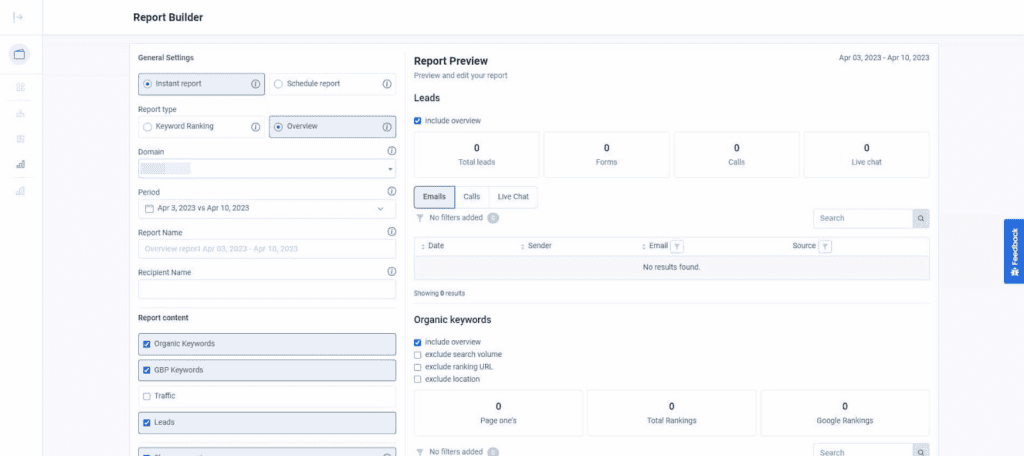 You can create automated reports for yourself or clients containing your keyword positions, traffic, and leads. You can compare the data from the past weeks or months to see how much your website has progressed.
Tips for tracking local keyword rankings effectively
Just because you're using tools for your local keyword tracking effort doesn't mean you should expect a sudden increase in your local rankings. You must still observe the best practices to get the most out of monitoring your local keywords. Below are some to keep in mind.
Consider tracking multiple search engines and locations – Track the keywords of each branch in their most relevant search database and location. You may check local keywords for other locations even if you have a single store, but only if you service the area.
Know when to track your keyword rankings – The frequency of tracking your local keyword rankings depends on your longevity and industry.
For instance, tracking your keywords daily or multiple times a week is ideal if you're a brand-new local business in a competitive niche like law. In a demanding industry like this, you'll need to use more SEO tactics to improve your law firm's local rankings.
Use other metrics to make sense of your keyword rankings – High local rankings aren't always good. You may have high keyword positions but no leads coming in. Either you're tracking and optimizing for the incorrect keywords or not presenting your business in a good light. We'll discuss this more later.
Scaling local SEO efforts: Six tips
To guarantee the success of your local SEO, you must observe its best practices. Below are some things you must consider to help improve your local rankings and generate more leads and customers:
Optimize your GBP for relevant local keywords
Like your website, you must mention your target keywords in your Google Business Profile. One of the best places in your profile to enter the keywords is in the "About the business" and "From the business" descriptions. Ideally, you want to naturally mention your keywords within the first 250 characters of both sections.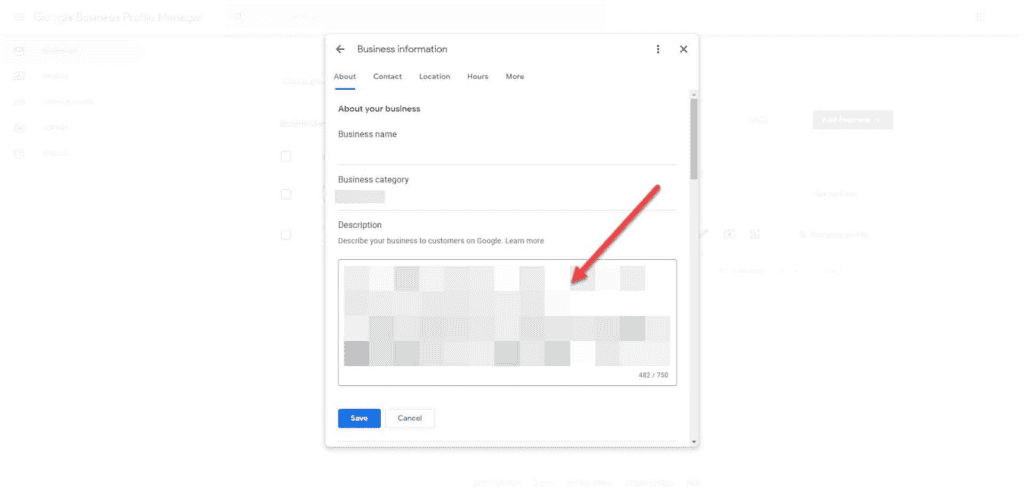 If possible, fill out your primary and secondary categories (where your business rightfully belongs) with your targets. Finally, mention the keywords in the services you're offering and in each description. And you'll be on your way to increasing your business rankings on Google Maps. 
Get citations
Citations refer to your business's name, address, and phone number (NAP) in your Google Business Profile.
The key to getting the most out of your citations is consistency. Before signing up for these directories, make sure that your NAP is the same as the one found in your GBP. Any NAP discrepancies in your online listings can cause problems with your Maps ranking. Google may create duplicate entries for your business due to these inconsistencies, diluting your business listing's rankings.
Check for old NAP listings online and see if they are the same as the ones in your GBP. Cleaning up your old NAP with the new and accurate version helps strengthen your local SEO campaign. Your chosen citation builder service, like BrightLocal, should also work on your cleanup efforts.
According to Whitespark's 2023 Local Search Ranking Factors survey, citation signals help the search engine confirm the legitimacy and accuracy of your business. Aside from GBP, you can build more citations on authoritative local online directories like Yelp, Angi (formerly Angie's List), and others.
Create local landing pages
Local landing pages work similarly to GBP in that they contain identical information (NAP, business hours, customer reviews, and more). The difference is that you publish these pages on your website targeting specific locations where you offer your services.
Create one by researching keywords for each location and using them to optimize each page. Also, make the content of each page as unique as possible. Mention local events and attractions and feature testimonials from local customers.
Finally, embed your store's Google Maps location on the page. This helps the search engine to associate the local landing page with your business. As a result, it strengthens your business listing's ranking signals for the Map Pack.
Build local backlinks
Acquire backlinks from websites that cater to locations relevant to your business. Getting a link from sites within the area where you offer services will help improve your listing's rankings on the Map Pack.
Local directories let you place your NAP in your listing and link to your website. Other ways to get local backlinks include getting featured on a local news site and sponsoring a local charity or event. 
The last two methods require you to reach out to these websites. Pitch a newsworthy story about your business to local news sites, and don't forget to publish a press release anytime your business celebrates a landmark event.
You can also talk to an event organizer about how to help sponsor an upcoming local event, such as a carnival or charity fundraiser.
Monitor and analyze local keyword rankings
We already discussed tracking your local keyword rankings using your tool of choice. At this point, it's a matter of identifying the movement of your keywords, whether they went up or down the Map Pack.
If your listing appears on the Map Pack, check how many more leads you got during this period. The expectation is that higher rankings mean more inquiries about your business, if not conversions. Also, find a way to identify which keywords are generating the most engagement with your Map listings.
At the same time, check how the decrease in your keyword rankings affected your business's ability to attract more leads and conversions.
Tweak your local SEO campaign
Make the changes to improve not only your local rankings but also your lead generation and conversion efforts based on your analysis.
For example, keywords that don't appear in Maps rankings indicate that you must work on your local SEO. Applying the most appropriate tips above should help improve your listing's rankings.
At the same time, you may encounter issues that require different solutions.
Let's say your listing appears on the Map Pack, but you have a much lower conversion rate than months ago. From here, cross-reference your listing from the previous month and see any changes made to it.
Maybe your listing now doesn't contain more contact details or requires more positive customer reviews. Both factors encourage prospects to reach out to you regarding your business.
Conclusion
As you can see, your local SEO quality directly influences how high your business listing ranks in local search results. And monitoring your local keyword rankings is a key piece of this strategy.
Hopefully, this post sheds light on the importance of and the process of tracking the keywords of your local business. With these tips and tools, you can ensure your business listing appears and maintains its position in Google's Map Pack today and in the future.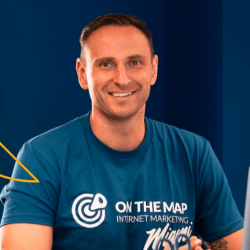 Latest posts by Kristaps Brencans
(see all)