With 342 million websites in the world, driving organic business growth is no easy feat.
If you want to stand out from everyone else and produce consistent organic growth, you'll need to learn, harness, and master SEO from top to bottom.
In this ultimate playbook, I'll teach you the top ways to drive organic business growth as fast as possible.
Why trust me? I've built multiple agencies (Codeless and uSERP) from zero organic visitors to doing $3m+ in yearly revenue. Just recently I acquired Wordable, a SaaS product in which we rely solely on organic growth. On the side, I've scaled ventures in travel, customer feedback, and more.
Here is what I did to scale business growth through organic search, and here is how you can do it too.
What is Organic Growth in Business?
Organic growth is defined as the growth your business can achieve without paid acquisition channels (inorganic growth). For instance, PPC marketing is paying for clicks, and bidding on keywords. Rather than organically growing, you are inorganically growing via paid promotion. If you want to choose PPC marketing you can use the best small business software like the one from Adplorer in order to avoid mistakes and do everything more professionally. Overall, utilizing small business software easens and improves the marketing processes run for your small busines
This is considered paid growth. Conversely, organic growth comes through natural customer acquisition, typically via content marketing, social media, or word of mouth.
What about investors? Can investors or high growth firms still contribute capital? Yes, they can. As long as sales growth and revenue are driven organically, it's still organic growth.
Now that you know what organic growth is, it's time to get started.
Step #1: Write Compelling Content
Google aims at providing the most relevant search results to its users.
Matching their aim is a great organic growth strategy.
Each of these results matches the searcher's intent and provides sufficient information to answer their questions:
No matter what niche your business exists in, creating content is critical to search engine ranking, and subsequently, organic growth.
"These days any brand which wants to capture the attention of prospective customers on a consistent basis must create epic content that engages people and teaches them something new at the same time. Amazing content, whether it's blog posts, videos, podcasts is what builds a tribe, a community and also gives you an opportunity for multiple touch points with a prospective buyer."

says Gaetano DiNardi Head of Growth Marketing at Nextiva a VOIP company which knows a thing or two about epic content.
When users search for any questions in your niche, like "the best marketing agencies," your company needs to rank on the top page.
To start providing valuable information and forming a growth strategy, utilize free keyword research tools like Google auto-suggest:
Search for common pain points, problems, and solutions in your space to determine what to write content about that appeals to both existing customers and new customers.
Once you locate keyword targets, analyze the search engine results:
Your content should answer the most common questions related to your keywords, and be more informative than competitors already ranking.
This content serves to subtly market your existing product and drive revenue. Targeting new keywords can also help you reach a new market for rapid growth.
Is your competitor writing 3,000 words? Write 4,000 words and add more detail, more examples, and more value. 40.7% of SEOs say good content generates the best link building results.
Besides providing valuable information, another way to make your content inviting is to include engaging graphics like the ones below from LoginLockdown:
Readers don't want to read long blocks of text. They need something to capture their interest and eye-catching graphics are an excellent way to do so.
Basically, the content you produce needs to be compelling enough to earn a place in the top results. Anything less than that won't cut it.
Another angle you can take with content is creating comparison content. Comparative advertising is a huge way to build traffic from multiple keywords in a single post. For example, Login lockdown does this by comparing password managers:
Since you want to publish content consistently, using content mills seems like an efficient way to do this, right? Freelancers are affordable (read: cheap) and available to write. But is it worth it?
Codeless conducted a study comparing the quality of content you're bound to get from content mills. Here's what they found out:
If you want to publish engaging content, content mills are out of the question. You're better off writing content on your own using an AI writing assistant like ShortlyAI, or outsourcing to expert brands.
When you're just starting out, your writing skills might not be off the charts, and that's fine. Using writing apps will help you improve your writing skills and publish better content that will rank and drive traffic to your blog.
In addition, you can take a multitude of copywriting courses to refine your skills and hone your craft.
One last important note — it's just as important to go back and update older posts over time. According to Style Factory Productions, updating existing posts is a great way to improve your rankings and increase blog traffic — so be sure not to skip this step.
Step #2: Properly Format Your H2s and H3s for SEO
Now that you've written stellar, brand-building content, it's time to optimize it for on-page SEO.
Your subheadings help you achieve three main objectives:
Improve on-page SEO optimization
Provide structure to your post to guide readers
Boost your chances of obtaining featured snippets
Capture the interest of scanners and prevent them from bouncing off
Google relies on H2 and H3 tags to understand your content and rank it accordingly. Include your target keyword in your H2 tag. Take a look at how an H2 tag appears in this blog post on link building in Search Engine Journal:
The target keyword (link opportunities) appears in the H2 and multiple times throughout the piece.
When formatting your H3s and other subheadings in your post, use related keywords naturally. For instance, a searcher who wants to learn about link building will type related keywords such as; link building strategies, link spam, and backlink profiles.
Here's how these related keywords appear in the blog post:
You also want to make sure that you format your H3s to include numbers and keep readers engaged through curiosity, surprise, and appealing to their emotions.
So long as you publish compelling content, your readers will share it with their friends on social media. Social shares do not have a direct impact on your rankings, but they give you the exposure you need right now and establish you as an authority.
Other bloggers will start linking back to your content, which, in turn, will improve your rankings.
Step #3: Use Semantic Keywords to Drive Organic Growth
To provide relevant information to its users, Google understands more than just the exact text people search for.
It interprets the searcher's intent and context from the search query by establishing the connection between the words that the searcher used. That's where semantic keywords come in. They are keywords related to a specific topic that a user searches on Google.
Most people don't search using a single word, e.g., "VPN." Since there is a reason behind every search, searchers use more words to help them get the information they are looking for.
Instead of entering "VPN" into the search bar, a searcher might use the term "VPN provider" to help them get specific information on what they need to know. 
Google collects data on the searcher's location, their search history, global search history, and spelling to come up with a list of relevant semantic keywords, as shown below:
Given this list of semantic keywords, Google understands my search intent and context. It provides information on VPN providers, and here are the top results:
According to Google, this is the most relevant information for someone who wants to learn about this query. These posts talk about topics related to VPN providers using relevant semantic keywords. That's why they came out on top.
Here's how you can also leverage semantic keywords for better rankings.
Once you identify your target keyword, use Clearscope to identify semantic keywords. If your target Keyword is "best credit cards" here are the semantic keywords you'll get from Clearscope:
As you write about "best credit cards," talk about the related topics you identified in step #1.
Further, tools like Clearscope will give you more detailed information on importance, typical uses, and heading presence to improve optimization:
Next, answer people also ask questions related to your keyword. They also contain related terms around your topic. In our example, here are the questions you want to answer in your post:
While answering these questions in your content, use keyword variations.. For instance, a searcher might use "best small business credit card" as opposed to "best credit cards" to optimize your post around your target keyword. These keyword variations can be placed in your H2 headings.
Lastly, publish in-depth and detailed content.
It's as simple as this: if your content is thin, lacks value, and isn't better than what's already ranking on the top page, you won't be driving a dime of traffic.
Step #4: Personalize Your Content Through Long-tail Keywords
When you are starting drive organic business growth, it's tough to successfully compete and rank for informational keywords in your niche right away. In new markets, it's difficult to differentiate.
Not that you shouldn't try because if you consistently publish compelling content with a diversified approach, you'll gradually rise to the top.
Your blog will help you build an audience that will buy your product or service, giving you scalable growth for years to come. A section of this audience is actively looking for specific information about your product or service.
Boost your rankings through publishing your bottom of funnel content. It has fewer competitors because people use long-tail keywords that are related to a service or a product they want to buy.
A great example of a bottom of the funnel piece of content is this blog post from GetVoIP on customer satisfaction survey:
While this type of content may be considered bottom of the funnel as it is intended to educate and provide value to your audience, this is exactly the type of content that helps move readers through your sales funnel.
A sales funnel is the journey potential customers go through on the way to purchase. It's crucial to have sales full funnel visibility – i.e. data on each touchpoint in the buyer's journey from their first visit to your website to closing the sale.
At the end of the day, a target customer will buy from who they know, like and trust. What better way to establish that trust than by providing valuable content your audience is already searching for online? That kind of investment in your prospective customers is the most powerful long-term sales strategy you can ever utilize.
Not to mention, providing valuable content is another way to drastically increase user satisfaction. After all, studies show that clients (and potential clients) would happily recommend a company to a friend after a positive experience.
How's that for a return on investment?
Just be sure to have a customer feedback strategy in place to make sure that what you think is valuable to your audience, is actually valuable. Don't guess when you can easily ask them what they want!
If you're not sure how to find out what your audience wants, try sending out a drip or scheduled email campaign to your list to get customer feedback.
You could set up an automated email sequence for whenever someone joins your list, and ask them in one of the initial emails what they are struggling with most in their business or want to see on the blog next.
Here's an example of one of the first emails readers get when they subscribe to Adam Enfroy's list, an infamous startup blogger:
This is a much better strategy than sending out a broadcast, as drip campaigns tend to be more targeted. The thing is, your new subscribers never get to see all your previous emails when you just send out a broadcast.
By using a targeted drip campaign instead, you can set up a sequence that includes a welcome email where you send them all of your best blog posts and/or free training and also ask for their feedback on what they want to read next.
The following emails could include more tips on whatever it is you blog about and just be value-packed. This way, you get the most out of your existing content and don't have to draft new emails all the time. Not to mention, drip marketing emails generate 18X more revenue than your typical broadcast. Need I say more?
Notice how at the end of the email, he encourage readers to reach out if they have any questions and he also adds that he will respond to every email:
This is a great way to encourage engagement and start building relationships with your audience as you move them down your funnel.
This is building a brand. This is organic growth. Forming real relationships with customers that in turn, makes them become loyal buyers with high lifetime values.
Step #5: Start a Podcast For Natural Business Growth
While starting a blog attracts people who love reading, a podcast allows you to attract people who love audio content, too.
This means you can expand your potential organic business growth beyond just Google searches.
Currently, 86 million people in the US listen to podcasts in 2019, and by 2022, the number of listeners will grow to 132 million people.
Podcasts are flexible so one can tune in on their morning commute or when they are engaged in other activities during the day. Starting a podcast gives you more visibility and boosts your presence on social media, so you come across as an expert.
Besides, the title, show notes, and the transcript are great places to use keywords and insert links taking listeners back to your blog and other channels.
It's easier than ever to get started with podcasting thanks to all the different podcast hosting sites who have something to offer everyone, no matter where you are in your podcast journey. After all, different podcasters will require different needs in their hosting.
If you start a podcast, be sure to create a dedicated Instagram profile for the show to reach more of your target market. There's plenty of ways you can achieve Instagram growth from scratch organically by posting consistently and choosing hashtags wisely. If you need help with that, our "pro tip" is to get the help of the best Instagram growth service to save you time.
Here's an example from Jenna Kutcher's podcast, the Goal Digger Podcast:
With over 1 billion active users, it's a no-brainer that Instagram is amazing for growing a podcast (and a blog!). And on top of that, with many Instagram automation solutions and tools you can use to power up your growth, getting some satisfying results may be quicker and easier than you think.
Podcasts are a fantastic way to share your business' brand.
Step #6: Invest in Link Building to Grow Your Domain Authority
Domain authority helps you know how well you're ranking on Google as compared to other businesses in your niche. Domain Rating and Authority score ranges from 1-100, and, as a new business trying to drive organic business growth, you have a low score by default.
No need to worry, though, since you can improve your score dramatically by acquiring great backlinks and publishing inspirational content.
Start by analyzing the sites linking back to your competitors. My favorite tool for this is Ahrefs, but there are plenty of good Ahrefs alternatives that work too. Using Ahref's site explorer tool:
Start by entering their site into the search bar. Navigate to the "Backlinks" section and look at their current referring pages.
Once you do this, you have two options:
1. Write a guest post for these sites. Here's how to go about it:
Read content on these that are linking to your competitor
Identify posts or topics that you can expand on by looking at their most popular content and what their audience resonates with
Pitch a guest post idea and follow their guidelines for your proposal
2. Building a relationship with the owners of the sites you want links from. Here's how to do it.
Read their content and post meaningful comments
Follow them on social media and subscribe to their emails
Initiate conversations with them centered around what they are interested in
Be consistent and genuine in your interactions
Once you do this, create a link-worthy post, such as a thorough guide on a topic they have talked about on their blog.
For example, if you wanted a backlink from Monday.com, a popular project management software… You could write a thorough guide that would complement this one on their post on how teams can manage tasks:
The options are truly endless. For example, you could create a guide to choosing the best project management tool, or you could write about project management techniques as seen below:
Share the post with them and then request them to link back to your post. Do this consistently until you're able to see a gradual increase in your domain authority score.
Share the post with them and then request them to link back to your post. Do this consistently until you're able to see a gradual increase in your domain authority score.
Another example, if you wanted a backlink from CallHippo, the best software for call tracking, you will need to write a comprehensive guide that will complement one of their articles.
To complement the above article, write a detailed article on point 3 – "Determine Return On Investment On Marketing Budget".
According to Google, link building is tied with content in terms of SEO importance. Yes, you heard that right:
Content without links is just content that won't rank.
Meaning you need backlinks from high-quality websites to build your domain rating and rank for the keywords you want.
Need more convincing? Check out these link building statistics.
Links tell Google multiple helpful signals:
Your content is good quality (if being linked to from good sources)
Your content is relevant to the content it's being mentioned within
Link building is paramount to impactful SEO. Invest in link building or backlink services to grow your authority and scale organic business growth.
Step #7: Nail Your Calls to Action to Convert Your Traffic to Sales
Having a great call to action (CTA) is critical for growing your business organically and increasing online sales.
A good CTA acts as a differentiator, appealing to your target customer in ways they haven't seen before (read: value).
As you start to passively drive website traffic, you need to present this traffic with an effectively designed landing page and a valuable offer to convert them to a customer. WP page builders are great tools to use for landing pages. You can design your own layout with tons of well-designed options, so it'll be the perfect way to make an impact.
While optimization and great content bring in traffic, it's your job to also keep that traffic hanging around and coming back for more.
To do this, you'll need to build calls to action that resonate with your readers. Ones that provide value and a reason to keep reading your content or give you their email address in exchange for a lead magnet
For example, Reply.io nails this with their upgraded content lead magnet CTAs:
Complete with custom, beautiful design, it's a no-brainer for someone to grab these free ebooks and become a lead in their funnel that can convert at any moment.
This ensures they convert fast as the offer and value leaves fast. You can also add a visually pleasing custom QR Code with a compelling CTA to offer ebooks on the go, drive users to social media or offer exclusive coupons.
You can even achieve a better conversion rate from your website, consider adding a well-designed CTA's button aka direct call widget that enables your clients to call you directly with a single click.
If you have several articles, you can put those together into a free email course for your readers to opt-in. Growth Ramp wrote 14 articles on product marketing, then created a landing page for their readers to get free product marketing training:
Another fantastic option for CTAs is to direct users to content first, to build trust, rather than blitzing a sale.
This not only improves your CTA, but ensures that organic traffic starts to build trust in your brand, rather than forcefully pushing sales.
An example that worked well for train service Split My Fare is using the CTA "learn more". This was a simple and effective CTA they used to drive more leads for their business.
Nail your calls to action to ensure your organic growth isn't just for impressions, but for real customers too.
Get Your Business Scaling Organically
Ranking on Google and growing your business organically takes time. You might be tempted to implement all these ideas at once, and this will leave you exhausted.
Focus on one thing at a time, then build momentum as you move forward. You may choose to create stellar content, start a podcast, or boost your domain authority.
Whichever you choose to start with, measure your rankings every quarter then improve on the results you get. Once you start getting consistent results, come back here and choose another idea, then go ahead and implement it.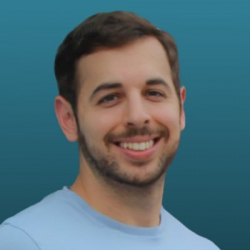 Latest posts by Jeremy Moser
(see all)