Link building statistics help us learn from the latest studies on how impactful link building really is.
So, what do the link building statistics tell us?
And according to a senior strategist at Google, the top ranking factors are:
"Content, and links pointing to your site."
This has been confirmed even more recently by John Mueller of Google:
(Related: See PR statistics for 2022-2023)
Building links is similar to acquiring social proof. When Google looks at your website, having strong, authoritative links pointing back to your content signals that you are trustworthy and informative.
Without links, ranking for competitive keywords in your niche is impossible. Whether you are looking for good link building services and want to understand how impactful they are, or are writing content about link building impact on SEO, these statistics will come in handy.
Here are the top link building statistics and trends you need to know for 2021-2022 to earn better links.
Link Building Statistics You Need to Know
Here are key link building facts you need to know to (1) earn better backlinks and (2) scale your domain rating.
1. Content pieces and backlinks are the top two most important factors for ranking on Google for target keywords. Next is RankBrain. (Google)
2. Websites with a higher Ahrefs/Moz/SEMrush Domain Rating correlate with higher rankings on the first page of Google. (Backlinko)
2.5: In a study of 310 SEO and marketing experts, 51.3% preferred Semrush as their favorite SEO tool over Ahrefs. (uSERP, 2022 data).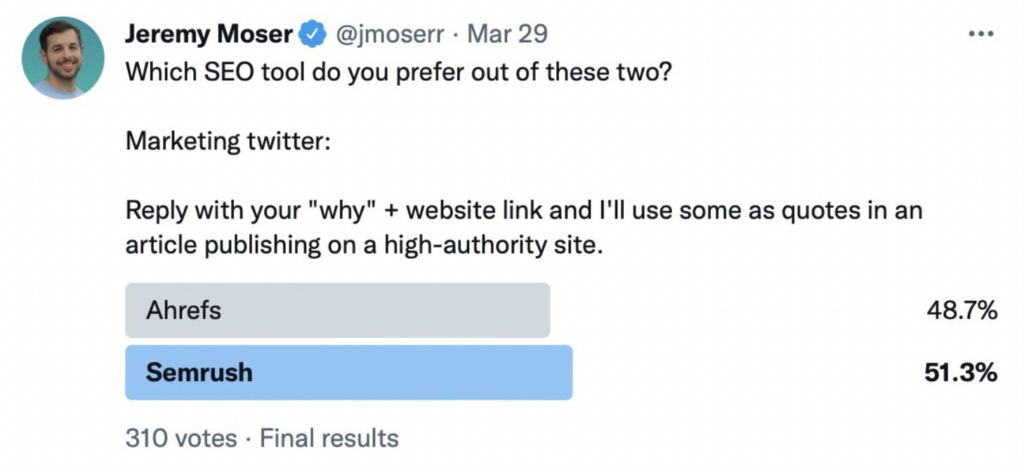 3. The first ranking page on Google has an average of 3.8x more backlinks than positions 2-10:
4. Websites with more unique root domains on average outrank websites with less unique root domains. (Backlinko)
5. 95% of all pages online have zero backlinks pointing to their website (uSERP):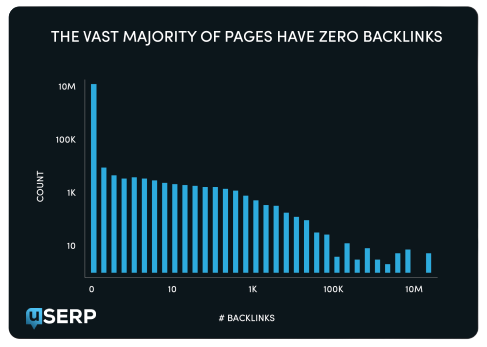 6. 65% of digital marketers state that link building is the hardest part of SEO (SEO Tribunal)
7. Links from higher domain rating websites are more impactful than links from lower domain rating websites (uSERP)
8. Blog posts containing 3,000+ words receive more backlinks on average than blog posts under 3,000 words, making long-form content a crucial tool to employ as soon as you start a blog. (Moz)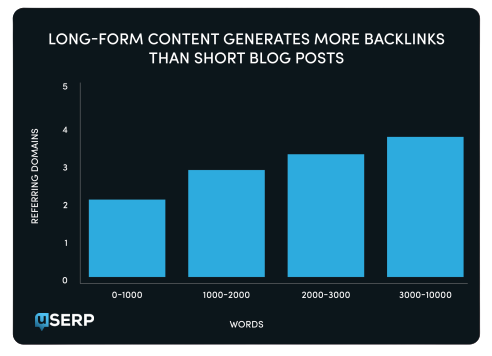 9. Listicle content generates the highest amount of unique backlinks in comparison to all other blog post content types (Moz)
10. Exact match anchor text backlinks are no more effective at increasing content rankings than non-exact match anchor text (Ahrefs)
11. The highest Alexa rating websites have a natural anchor text profile containing a mix of exact match, branded anchors, and general / random anchor text. (uSERP State of Link Building)
12. 67.5% of SEOs believe that backlinks have a big impact on search engine rankings (uSERP State of Link Building).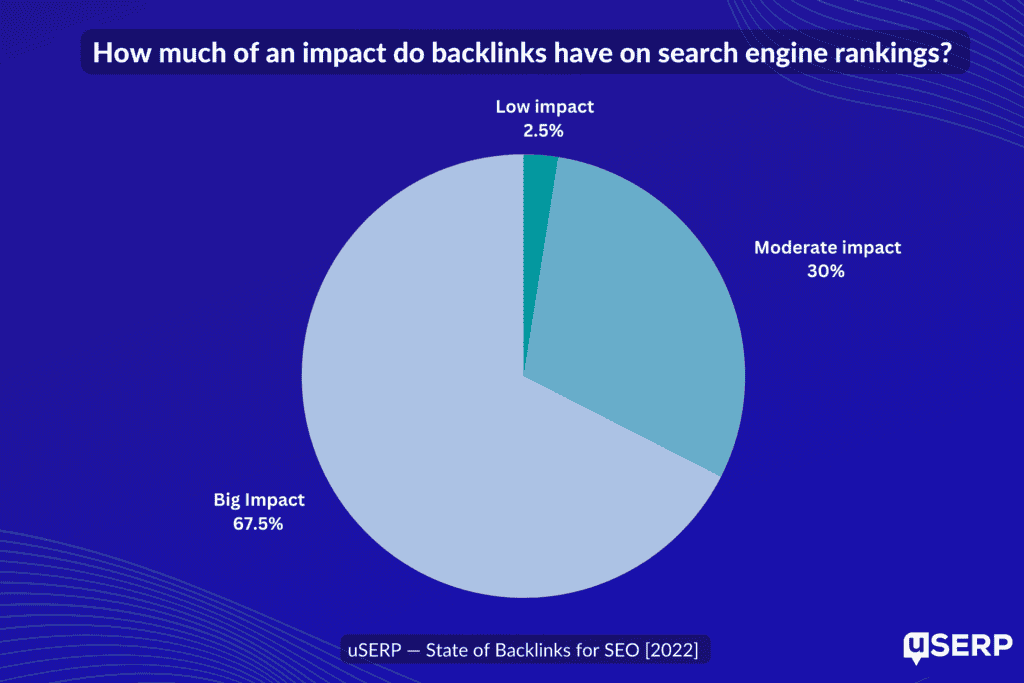 13. Over half of respondents (59%) indicated that backlinks would have more of an impact in the next few years, while 35.5% said they would have the same impact. (uSERP State of Link Building)
14. Only 2.2% of content published online produces more than one unique backlink. (Backlinko)
15. 65% of marketers believe domain rating / domain authority is the most important metric for overall backlink quality. (uSERP State of Link Building)
16. The most important factors to determine the quality of backlinks are; unique root domain, domain rating / domain authority, content quality, website traffic, relevance to your niche. (uSERP State of Link Building)
17. 90% of marketers utilize content pieces as their main way to generate more backlinks. (Moz)
18. 91% of all pages on the internet get zero organic traffic, mostly because they have zero backlinks pointing to their content. (Impact)
19. 54% of all SEOs believe that nofollow links are valuable for their backlink profile (uSERP State of Link Building)
20. Google is evolving the "nofollow" attribute for backlinks, potentially providing more value to your backlink profile than previously. (Google)
21. More than 60% of businesses outsource link building efforts to agencies or contractors. (uSERP State of Link Building)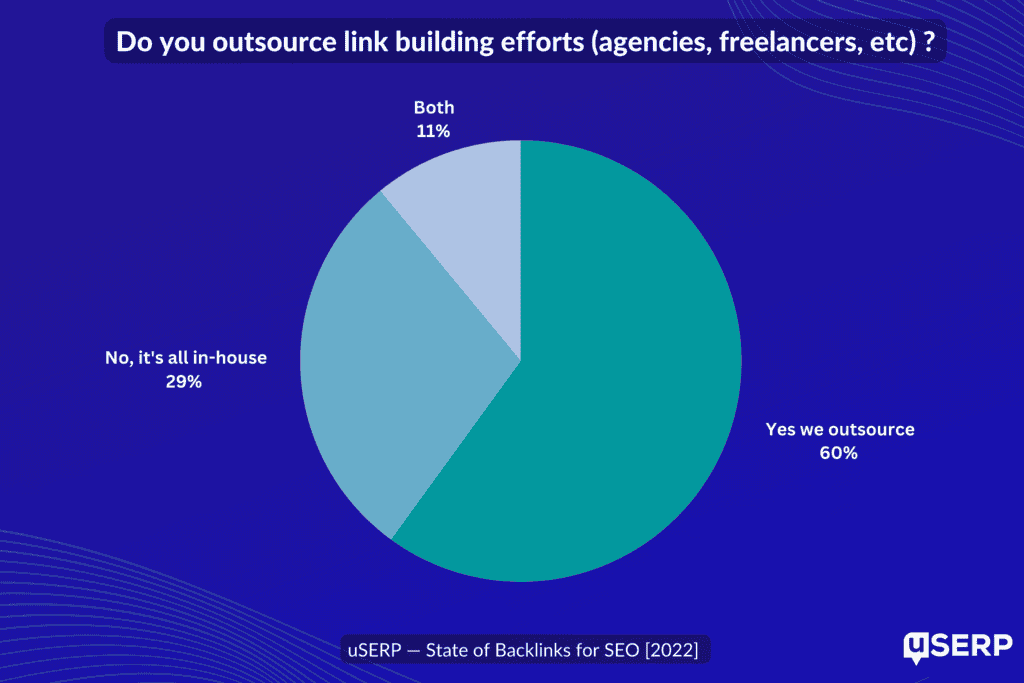 22. 67.5% of SEOs believe that backlinks have a major impact on search engine rankings (uSERP State of Link Building)
23. 56.2% believe that link quality and quantity impact rankings (uSERP State of Link Building)
24. 85% of SEOs and marketers believe that link building has a big impact on brand authority and brand building (uSERP State of Link Building):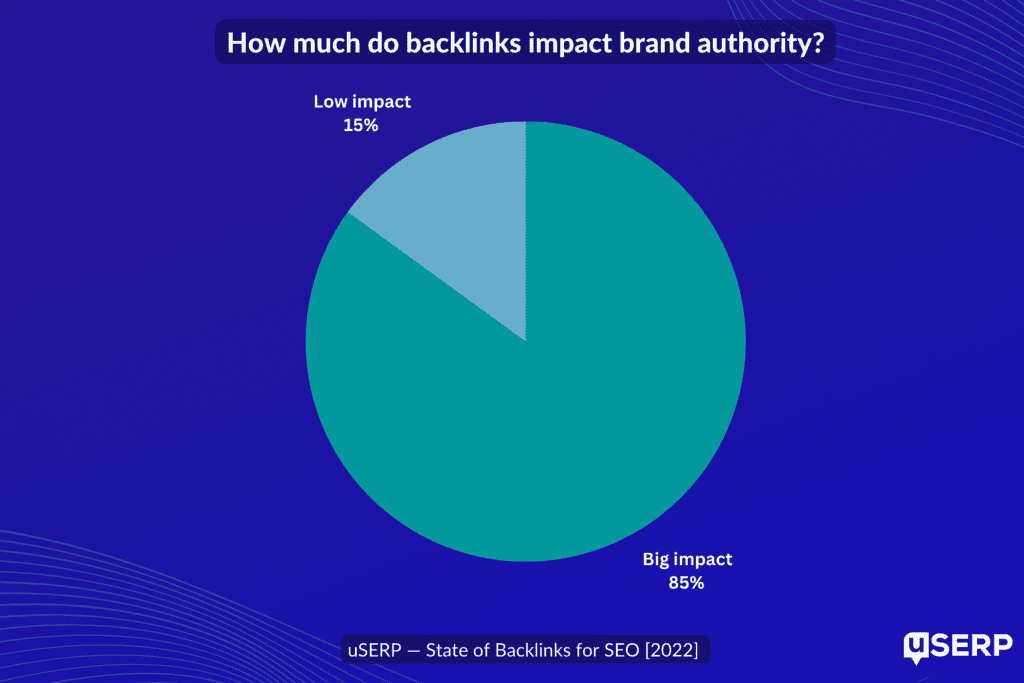 25. The majority of SEOs believe content, backlinks and QR codes work best together as a main priority to increase organic traffic (uSERP State of Link Building)
26. The most popular tools for link building and tracking are Google Search Console, Buzzstream, Ahrefs, Majestic, Pitchbox, Screaming Frog, MailShake, Semrush, and Moz.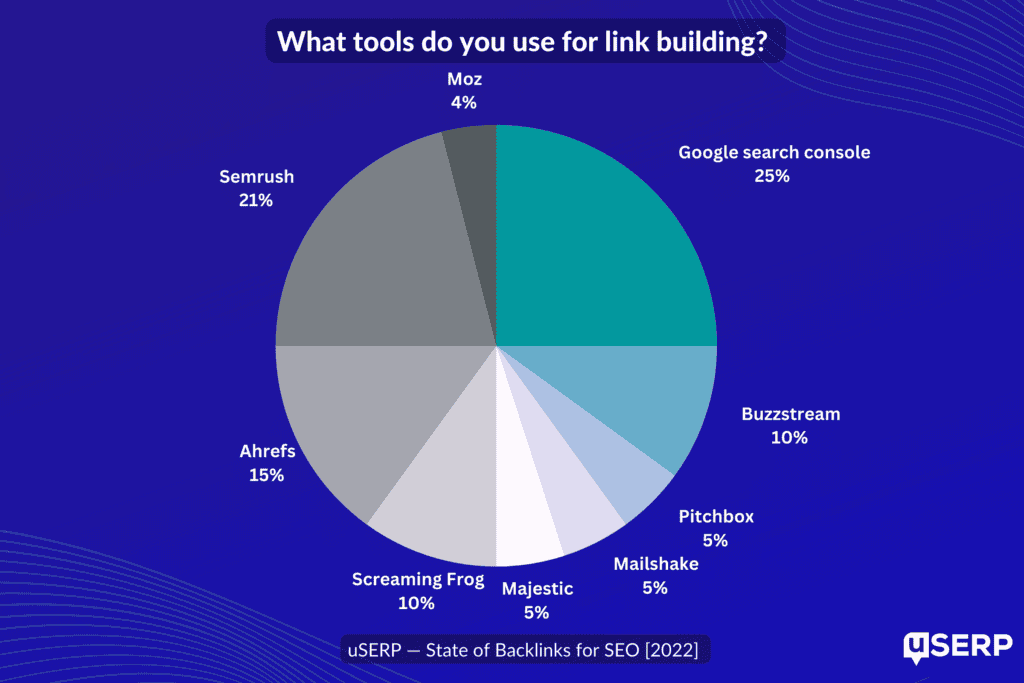 27. The most important KPI marketers and SEOs care about when acquiring links is organic traffic increases that result from improved organic rankings: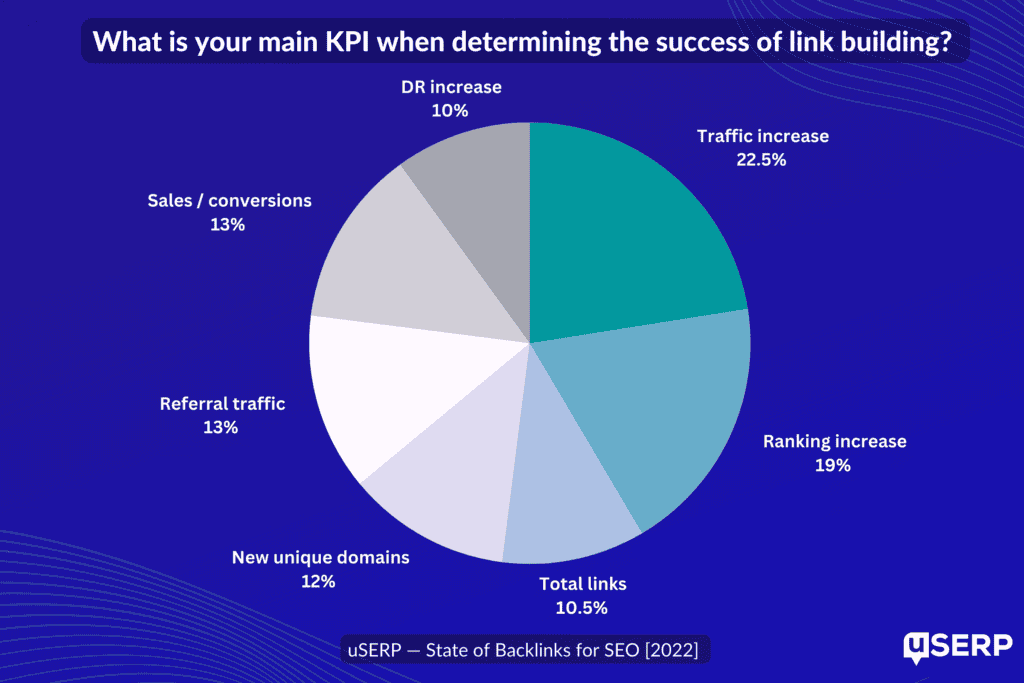 28. The most effective link building tactics that produce the best results are: digital PR, content marketing, guest posting, link exchanges.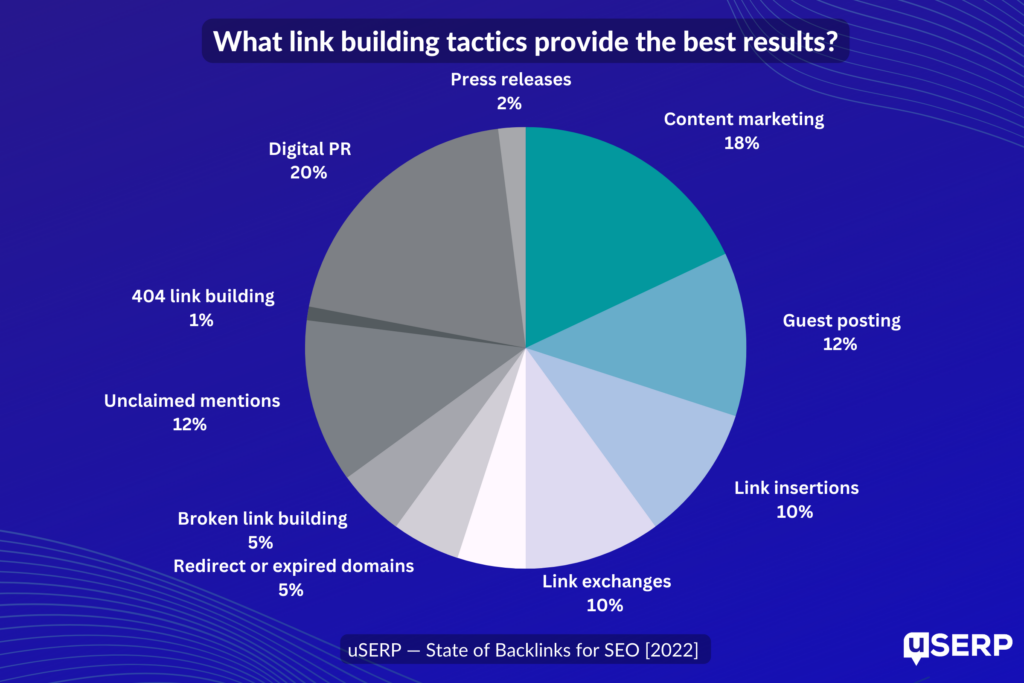 29. Most companies spend between $1,000 and $15,000+ on link building each month. (uSERP State of Link Building)
Link Building Pricing and Cost Stats
How much does link building cost? This question is hard to answer, as there are so many different factors that go into link costs:
Domain rating of the backlink
Amount of other links on the page
Quality of content you are linked from
Relevance
Site traffic
Spam score
And countless more
In addition, cost also depends on whether you are outsourcing link building or doing it in-house.
Using a link building agency is a direct, straightforward cost, whereas in-house link building often depends on salary or hourly wages, tool costs, and more.
With that being said, here are the latest statistics on link building costs.
1. Low-authority, lower quality links average around $300 per link (ThriveMyWay)
2. High-authority, contextual backlinks average from $700-$2,000 or more per link (uSERP State of Link Building)
3. Most companies who outsource link building spend at least 25% of their SEO marketing budget on link building (SEO Tribunal)
4. Nearly half of all SEOs spend $10,000 or more annually on link building. (Aira)
5. 41% of SEOs believe that the cost to acquire new backlinks will increase further in the future as competition becomes tougher.
6. 69% of marketers state that buying links positively impacts their search engine rankings for difficult keywords. (Aira)
Link Building Trends To Know in 2021-2022
Link building strategies and trends change from year to year.
First, strategies are novel and produce fantastic organic business growth. As they become more mainstream, the market saturates, reducing success rates until the cycle repeats itself.
Here are the latest backlink trends to know to improve your acquisition rates and increase your domain authority score.
Prefer to watch a video? Jenna, Director of Video at uSERP, walks you through the four trends you need to know (+ actionable tips!) in this video:
Trend #1. Cold outreach for link building is highly saturated, and nets very poor results.
Cold outreach is in every link builders strategy plan, but does it actually net results that are worthwhile?
For most, the answer is no. In fact, only 8.5% of cold outreach emails generate backlinks.
Why is this? Think about it this way:
Editors of major publications that can help you build links are receiving hundreds of emails per week from people just like you, pitching the same topics as you.
The odds are slim to none that they will even open the email, let alone read your content and let you link out to your own website.
If cold outreach is a large component of your link building strategy, it's time to consider other alternatives with higher success rates.
If cold outreach is your favorite tactic, here are a few data-backed ways to improve success:
Beyond cold outreach, there are other great ways to invest your time and budget.
Trend #2. Original research generates tons of backlinks
There are countless types of content you can create from infographics to custom images to listicles and more. The only problem is, many of these content types are overplayed, overdone, and result in almost zero backlinks.
So, what content type earns the most links?
Original research! It's my favorite SaaS link building strategy. It's one of the ideal ways to increase conversions for every SaaS product: from coworking apps to edTech solutions.
Original research is classified as study, or unique piece of data that you can publish content about.
For instance, you can survey customers in your niche to see what drives purchasing decisions, or ask 1,000 bloggers how blogging has changed in the last few years.
And clearly, it works like a charm to generate strong backlinks:
Develop original research studies in your niche that haven't been done before. Take a unique angle on a popular subject matter and target difficult keywords.
Once you've published, conduct manual outreach, spread the word on social, and hire a digital PR agency (cough uSERP cough) to help you land huge brand mentions.
Trend #3. Link building is more competitive than ever
The vast majority of content online has zero backlinks. More digital marketers, SEOs, and companies are investing money into link building every single day.
What does this mean?
Acquiring links that move the needle for your business is getting more difficult with each passing day.
Cold outreach is failing. Broken link building is tedious and rarely worthwhile. Huge websites with large domain ratings are crowding the SERPs.
Link building is, simply put, more saturated than ever, and requires unique strategies, unique content, and more relationship building than before.
Many businesses are even starting to use different link tracking software to measure and improve link-building effectiveness
Trend #4. Traditional press releases are less valuable
For years marketers and SEOs alike have utilized press releases online as a way to build links quickly at scale.
Press releases often look like this:
And they often cover key topics in your business space, providing a direct backlink (almost always nofollow).
This sounds like a win-win situation, but press release links are often lower quality, and are almost always nofollow.
While nofollow tagged links are becoming more valuable (more on this later!), hundreds of nofollow links from low quality domains that link out to hundreds of thousands of sites isn't very valuable.
Instead of paying thousands of dollars for curated press releases, invest that money into high-authority link mentions that will skyrocket your domain rating.
Trend #5. Nofollow links are more valuable than we thought
Nofollow links have often been regarded as worthless. Oh, you acquired a nofollow link? Who cares!
Thankfully, this isn't the case anymore.
Just recently, Google announced major changes to the evolution of link attributes, and primarily to nofollow links.
Google previously defined rel="nofollow" as:
Use this attribute for cases where you want to link to a page but don't want to imply any type of endorsement, including passing along ranking credit to another page.
But, with these new changes in effect, Google is assigning new value and meaning to nofollow links:
When nofollow was introduced, Google would not count any link marked this way as a signal to use within our search algorithms. This has now changed. All the link attributes — sponsored, UGC and nofollow — are treated as hints about which links to consider or exclude within Search. We'll use these hints — along with other signals — as a way to better understand how to appropriately analyze and use links within our systems.
So, in plain English, what does this mean?
Essentially, Google now will make the choice whether or not to pass along ranking credit to nofollow links, rather than instantly discrediting them when the nofollow attribute is added.
Taking into account factors like the information provided, relevance, and even direct anchor text of that link, nofollows now provide far more potential value than ever before.
Ready to Scale Your Link Building and Domain Rating?
Hopefully these link building statistics helped shed light on the most effective tactics out there.
Acquiring top-tier backlinks is close to impossible on your own without years of connections and experience.
Crafting manual outreach campaigns requires targeted list building, days or weeks of research and spreadsheet analysis, and even more time scouring the web for the right contact info.
Sounds like a lot of work, huh? We haven't even got to the personalization, templates, tools needed, scheduling campaigns, and more. And that's just one potential method (out of hundreds) of acquiring backlinks.
To acquire top-tier links at scale, outsourcing is your best bet.
Want an instant quote? Smash that button below! 👇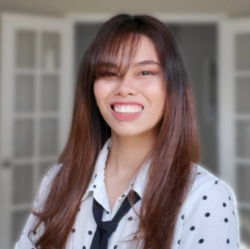 Latest posts by Joanne Camarce
(see all)