Search engines, like Google, are always updating and changing the way they display information on search engine results pages (SERPs).
They use complex algorithms to determine which results show first for key terms and how those results display on your screen.
Focusing on search engine optimization for your virtual event website will increase the organic traffic to your virtual event and improve the quality of those who find your event through a search engine.
Do these five simple and quick things to start ranking at the top of the most widely used search engines and help your target audience find your virtual events.
1. Event Schema
The event schema refers to what data is included on your webpages as well as the way it's formatted with HTML.
By adhering to the guidelines set by Google, you can increase the chances of your virtual event getting discovered online by anyone using Google to search their interests and favorite topics: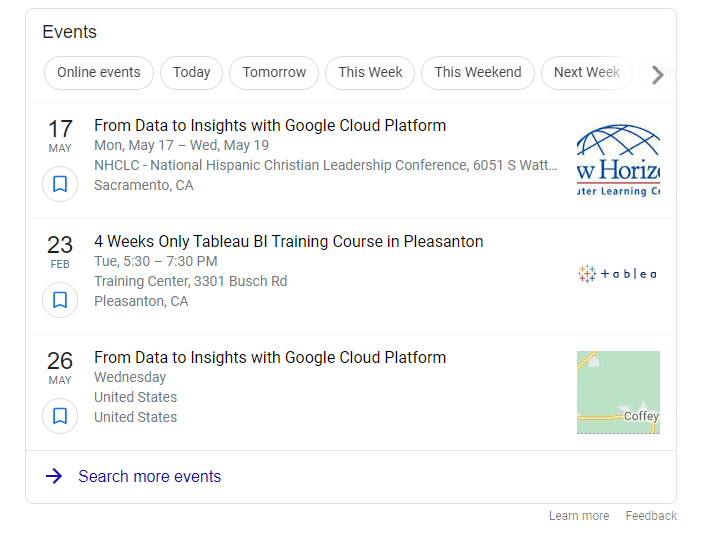 The Google event experience improves engagement by displaying a business logo, description and more on the first page of a Google search. This is also a great opportunity to show off your logo design to potential customers.
All Sched sites structure your event data to follow the recommended format of the Google event schema.
Be sure to include these key data points on your event website to get your event on Google:
Location – Location where your event will be hosted
Name – Name of the venue your event will be hosted at
Address – Detailed address of the event location
Name – Use the full event title
Ensure to have a Start Date and End Date in the same timezone format – in the local timezone.
Event Attendance Mode – Is your event online? Offline?
Description – A good description of your event, should be at least 80 characters
Including these factors of event schema will increase chances of discovery on Google and conversion to your event:
Image: Google Event Experience [Source]
2. Keyword Analysis and Implementation
Understanding the context of your event and what people may be searching for while looking for an event like yours is crucial.
Perform comprehensive keyword research by looking at what words and terms your competitors and peers are on their websites: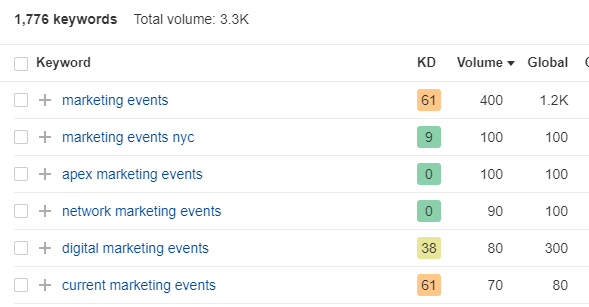 You can also quickly find related terms by searching hashtags that are relevant to your events on social media.
There are tons of free tools for analyzing keywords, SEO, and backlinks to help you determine the actual phrases your audience uses when searching for content online.
Once you find out the top terms and expressions your community is using, make sure your event website is utilizing those keywords. Even consider including one or more of these keywords in your event name.
3. Event Website Speed
The speed of your website is very important for not only ranking well, but for appealing to real site visitors.
Whether you're hosting webinars, virtual classes, or other online events, make sure to choose a platform that doesn't make your users wait.
There are many different ways to make your live event go more smoothly. One of the simplest ways is using a webinar software, which will allow you and viewers to have access to the questions during or after each segment.
If a site takes too long to load, what do you do? Click out and find the next option.
When this happens, you lose both a visitor and Google learns that your page isn't helpful, driving rankings down the page.
Ensure that both the site speed and each individual page's speed is up to current standards to increase your ranking. Current standards are three seconds or less: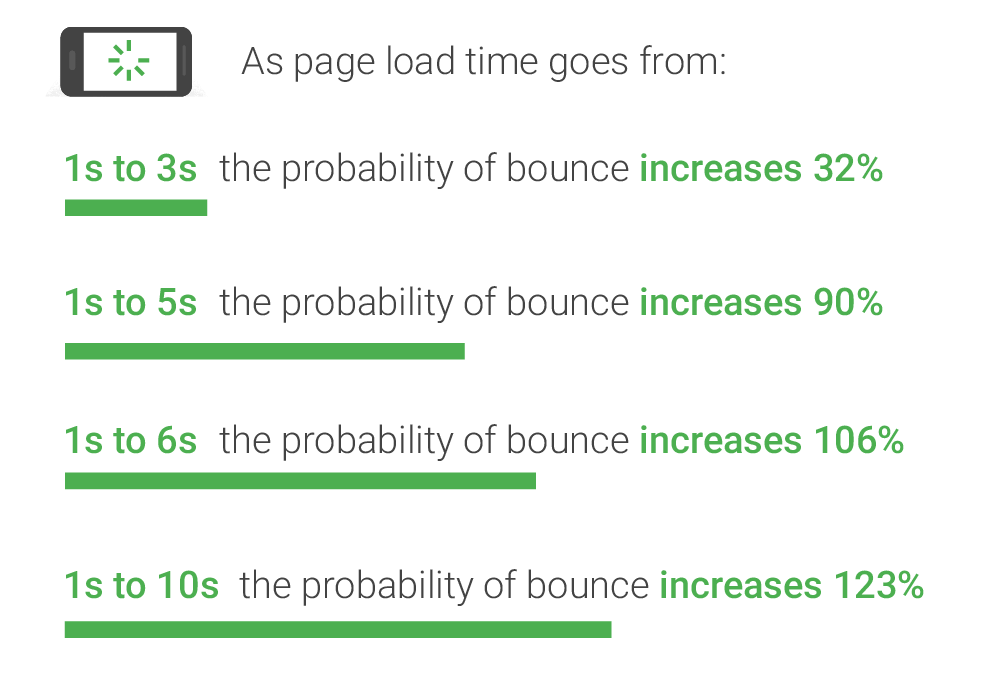 While site speed may seem like something only a developer or system admin to improve on your website, these are a few tasks a nontechnical team member can make progress on before bringing in programmers:
Image optimization – This just means resizing your image files so they load quickly. You can find free online tools that will reduce the size of large image files.
Reducing redirects – If you've moved any of your web pages to a new URL, make sure to update the link and start using the new URL as redirected pages taking longer to load.
Utilizing browser caching – Whatever platform you're using to publish your event website, find out how it handles caching and search the help center to maximize your site's efficiency.
Reduce server response time – If you didn't consider this when choosing your hosting platform, it's not too late to check now. Server response times are vital to your site speed and performance.
4. Link Building
Backlinks give your website authority by making sure other sites on the internet are referencing it.
In fact, they are one of the most important ranking factors:
The more links to your site from other sites, the more it will be recognized by search engines as a reliable source.
Think of it like a popularity contest. Establishing backlinks will help with your ranking as well as referring more possible attendees to your event.
You can build links by having other sites link back to your event.
A great way to do this is by having other online publications mention your event in an article or blog post and link back to your event. There are countless free link building tools you can leverage for outreach.

These will help you conduct a backlink analysis and understand how to capture more links from relevant sources for your event.
Or, you could let the team at uSERP handle your outreach and link building 😉
5. On Page Optimization
Standard rules of SEO apply, so making sure your event website is optimized is important.
These optimizations encompass the way your data is formatted on the page.
For example, titles and headings should be tagged as such in the HTML.
It's also really important to use headings throughout.
Most website platforms make this simple so check your settings and that each page includes the following:
Titles
Headings
Meta descriptions
Alt text
Readability
Conclusion
Including all of your event details, studying the keywords for your industry and area of expertise, and spending a few extra minutes to get the formatting right can quickly improve your search engine rankings and help more people find out about your virtual events.
You don't need to hire an expensive agency or consultant to improve your website speed or start link building for your events.
Latest posts by Rachel Drudi
(see all)