Search engines like Google constantly update and change how they display information on search engine results pages (SERPs).
They use complex algorithms to determine the first results for key terms and how to display them on your screen.
These algorithms are why we need marketing strategies, including search engine optimization (SEO), to successfully promote anything online, including virtual events.
You need to know what your target audience is searching for and where, so you can put your event registration in front of them.
Follow these six simple tips to rank at the top of searches and help your target audience find your virtual events.
1. Event schema
Event schema refers to data on your web pages and how it's formatted in HTML. A well-structured event schema increases your event's chances of being discovered online.
With 8.5 billion Google searches happening every day, listing your event has to be your top priority. 
The Google event experience improves engagement by displaying a business logo, description, and more on the first page of a Google search. It's also an excellent opportunity to show off your logo design to potential customers.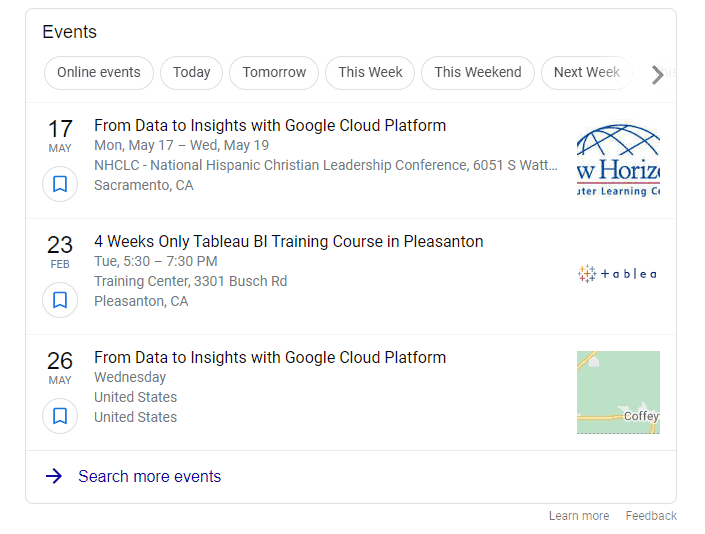 Key data points on your event website or landing page should include the following:
Name – Name of the venue or platform hosting your event
Address – Detailed address of the event location (include zip code for GPS if in-person event) or Web address or Invitation for digital events or hybrid events
Event Name – Use the full event title
Start Date/Time and End Date/Time – Make sure you list the time zone (CST, EST, etc.)
Event Attendance Mode – Is your event online? In-person? Hybrid?
Description – A thorough description of your event (at least 80 characters). Include guest speakers and keynote speakers, event agenda, and other pertinent information.
Adding these factors into your event schema will increase chances of discovery on Google and, ultimately, conversions to your event.
Alternatively, Sched can help you structure your event data automatically to follow the recommended Google event schema format.
2. Keyword analysis and implementation
Understanding your target audience and how to connect with them are essential to promoting your event. Find and analyze the keywords your audience is searching for and implement that into your strategy.
Keyword research is one of the most basic steps in any SEO strategy — event marketing and promotion are no different.
Begin by looking at what keywords your competitors use on their websites and landing pages. This preliminary research will provide some relevant keywords.
There are many tools to aid your search and analyze keywords, backlinks, and SEO.

Some excellent SEO tools like Ahrefs, Semrush, and Moz provide essential information like keyword difficulty and search volume. While these tools can have steep price tags, they also have free trials, so you can try before you buy.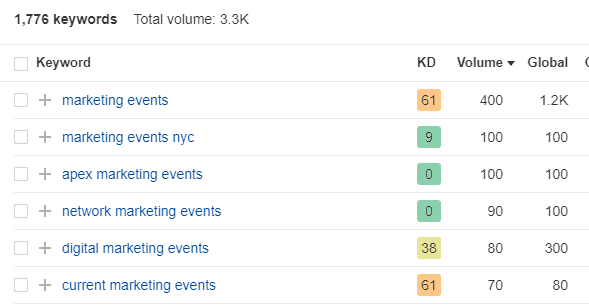 Besides using SEO tools, you can also quickly find related terms on social media platforms by searching for hashtags relevant to your event.
Once you have a list of relevant keywords, use them naturally throughout your website content, social media posts, and event marketing materials. Also, consider using a keyword in your event title. 
3. Optimize your landing page
Every event needs a landing page or website as a "home base" for registrants to learn more about the event, register, and get updates.
You should optimize your landing page or website for SEO and site speed.
Why?
If you don't optimize for SEO, no one will find your site or attend your event.
If a site takes too long to load, the user bounces — they don't register and don't attend your event.
Ensure the site and page speed meet current standards to increase your ranking. Use Google PageSpeed Insights to optimize your site and ideally reduce page load time to three seconds or less: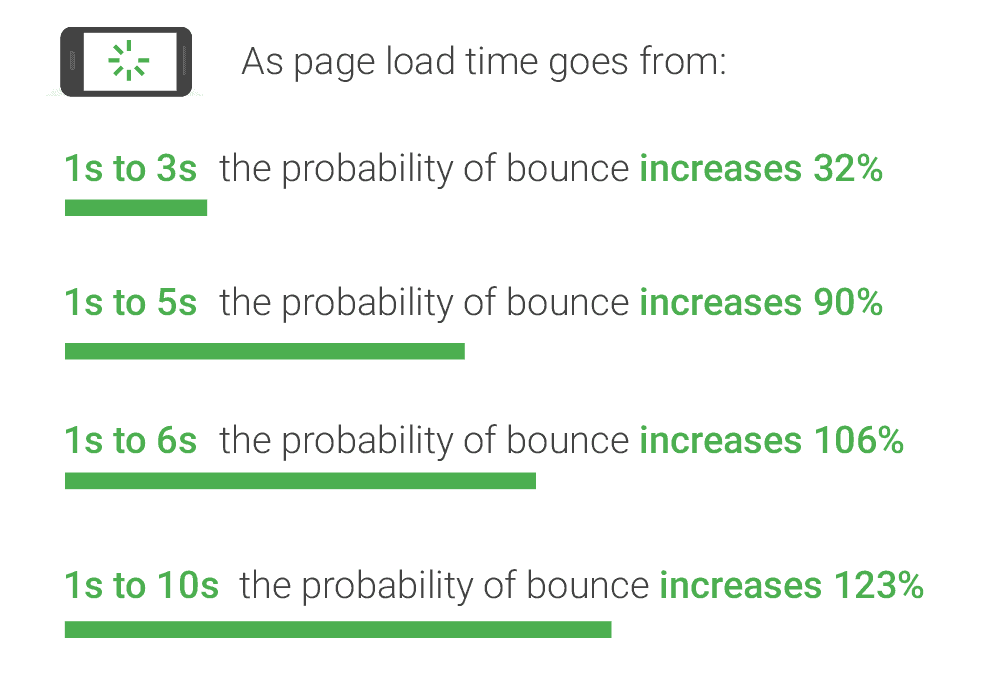 You don't need a developer or system admin to speed up your website. Here are a few ways you can make progress before bringing in programmers:
Image optimization — This means resizing your image files so they load quickly. There are many free online tools to reduce large image file sizes.
Reduce redirects — If you've moved any of your web pages to a new URL, update the link and start using the new URL, as redirected pages take longer to load.
Utilize browser caching — Whatever platform you use to publish your event website, find out how it handles caching and search the help center to maximize your site's efficiency. Additionally, if you're considering different browsers, it's worth exploring the difference between Brave and Chrome. Understanding the variances in features and performance can help you make an informed choice for your browsing needs.
Reduce server response time — If you didn't consider this when choosing your hosting platform, it's not too late to check now. Server response times are vital to your site's speed and performance.
Use Content Delivery Networks (CDNs) — Although more technical, leveraging a CDN can improve load times and website security. So start with the basics and decide if CDNs are worth the investment for your project. 
Some event scheduling tools like Sched have great examples of beautiful, effective landing pages for multiple event types and uses. For example, check out this page for conference events: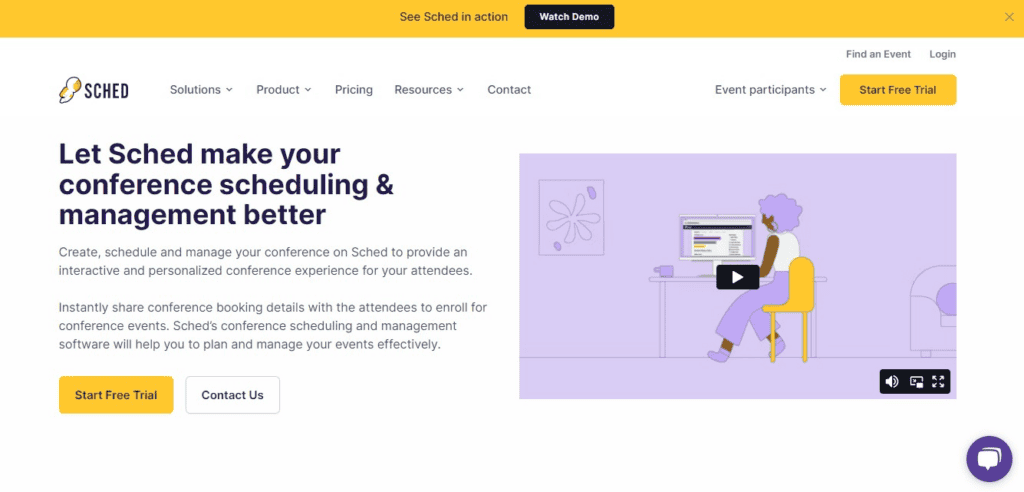 It loads instantly, uses strategic keywords, has simple calls to action (CTAs), and spells out all the platform's benefits for the user.
The only thing it doesn't do is include social media sharing links. We recommend you do this on your landing page to encourage visitors and registrants to share and comment on your social channels.
Mention previous events and upcoming events too. Then, start conversations and respond to comments promptly.
These are all signals to Google of trustworthiness and authority. New potential registrants will also look for social proof from previous events about whether attendees were pleased with their experience. Don't disappoint them.
4. Virtual event platform performance
No one wants to attend an event on a platform with long load times or where they expect a poor user experience. So, choosing the right platform for your event and audience is crucial.
Whether you're hosting webinars, virtual classes, online video courses or other online events, make sure to choose a platform that doesn't make your users wait."
When planning a live event instead of an in-person event, you can opt to use webinar software like LiveWebinar. This software platform allows you and your viewers to access questions and spark conversations during or after each segment.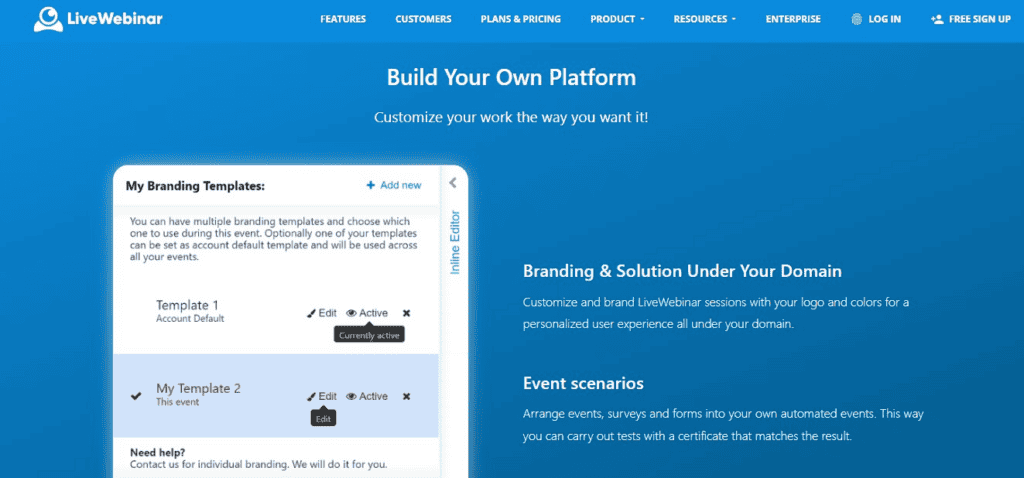 While incredibly robust, it's far from the only platform available. G2's list of Best Virtual Event Platforms of 2023 is comprehensive and includes platforms perfect for every business size, from small to enterprise.
5. Link building
Backlinks give your website authority by ensuring other sites reference it.
They're one of the most important ranking factors.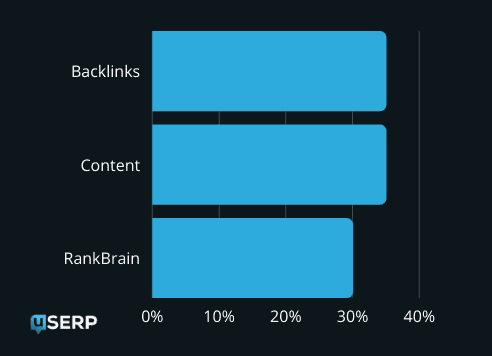 The more links to your site from other sites, the more search engines will recognize it as a reliable source.
Think of it like a popularity contest. Establishing backlinks will help you rank on search engines like Google and refer more potential attendees to your event.
A great way to build backlinks to your event page is to reach out to online publications. Ask them to mention your event in an article or blog post and link to it. There are countless free link-building tools you can leverage for outreach.
These will help you conduct a backlink analysis and understand how to capture more links from relevant sources for your event.
Or, you could let the team at uSERP handle your outreach and link building 😉
6. On-page optimization
Always follow SEO best practices and assess your strategy regularly so you're always up-to-date. 
Many things affect SEO, from the words you use in your title to how you format your web page. So pay attention to the details.
Most website platforms and CMS make the optimization process simple, so check your settings and ensure that each page includes the following:
Titles (meta titles)
Headings (H2, H3, etc.)
Meta descriptions (use this tool, To The Web, to help ensure the ideal length)
Alt text (for images)
Readability (Use HemingwayApp to improve readability)
Not sold? A checklist like this one from Semrush can be helpful: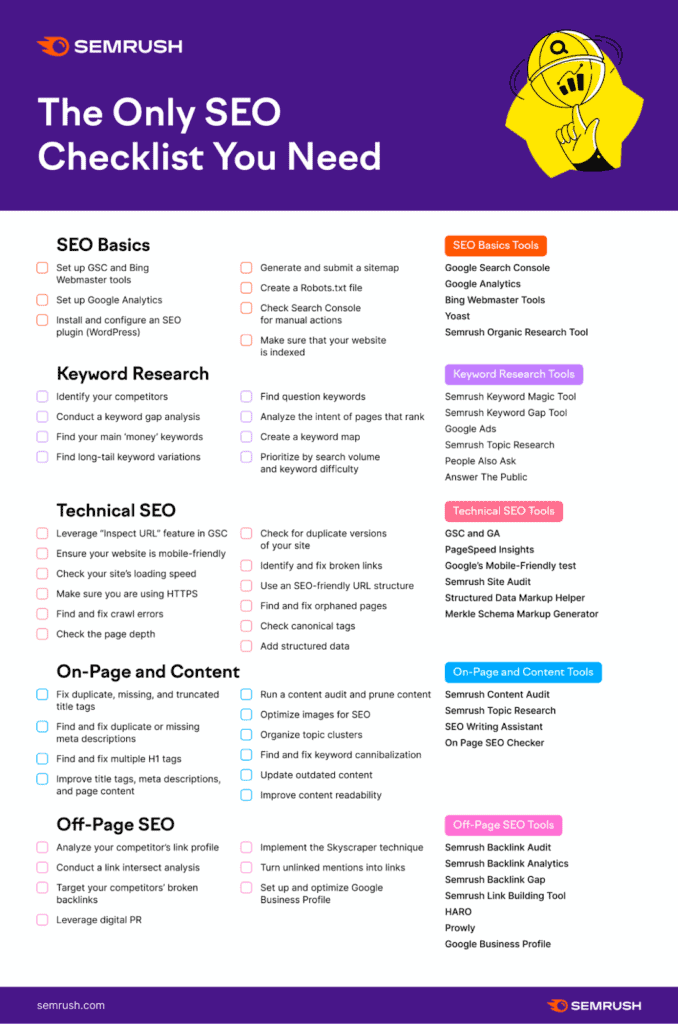 Conclusion
You don't need to hire an expensive agency or consultant to improve your website speed, get listed on Google, or start link-building for your events.
You just need to follow our six tips and remain diligent in your SEO event strategy. 
By minding the details and being strategic in link-building and follow-up, your next event will be your greatest success yet. 
Latest posts by Rachel Drudi
(see all)