You don't need me to tell you that there's a lot to do in order to run an SEO agency. From delivering your SEO work, to sales, project planning and more – top SEO companies use a plethora of software to fulfill their deliverables.
In this article, you'll find various tools that I'd recommend to help you cover your agency needs, while keeping your tool stack simple, and costs as low as possible.
To help you find what you need, we've divided the tools up into categories:
Let's get started!
SEO Tools
1. Ahrefs
Ahrefs is among the market leaders in the all-in-one SEO platform space, and it's a tool I've personally used for 5+ years.
A subscription to Ahrefs covers most of your bases as an SEO agency:
Keyword research (volumes, difficulty, trends)
Competitor analysis
Backlink monitoring & analysis
Rank tracking
Site auditing
… and more
They have a ton of educational content on their blog, and helpful UI tooltips inside the tool to make sure you understand how things work & how to get value.
With Ahrefs, you might have a few small gaps in your SEO tool stack, such as not having white label reports, or infrequent ranking updates, which we'll address shortly.
Pricing for Ahrefs starts at $99 per month, although there's a limited free version available too. For most agencies, I'd say you can expect to pay at least $179 for the standard plan to cover your client needs. You can sign up here.
2. Nightwatch
Nightwatch is a suite of SEO tools, primarily specializing as an agency rank tracking tool. They also offer site auditing, backlink monitoring, and reporting.
As an SEO agency, even if you have an all-in-one solution, it could still be worthwhile adding Nightwatch to your SEO stack. For example if you use Ahrefs, you'll be lacking white label reporting & daily ranking update features that Nightwatch can add for a relatively small cost.
Nightwatch has all the features you'd expect from a rank tracking tool including tagging / keyword grouping, tracking multiple countries, multiple search engines (including Bing, YouTube, DuckDuckGo), SERP previews and more. It also excels in local tracking, including maps positions.
You can get a 14-day free trial.
3. SurferSEO
Next up on our list is a content optimization tool, for writing SEO-friendly content. SurferSEO has several features, but the primary reason to use it is for their content editor tool.
Using AI, Surfer looks at the current top-ranking results and generates recommendations for your writing. It can help you to:
Decide on an appropriate word count
Include the correct keywords (at the correct densities)
Cover relevant subtopics
Answer relevant questions
… and several other things to increase your chance of ranking on Google
As well as content optimization, SurferSEO also has features for building content briefs, keyword research, and topic clustering. It doesn't have a built-in AI content generator, but does have an excellent integration with Jasper.ai (formerly known as Jarvis).
Pricing starts from $59/month. Compared to the alternatives, that's a much lower entry price than Clearscope or MarketMuse, but higher than Frase or Dashword. There's no free trial available currently, but you can sign up with a 30-day money back guarantee.
4. Screaming Frog
Screaming Frog is a well-known freemium technical SEO tool. It is used for in-depth website crawling and identifying technical SEO issues which may be holding back your site.
Rather than being cloud-based, Screaming Frog is a downloadable desktop app, developed and managed by a UK SEO agency. It offers a comprehensive technical site auditing solution for SEO, and allows up to 500 URLs to be crawled in the free version. That makes it an excellent alternative to all-in-one platforms like Ahrefs or Semrush for smaller sites with a limited budget.
It can help you to find and manage:
Orphan pages and crawl depth
Broken links
Redirects
Meta titles and descriptions that are too long, or too short
Image issues (e.g. large upscaled images, missing alt text etc.)
… and lots more
The paid version lifts the URL crawl limit and unlocks several new features. The cost is £149 (~$200) per license per year. You can download Screaming Frog here.
5. AgencyAnalytics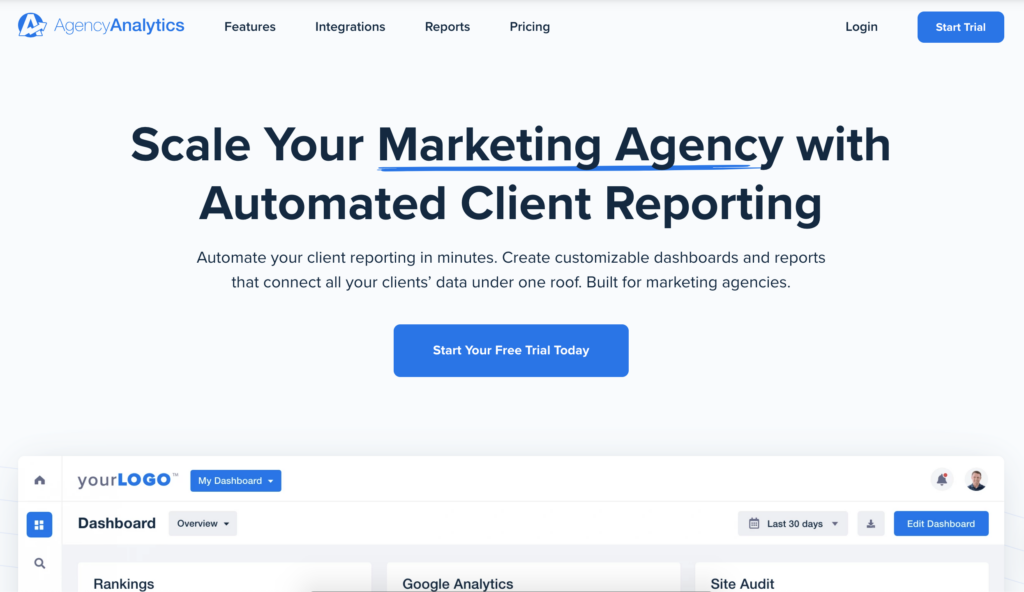 AgencyAnalytics is an all-in-one client reporting platform built specifically for marketing agencies, which is why it differs from some of its competitors. With a full suite of SEO tools, agencies track their clients' SEO performance with:
Keyword Rank Tracker
Backlink Monitor
SEO Site Auditor
Integration with other popular SEO tools Automated Reporting
Easily monitor changes in SEO rankings for your clients with the keyword ranking tracker, analyze and report on important backlink metrics, identify and resolve common SEO issues, and automatically pull in data from other top SEO tools including Google Search Console, Google Lighthouse, Google My Business, Moz, Ahrefs, SEMrush, and Majestic to create a comprehensive SEO reporting system for clients.
AgencyAnalytics also offers white labeling for reports and dashboards, letting you call the platform your own. The reports and dashboards are customizable and easy to use with a drag-and-drop editor, so agencies can include as many metrics as the client needs.
Their automated dashboard and reporting system saves hours of work each month so agencies can focus on delivering SEO results. Plus, you can read up on SEO best practices inside their SEO blog.
Pricing starts at $10 per client campaign, with a minimum of 5 campaigns. Take advantage of the free 14-day trial and get your SEO reports out the door in no time.
Sales
6. Meetfox
Meetfox is a calendar scheduling & lead gen tool which helps you to maximize the number of prospective client meetings you can have.
Firstly, it acts as a lead gen tool which integrates with most popular CMS. It displays on your site as a pop-up, floating widget, or iframe to capture prospective client details & book meetings.
Meetfox then also schedules your meetings, syncs to your calendars, and enables your online meetings. You can meet either by integrating with Zoom or Hangouts, or using Meetfox's own video calling platform. 
Ithas a bunch of other features to make your life easier in sales, like meeting buffers, automatic time zone conversions, minimum notice, and more.
Meetfox offers a solid free option, and the paid version starts from $10 per month. Upgrading to premium enables white label options, and extra features such as SMS meeting reminders. You can sign up for a free trial here.
7. Better Proposals
Better Proposals is, as you might guess, a proposal writing software which is a great fit for SEO agencies. Creating proposals manually during your sales process to get new clients takes a lot of time and effort; using a contract management software cuts down that time, and increases the effectiveness.
They have a bunch of templates to use, including specific templates for SEO service proposals. That means it's feasible to create a proposal in ~15 minutes based on your templates, rather than hours doing it manually from scratch.
For your client, receiving a proposal in this format is still quite a novel and memorable experience. Plus, you can track when your clients open, read and electronically sign your proposals too. Something you can't do with traditional PDFs & Docs.
Lastly, you can even have your client's pay through your Better Proposals link, which speeds the process up and helps your cash flow.
Better Proposals have a 14-day free trial available.
8. Pipedrive
Pipedrive is a sales CRM that can help you manage leads, communicate with prospects, automate aspects for your sales funnel, and give insights on your sales performance.
For SEO agencies, it's a great tool to maximize the number of new clients you onboard every month.
It hits the sweet spot in terms of features and complexity – less complex than a tool like Salesforce, which may be overkill, but much easier to use & more powerful than Excel/Sheets.
Some key features include:
Automating & tracking follow-ups
Online Invoice clients directly inside Pipedrive
Manage & track sales-related tasks
Process & team management tools for scaling
Pipedrive has a 14-day free trial. Paid plans start from around $19, and are billed per user per month.
Data & reporting tools
9. Google Analytics
Google Analytics is a free tool that helps you understand:
Where your site traffic is coming from
Who the users on your site are (e.g. demographics and geography)
How your site content is performing
Information on new vs returning visits
It's easy to install, and it's popularity means there are tons of great tutorials online for getting value from it.
In the context of an SEO agency, the primary reason to gain access and monitor your clients' Google Analytics accounts is to measure conversions from organic traffic. You (or your client) can set up goals and events which help to measure the ROI of their SEO investment. You might track, for example, contact form submissions, purchases, free trials or other events depending on the business model.
For e-commerce, SaaS, and other more complex website models you might run into some limitations with Analytics. It's a fast-growing analytics trend to invest more into sophisticated user behavior tracking, which requires tools like Amplitude which more SaaS marketing agencies invest in.
For simpler websites though, Google Analytics is plenty. And for any website, it does offer a ton of useful data which you can get completely for free. It's a no-brainer for any SEO agency to use. With that said, the original Google Analytics is making way for Google Analytics 4. It will measure events and page views, meaning it'll be more powerful than its earlier edition. Agents who currently use Google Analytics should make the transition to Google Analytics 4 before the old program is gone for good.
10. Google Search Console
Google Search Console is another free tool available to help webmasters understand & grow their organic traffic.
While Google Analytics helps you understand what's happening on your site as a whole, Google Search Console dives deeper specifically into your organic search performance on Google. With it, you can:
Learn which keywords your site is getting traffic from
See your clicks, impressions, clickthrough rate, and average positions (by page, country, device etc.)
Submit an XML sitemap to help Google find it's way around your web pages
View any potential penalties, security, or core web vitals issues
… and more
Like Google Analytics, Google Search Console is a no-brainer for SEO agencies to be using for their clients.
You simply need to verify ownership of your site, and you'll start unlocking a wealth of SEO data.
11. Google Data Studio
The third and last of Google's excellent free tool offering in this list, Data Studio helps you pull everything together and visualize your data easily.
For example, one common use case is to separate brand & non-brand performance. You can do that by adding filters (e.g. showing clicks from queries excluding your brand name), or by segmenting specific pages into an auto-updating dashboard.
Data Studio dashboards are also easily shareable, which gives you a straightforward solution for sharing data with your clients. You can provide them a link to check on their results at any time, reducing time spent answering questions about progress.
There are lots of templates available to get started, and lots of tutorials available online for example, on how to embed dashboards from Data Studio.
Get started for free with Data Studio, and start connecting your data sources to play around.
12. DashThis
Even though it's not too tricky to learn, Google Data Studio can still be intimidating to use. DashThis is a SaaS alternative to Data Studio, which makes it even easier to create dashboards with a drag-and-drop builder.
It connects with Google Analytics & Google Search console, as well as Ahrefs, Semrush, & other SEO tools to bring all your data together in one place. Organic traffic, organic conversions, brand vs non-brand traffic, rankings, backlinks data, and more. Everything you'd need for client reporting.
Everything in DashThis can be white labeled, including the shareable URL and branding.
Like Data Studio, DashThis has templates to help you get started quickly. You can take a look at their SEO dashboard template here.
Pricing for DashThis starts from $39 per month, which allows for 3 dashboards. Higher pricing tiers unlock more dashboards, extra features like white labeling, and extra support (e.g. dedicated success manager). Sign up for a free trial here.
Planning & project management
13. ClickUp
ClickUp is an all-in-one tool for work management and productivity. It'd take a long time to cover all the features that are included with ClickUp, but here's a few use cases that it covers:
Project & task management
Team planning & scheduling
Goal setting
Documentation (e.g. building a knowledgebase)
… and lots more
ClickUp's goal is to replace the need for a bunch of other apps, which it does very well, and it can satisfy pretty much any project scope/use cases that an SEO agency is likely to have.
If there was any downside to ClickUp, you could argue that it isn't super intuitive in places though not so much that any PM training is required. Since there are such a huge number of features, it could be a little overwhelming, and take some time for your team to get used to it. If you are looking for a more user-friendly solution similar to ClickUp, check out this list of ClickUp alternatives.
There's a free version available, and the paid version starts from $5 per user per month – definitely a money saver if it replaces existing individual apps. Get a free trial here.
14. Slack
Slack is an increasingly popular messaging app for business. It allows you to invite your teammates and clients, create channels, upload files, and more.
Using Slack in an SEO agency means that you can create dedicated channels for each client and/or project to organize your communications. For example, you might have channels for:
Each client
Sales
Link building & outreach discussions
A 'watercooler' for casual team chitchat
Anything else you would find useful
In a busy agency with a ton of different things going on, it's very useful to organize in this way.
There's a generous free version of Slack, which is plenty for a small SEO agency to get started with online team communications. That said, message history is limited to 10,000 messages, and there are a few features and integrations missing. You can upgrade to the paid version from around $6 per user per month. Get started for free here.
15. Fellow.app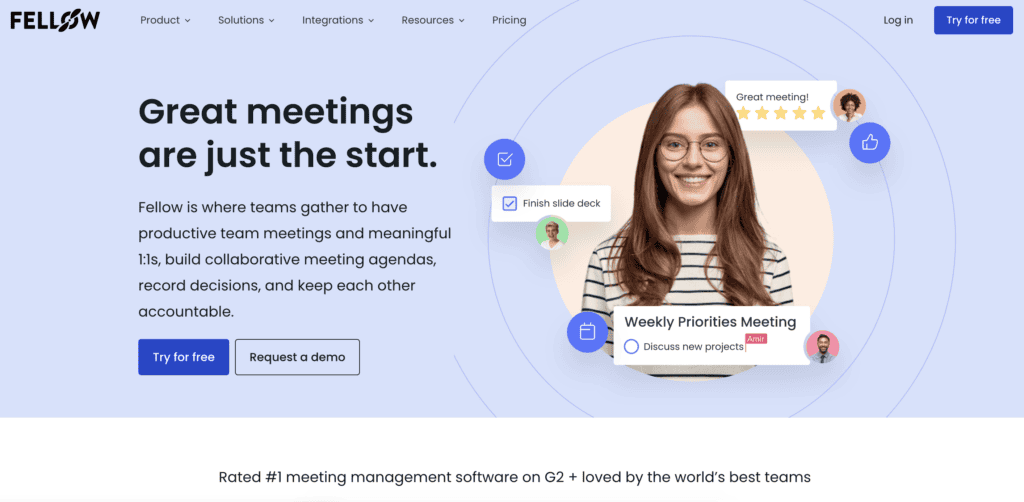 Fellow.app is a meeting note-taking app that helps teams collaborate on real-time meeting agendas, track action items, and request and give real-time feedback.
Fellow can be used both internally in an SEO agency to facilitate team meetings and one-on-one meetings or to take personal meeting notes. It can also be used for external client-facing meetings.
In fact, clients will be impressed with your organization if you come prepared to meetings with a throughout agenda.
Fellow is free for a maximum of 10 users and has a pro plan that costs $5 per user per month. The software also integrates into daily apps, like Google Calendar, Zoom, and Slack. It can also be used conjunctly with project management tools.
16. Writesonic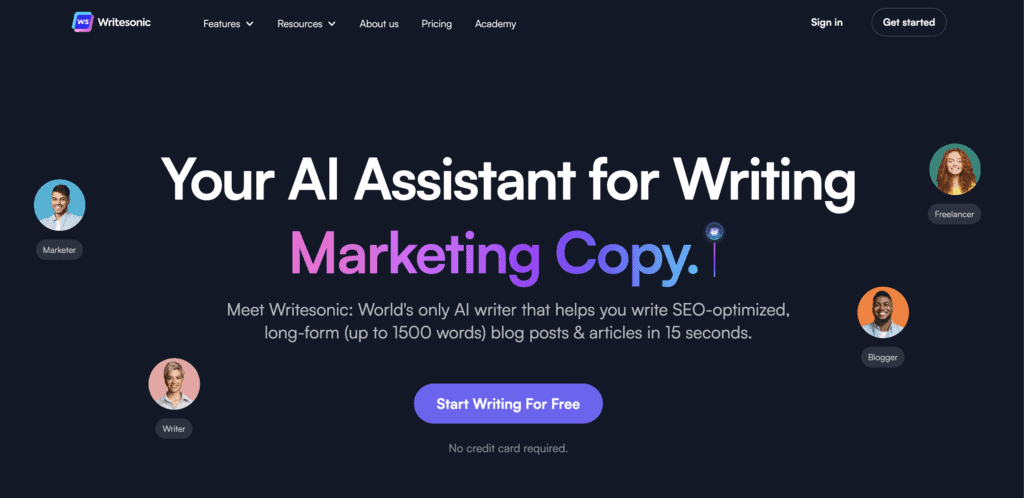 Writesonic is an AI-powered writing tool that can help you to generate content in seconds. It is an excellent tool for entrepreneurs, writers, marketing teams, and other professionals looking to create high-quality and engaging content. It helps you to generate various forms of content like blog posts, landing pages, product descriptions, FB ad copy, and more.
Writesonic is best known for generating high-quality, SEO-rich, and plagiarism-free content, and can prove to be a perfect tool for SEO agencies.
Some key features include:
Creating compelling content with a human touch.
Highly customizable and provides seamless navigation.
Has 65+ tools for different writing requirements and supports 25+ languages.
Writesonic provides a free trial. Paid plans start at $10/month.
17. Sitechecker
Sitechecker is an all-in-one SEO tool that is considered one of the best SEO software for agencies.
A subscription to Sitechecker covers most of your bases as an SEO agency:
Site auditing and SEO report
Backlink monitoring
Rank tracking
Site monitoring
Integration with GA and GSC
They have tons of helpful UI tips inside the tool to make sure you understand how things work and how to get value. There is a lot of information about how to correct the errors found after the site audit in the "How To Fix" section. Pricing for Sitechecker starts at $29 per month, although there's a free trial for 7 days available too.
For most agencies, I'd say you can expect to pay at least $49 for the startup plan to cover your client's needs.
18. NAKIVO Backup for Office 365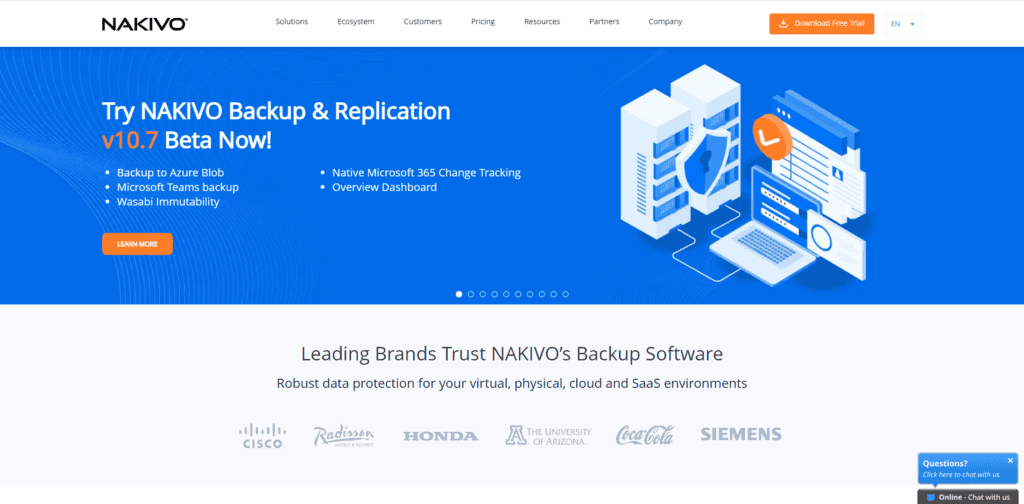 In case your organization uses a Microsoft 365 ecosystem to improve team cooperation and overall efficiency, the data and infrastructure you have in that cloud is critically valuable. With NAKIVO Backup for Office 365, you can create backups of that data and store it on physical disks. Thus, you gain real control over your Office 365 data.
The NAKIVO solution enables you to schedule and automate the workflows of Microsoft 365 backup. Whenever necessary, you can recover Microsoft 365 data (including Microsoft Teams, SharePoint Online, OneDrive and Exchange Online objects) to the original or a custom location.
The solution is licensed per user with prices starting as low as $0.80 per user/month. NAKIVO offers a Free Trial version with 15 days of unlimited access to functions and features.
Latest posts by Ryan Prior
(see all)