You know you want backlinks to your site; they're invaluable for increasing your ranking potential, strengthening your SEO campaigns significantly. It's an important part of ranking well in the SERPs, which can be frustrating when you're sitting around and waiting for them to trickle in.
Earned backlink services— which is vastly different from backlink schemes where your link is spammed on low-quality sites, comment sections, or private blogging networks (PBNs)— give you some of that control back. You will genuinely earn backlinks through a series of different opportunities on quality sites that will increase traffic to business by improving ranking potential and sending traffic from the backlinks directly.
That's what we're going to look at today. With the power of strategic and researched earned backlinking, uSERP helped Plus increase its domain ranking by 15 points in four months with just six backlinks per month and driving 4x more traffic as a result.
About Plus
Plus allows you to build custom-to-you, personalized dashboards nearly instantly. You can embed Snapshots of any app or website onto this dashboard, which are dynamic and will always reflect the most up-to-date data in realtime.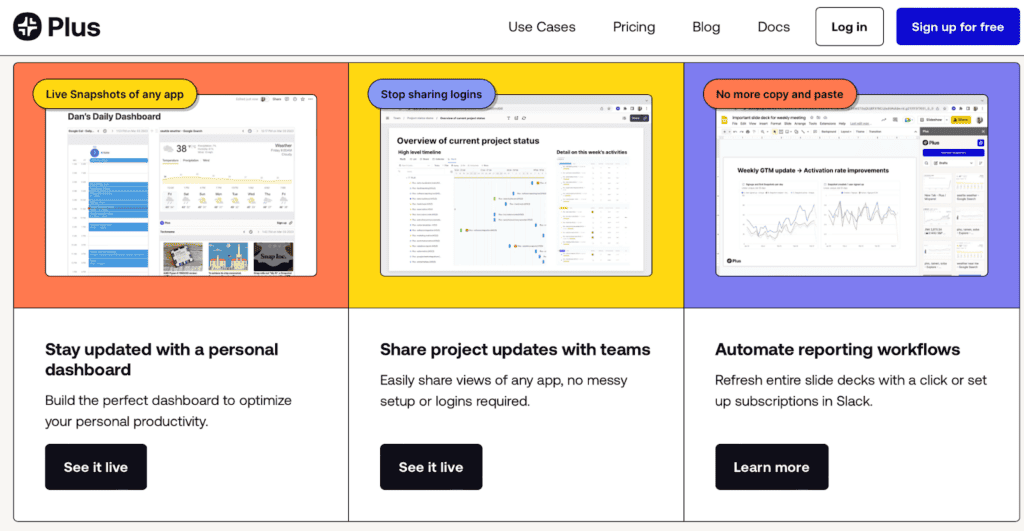 The challenge
When Plus first came to uSERP, they were struggling to rank consistently well in the search engine results pages (SERPs). They had a blog, which mostly contained updates about what the company is doing with the product but that also had posts like "Best Notion Widgets" to reach users lower down in the digital sales funnel.
They suspected that their struggle to obtain backlinks played a significant role in their challenges ranking well, so we worked together to start generating earned backlinks that would help.
The strategy
Before we got started, we took time to ensure that we had a strategy in place that would help Plus generate more high-quality backlinks quickly and effectively so they could start getting more traction.
Let's discuss the strategy we used:
1. Carefully selected target URLs
The first thing we did was determine which target URLs we needed to link to.
First, we knew that we wanted to link to Plus's homepage. It's "the tide that raises all ships," so to speak, because it can help raise the entire site's domain authority faster, along with boosting brand recognition. It's imperative to remember that links to the homepage can improve ranking positions across every subdomain, too.
Next, we also decided to initially target the aforementioned blog post "Best Notion Widgets." It had performed well initially, and it was a great piece that we wanted to prioritize as it could reach audiences who were actively researching a buying choice.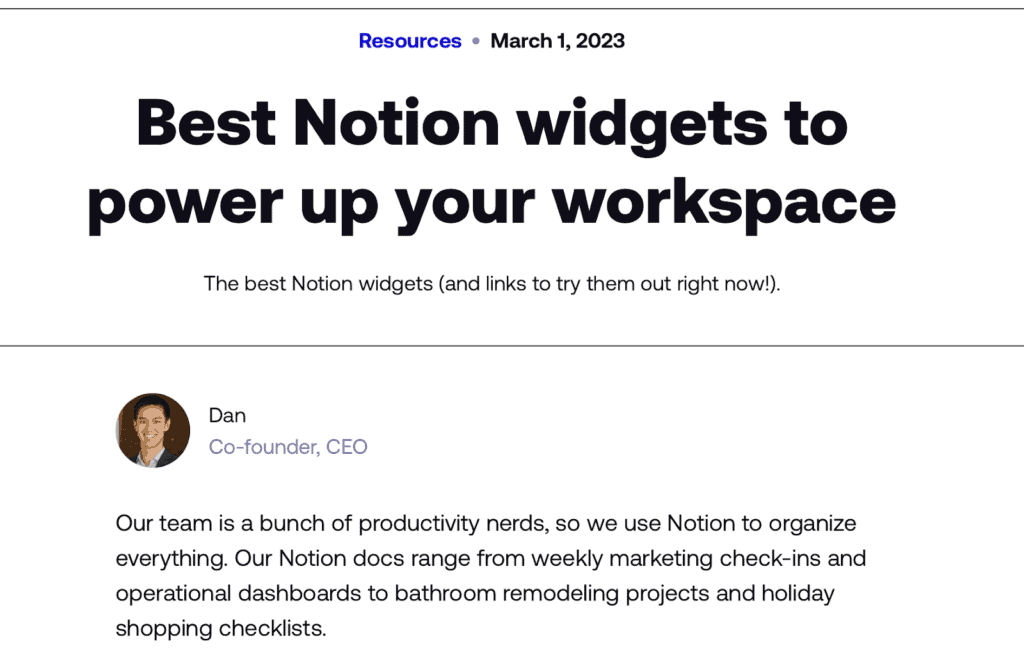 Three months later, we added "Best Screenshot Tools" to the target URLs for the same reason; boosting high-value posts that could help Plus reach users who were likely to convert was a priority.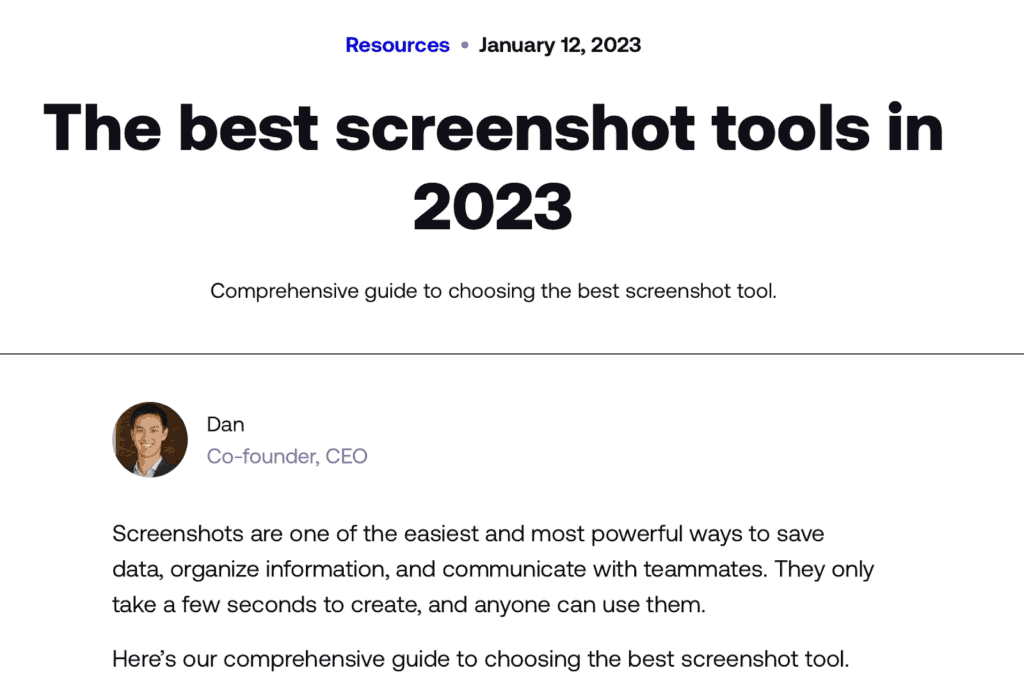 2. Conducted market research & QA beforehand
With backlinks, quality matters even more than quantity (though quantity certainly matters, too!), so choosing sites for potential linking was imperative.
As a result, we had our trained SEO specialists conduct market research for every site we were considering as a backlink opportunity for Plus. The following requirements had to be met for the site to be considered:
Once the initial list was created, the specialists would then conduct quality assurance on all sites based on the content's quality, the country where their traffic originated from, blog activity, and any other potential red flags.
If the site didn't have a blog that was updated regularly with quality content, or if their traffic wasn't aligned with Plus's demographics, we'd cross it off the list.
Once the list made it through this round of scrutiny, it went on to our SEO/PR account specialists. These team members would conduct another round of high-level QA before they began reaching out to the sites, at which point junior SEO specialists would find the contact people (like those in SEO, marketing, or content management) and finalize the list.
3. Comb through communities
Through research online, we searched for third-party sites that are writing content that aligned with Plus's industry. We searched for opportunities based on the quality of sites, their audiences, and their domain rating. They must be involved and currently active.
A site with a DR in the 70's, for example, may offer one backlink from your site on their site in exchange for two on yours if your DR is in the 50's.
Our SEO and PR specialists reach out to form partnerships, find placements, and create the content to be pushed on the partners' sites. This includes snippets that can be added to existing articles, or new articles altogether.
In both scenarios, when the partner site liked the content in question (or the content addition!), they scheduled it for publishing. This would either be the publishing of the new post or a content refresh. If they ever weren't happy, they'd request edits and we would resubmit the new draft.
Once the articles were live, the partners would alert us. At that point, we'd report live links to our clients.
The results
Plus began working with uSERP in January of 2023. Between January and April of 2023 on plan granting six backlinks per month, we were able to help them increase their domain ranking by 15 points, up to 41.

During that time, Plus also saw significant increases in traffic.
In December 2022, the domain received around 85-170 daily users to the site through organic search traffic.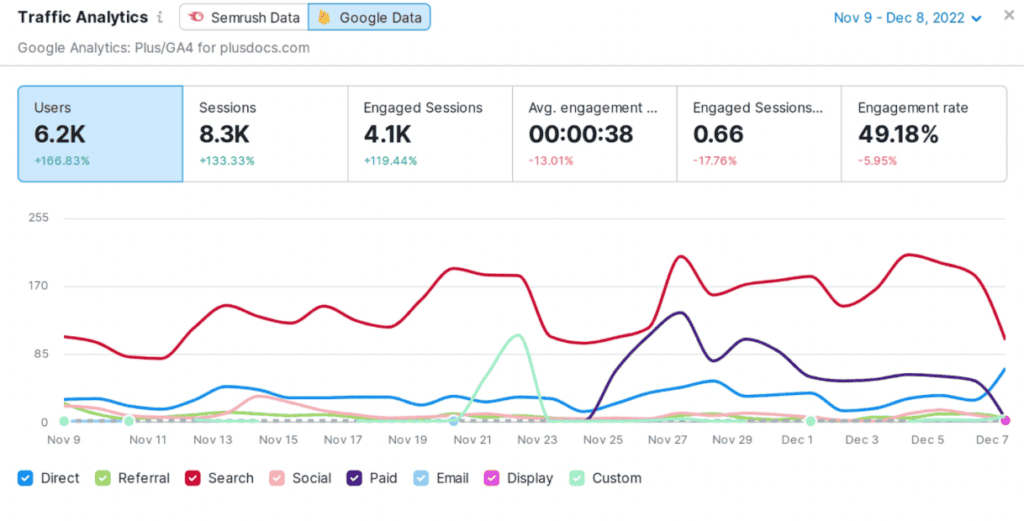 As of April 2023, the domain is seeing between 400-800 daily users coming to the site through organic search.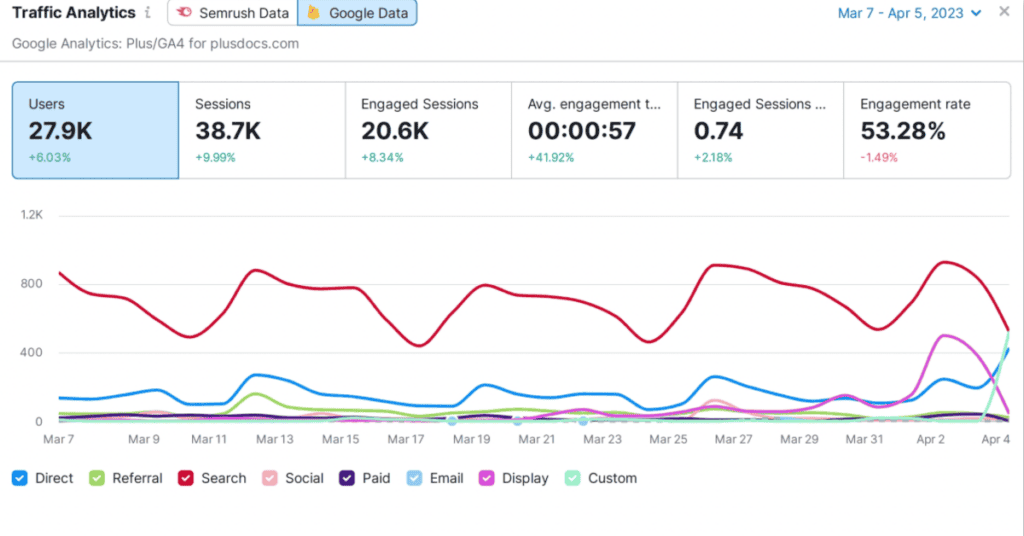 During that time, the pages we prioritized in our backlinking strategy saw significant changes in ranking for different keywords, including the following:
"Notion widgets" ranked 7th instead of 15th
"Widgets for notion" ranked 8th instead of 17th
"Notion calendar widget" ranked for 10th instead of 13th
"Best notion widgets" ranked for 3rd instead of 4th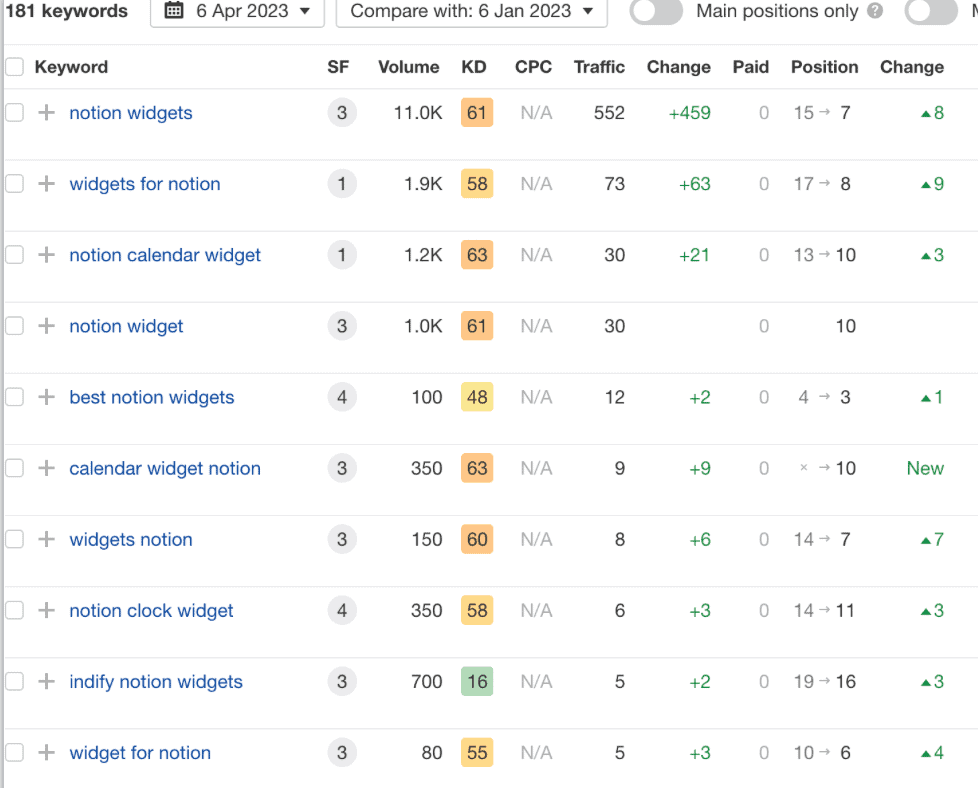 The Best Notions Widget post is ranking for 77 different total keywords in the 1-10 keyword ranking positions, which is a 73% jump in just four months.
The Results
Increased their domain ranking by 15 points, up to 41
Organic traffic increased from ~170 to ~800 daily users
Four new first-page rankings for high-value keywords
Final thoughts
Transparency is a crucial part of running an effective and quality backlink service.
We prioritize transparency both with our outreach strategies and partnerships and with our clients through dedicated reporting. There are no conflicts of interest and no black-hat tactics used; that's more than many backlinking services can say for themselves, and it's why our results stand out.
Want to learn more about what we can do for you? See how we can help you rapidly grow your backlink profile (and your SEO results!) here!