If you search for popular keywords for your niche, you'll notice the top SERP (search engine results page) results don't change very often. 
Does that mean their content is better than yours? Not necessarily.
The longer a company has had its website, the more likely it is to have earned Google's trust. 
But you can get in on this game, too. Building Domain Authority isn't easy, but it's worth the effort.
In this article, we'll highlight five steps that'll help you increase your Domain Authority every month. 
Let's start at the beginning.
What's Domain Authority?
Domain Authority (DA) is the term introduced by Moz. The company defines it as a search engine ranking score that predicts how likely a website is to rank on SERPs.
Note: Even though we'll use the term "Domain Authority" throughout the article, we aren't always specifically referencing Moz's Domain Authority score.
Moz calculates this score based on the number of websites linking to the analyzed domain and the DA of these websites. It's important to note that the number is never an absolute indication of a site's search rankings. 
Domain Authority metrics correlate significantly with rankings but don't indicate causation.
Domain Authority score is a comparative metric showing the improvement of your site's link profile. The more quality link building you do and the more backlinks you get, the better the score will be.
Backlinks continue to be one of the most important ranking factors. To ensure Google knows your content is relevant to the search queries you're trying to rank for, your links must come from various high-authority websites in your industry or vertical. 
DA depends on the number of quality resources pointing to a website. Higher DA correlates with higher rankings on the first page of Google.
There are many equivalents to Moz's Domain Authority developed by other SEO tools, e.g., Domain Rating (DR) by Afrefs, Serpstat Domain Rank (SDR), and Authority Score (AS) by SEMrush.
However, if you look at your site's Domain Authority score in Moz and then check the Authority Score in SEMrush or Ahrefs, you'll see the numbers are slightly different across these tools.
This variance is because they include many other factors in their formulas.
Is domain rating a ranking factor?
Domain Authority indicates the effectiveness of your Search Engine Optimization (SEO) strategy. But it's not a ranking factor.
It's a third-party metric that measures factors Google places importance on for ranking.
The metric predicts the impact of your link-building efforts but doesn't determine ‌success.
For instance, some less scrupulous folks might try to boost their authority metric by spamming private blog network (PBN) links to their site. These links exist solely to provide backlinks and increase a site's Domain Authority. 
They also blatantly violate Google's Webmaster Quality Guidelines. By engaging in this type of shady activity, website owners put themselves at risk for huge SEO penalties.
A far better strategy is creating high-quality content and developing relationships with other industry creators.
Why is Domain Authority important?
Even though DA isn't a ranking factor, it's still a vital element of your SEO strategy.
Why?
It indicates how effective your SEO strategy is. As mentioned, your Domain Authority reflects the state of your link profile, which has a massive impact on your search rankings.
‌Backlinko research also says that strong DA helps to boost rankings of URLs that don't have a bunch of backlinks pointing to them. The higher your DA is, the less effort it takes to build links to new content or landing pages.
It helps you to develop partnerships with bigger companies and brands, adding more trust and authority to your own.
It helps attract guest authors who write quality content, increasing your keyword profile.
Where can you find your Domain Authority score?
Moz isn't the only tool displaying a website's quality score. Here are the top SEO tools that you can use as Domain Authority checkers:
SEMrush (Authority Score)
Ahrefs (Domain Rating)

Ubersuggest (Domain Authority)

Serpstat (Domain Rank)

If you use Serpstat, you'll need to scroll to the bottom of the page to see the Domain Rank score.
How to improve Domain Authority
Although Google doesn't use Moz's (or anyone else's) Domain Authority to determine search rankings, it's easier to reach the first page of search results with new content when your DA is higher than your competitors.
That's why building up website Domain Authority is worth the effort.
Below are six actionable tips for you to grow your DA.
Step 1: Create quality content
Since user content consumption will undoubtedly remain high, building a company blog should be key to your marketing strategy. It's also one of the easiest ways to bring organic traffic to your site. 
Quality content builds trust with your target audience and increases Domain Authority as you passively acquire backlinks and attention.
With content marketing, you'll get more opportunities to earn high-quality links from sites like yours, which are key to improving your DA.
What is‌ quality content, though?
Quality content is any asset (article, podcast, video tutorial, etc.) that delivers value to a consumer. It's optimized for search engines and readers alike and never stuffed with keywords.
It delivers on the promise contained in the headline. Trustworthy resources back it, and there's no place for plagiarism.
Here's a great example of a solid piece by Ahrefs. The company has published the beginner's guide to keyword research, explaining every step of the process.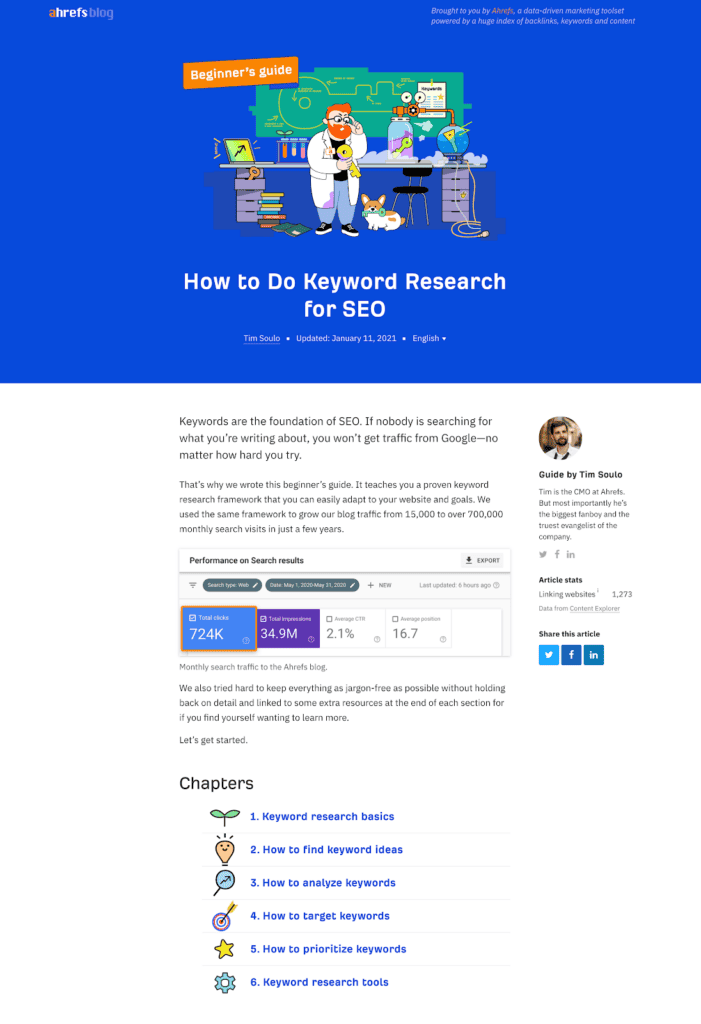 You'll make the link-building process easier by offering unique, original articles.
Pro tip: To develop link-worthy content ideas, use SEOquake extension. After you activate it and connect with your SEMrush account, search Google for your content idea and check the number of referring domains to the top-ranking pages.
It's hardly surprising that a post featuring marketing statistics for the past year has gained 260 times more links than the one about marketing for software companies.


It doesn't mean topics that don't earn thousands of links aren't worth your attention. But if you want to focus on content that boosts your website's DA, you know what to do 😎
Step 2: Contribute guest columns
Everyone has expertise to share. Whether that's something you've been doing for a decade or a brand new skill you just picked up on MasterClass, the point is the same: share that expertise with the world!
Guest posting or guest contributor columns let you contribute articles to another company's blog to earn backlinks, increase brand credibility, and attract organic traffic to your site.
It's a win-win:
The site gets expert-level content for free
Their audience learns how to level up
You get the exposure and links you need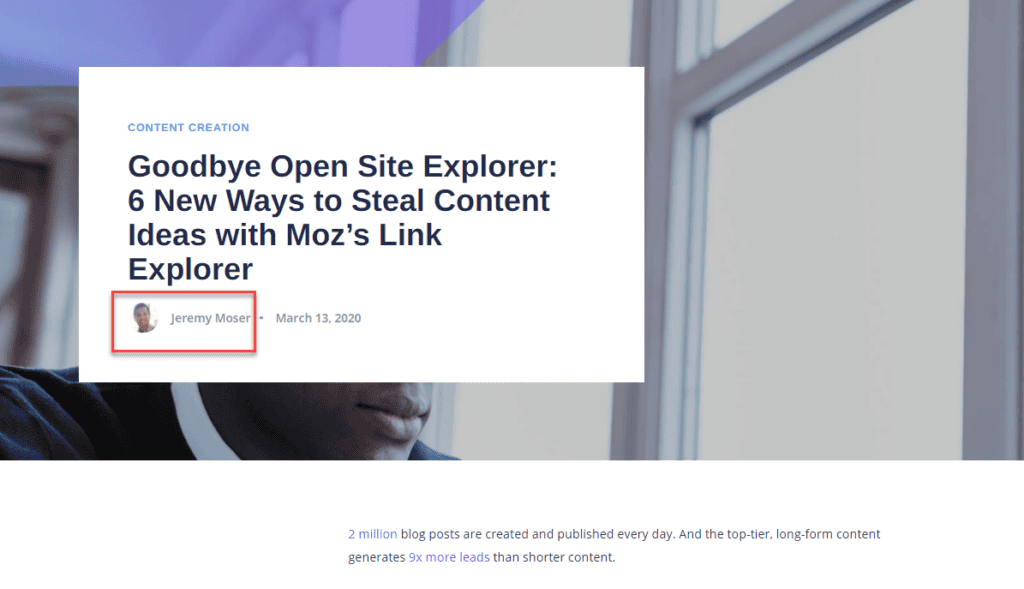 How do you find guest posting opportunities?
You can use many approaches to find relevant blogs and blog topics.
One of the easiest ones is to type questions pertinent to your niche in Google's search bar and pick websites ranking on the first page. And don't forget to check out the People Also Ask section.
You can use Answer The Public to collect a list of these queries without wracking your brain for new search ideas.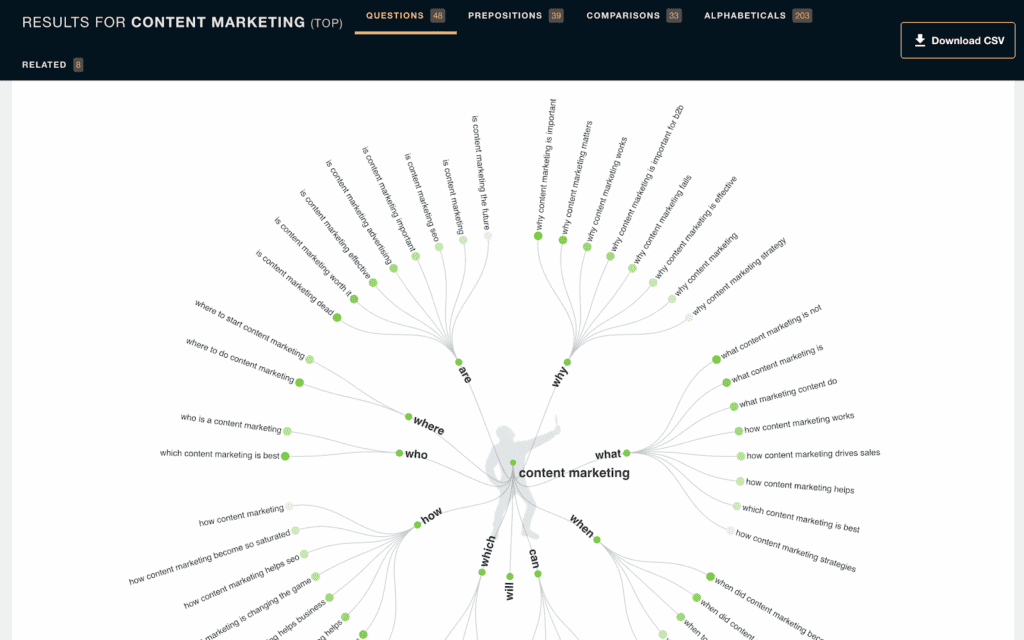 Although most of the sites on the first page of search results have strong DA, there are usually a few sites that haven't earned as much trust.
We recommend looking at the site's DA score before contributing to it.
Once you visit a blog that might be relevant, check out links in the header and footer to see whether the company offers a guest post program.
If there are no guidelines, there's still a great chance they'll accept submissions from guest authors. Look through the blog posts — are they all written by a staff writer? If not, find the company's contact information and pitch your ideas.
Before suggesting content ideas, ensure similar articles haven't been published on the website yet. Then, once you come up with a topic, search the site. If there's not a post covering your topic, you're good to go with your pitch.
The fastest way to scale link building via guest posting is to focus on writing better content. Period.
Or, you can simply outsource to folks like uSERP 😁

Pro Tip: Periodically check previous guest posts you've done to make sure the links still work. Broken links can hurt your DA and damage the user experience for the site where the piece is posted. If you find any broken links, let the site owner know, send them a replacement link, and, if needed, offer to write them an updated post. 
Step 3: Use HARO to build brand mentions and authority
HARO (Help A Reporter Out) is a sourcing service that connects journalists and bloggers. PR professionals and content marketers use the platform for building high-quality backlinks.      
After you sign up and subscribe to the relevant topics, you'll receive regular source requests in your inbox.
HARO sends emails filled with new queries three times a day, Monday through Friday.
After you review the requests and pick the most relevant ones, you need to craft your answer and send it to the email associated with the query.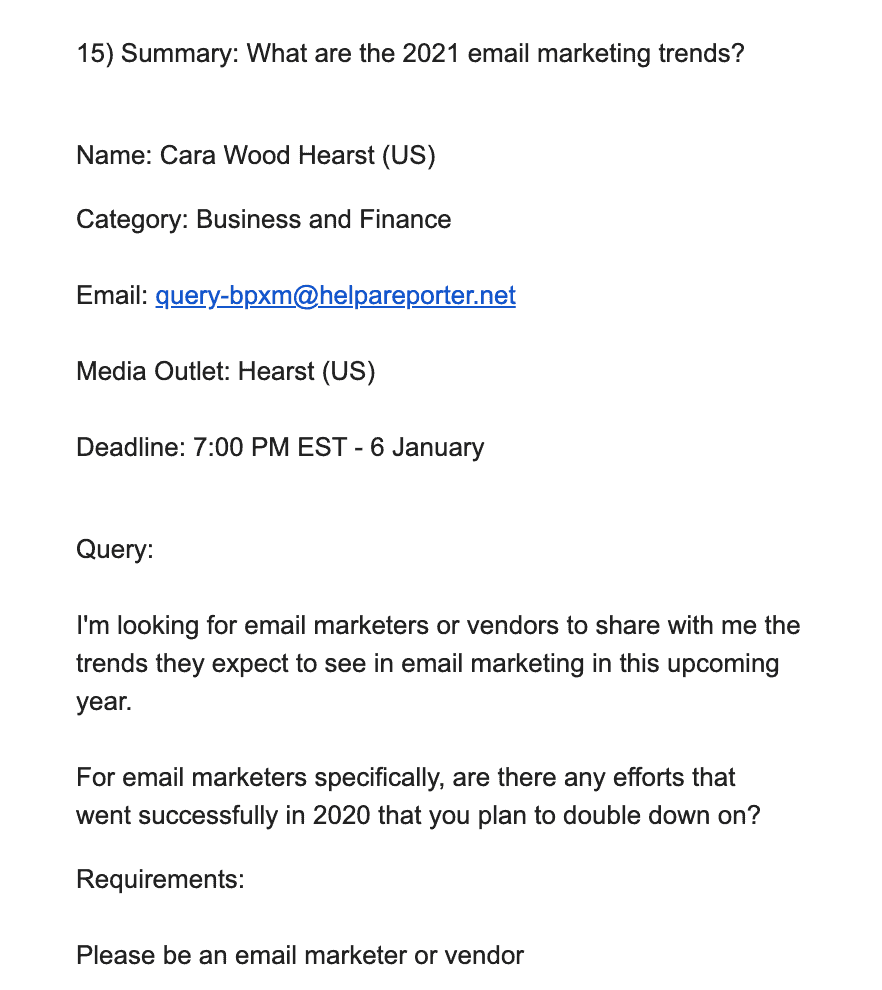 Authors usually mention the website on which they'll publish the topic, so you can also control the quality of the domains your links appear on.
With this approach, you'll build many quality links to your homepage faster than with guest posting or traditional link-building outreach.
Ideally, if they accept your answer, HARO will notify you.
However, authors often don't mark your response even if they decide to use it.
Many will tag you when sharing the article on LinkedIn, so remember to send your social handle along with every response.
Step 4: Be cautious with what you link to on your site
Along with inbound links (the ones that lead to your website from external sources) and internal links (the ones that go from one page on your domain to another), there are outbound links. 
These are links from your website to external (other) domains.
Years ago, a myth about avoiding outbound links spread throughout the SEO world. People were hesitant to send visitors away from their site.
But, they weren't considering how much value external links add to the user experience.
And today, with Google's E-E-A-T update, it's even more vital to provide as much Expertise, Experience, Authority, and Trustworthiness as possible. 
Outbound links are additional signals of what your page is about. That's why linking to contextually matching pages is good for both your website and the one you link to, and referring to completely irrelevant content harms your authority and rankings.
When your Domain Authority score reaches at least 20–30, you'll start receiving messages from content marketers offering to pay you for adding their links to your site. 
Avoid these like the plague.
Adding irrelevant, low-quality links to your site can hurt your link profile.
Takeaways:
✔ Link to relevant external sources
✔ Google recommends linking to external resources
❌ Don't link to low-quality external sources
❌ Don't add low-quality paid links
Step 5: Don't ignore sites with a lower authority score
It's important to team up with quality websites.
However, there are tons of sites that haven't earned a high DA score yet. So does it mean earning a link from one of these sites is worthless?
Not at all.
It's not only a DA score that matters but also the source's relevance.
Google's algorithms aim to deliver valuable search results to users. That's why relevant links that add to context are always better from Google's perspective.
So, given a choice between a link from a DA 60 website that has nothing to do with your niche and one from a highly relevant DA 40 site, pick the latter.

Additionally, as your reference site grows its Domain Authority, yours also grows.
Domain Rating is a metric that measures the strength of a website's backlink profile, in both quality and quantity.
Ranks are on a 1–100 logarithmic scale, with 100 being the best. Logarithmic means as you increase your DR, it becomes tougher to continually increase it.
The good news? With a logarithmic scale, if you acquire a DR40 backlink, but that site grows from DR40 to DR80, that backlink value doubles without extra effort!
Takeaways:
🚀 Don't ignore up-and-coming sites with a lower DA
🌟 Prioritize linking to domains with relevant content, even if their DA is on the low side
Pro Tip: Use social listening tools to monitor the web for mentions of your brand name. When you see one, check the mention for a link to your site. If one doesn't exist, reach out to the person who posted and ask if you can write a post for their blog and include a link to your site in exchange for marketing the post on your social media. 
Keep track of your link profile
Domain Authority is just a number that helps you to compare your site's strength against your competitors. 
We don't recommend that you focus on this metric alone.
Instead, publish high-quality content, work on improving your link profile overall, and use the DA score as an early indicator of the potential effect of your efforts.
And, of course, if you need help with your link-building strategy, book an intro call with our team. We're here to help!