Copy.ai is a revolutionary ai-driven software that helps you write better marketing copy in seconds.
And they came to us looking to put fuel on the fire for their SEO-driven user growth. In the 5 months prior to working together, they generated 167,000 organic clicks to key pages.
After 5 months of working with uSERP, they 6x'd their traffic to over 1,000,000 in the next 5 months, with no signs of slowing down:

The best part? This organic traffic isn't targeting top of the funnel, generic content that results in high bounce rates. It's targeting high-value, bottom of the funnel pages that drive users directly into the product, producing signups every single second of the day.
Here's a look at the keywords and pages we've taken from 3rd page rankings to #1 in the last year: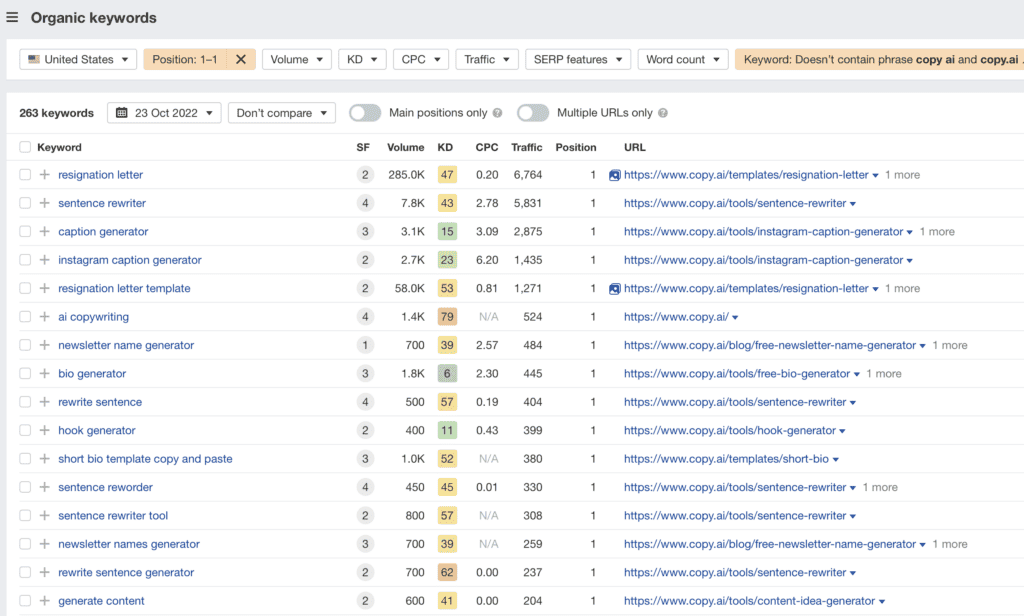 That's 263+ keywords with a #1 ranking position. Going up against some of the biggest AI companies in the space, we've put a lean budget to work that is now producing $98,500+ worth of traffic per month.
That means you'd have to spend $98,500 in paid search ads per month to get their traffic volume. How's that for ROI?
With Copy.ai, we drove a full-scale strategy on SEO from keywords to target, on-page optimizations, technical foundations, and earning high authority backlinks from the best marketing, tech, and business sites in the world.
This full-scale strategy continues to dominate search results on a daily basis, reducing their reliance on paid spend, dramatically increasing their traffic potential.
Results
1,000,000 clicks in 5 months (6x increase)
2.1x CTR increase
9,000,000+ impressions (3x increase)
$98,500 per month in traffic value (the amount you'd have to spend in paid ad campaigns, on a monthly basis, to drive the same amount of organic traffic)
#1 ranking for 263 organic keywords (excluding branded searches)
1,760 first page rankings for non-branded keywords